Yu-Gi-Oh! Master Duel was released on Jan. 18, 2022, and has already seen a massive influx of players. This includes newcomers and veterans alike who have downloaded the free game to check it out. As with most free games nowadays, there is a battle pass called the Duel Pass. This may leave some players wondering if it is worth it.
The short is yes—the Duel Pass is absolutely worth buying. At the start of the game, the player is given a fairly generous portion of Gems which they can use to purchase the Duel Pass. Completing the Duel Pass will award the player with the Gems they used. These can be saved for the next Duel Pass or spent in the shop.
Related: How to fix this account has pre-existing data error in Yu-Gi-Oh! Master Duel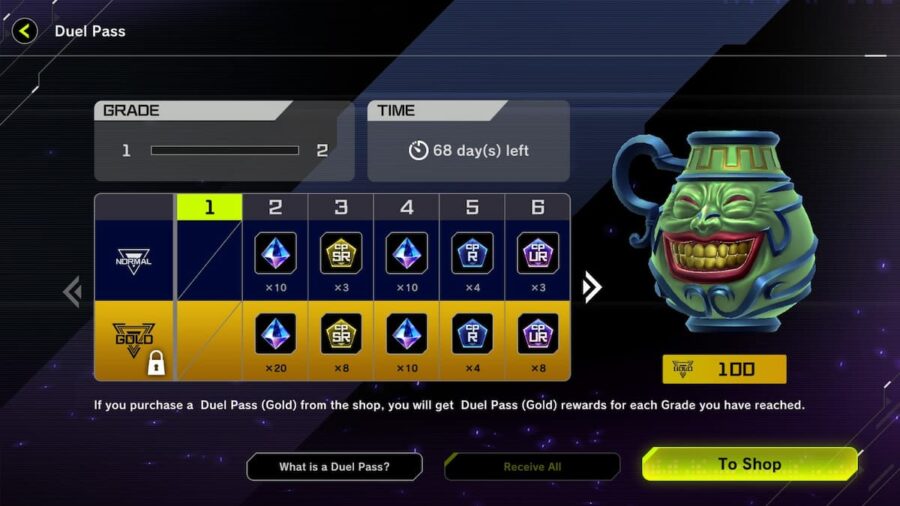 Casual players may not get the most mileage out of the Duel Pass but can still get much-needed resources. However, players looking to play competitively, in ranked, or with the meta should absolutely purchase the Duel Pass.
Levels in the Duel Pass award the player Gems, which can be used to purchase card packs, but perhaps more important is the Craft Points earned. These are used to craft specific cards players need to fill their decks, thus taking the luck out of opening card packs hoping to get the right card.
For more information on Yu-Gi-Oh!, check out How to get Red-Eyes Black Dragon in Yu-Gi-Oh! Master Duel and How to get Dark Magician Girl in Yu-Gi-Oh! Master Duel on Pro Game Guides.