In WWE 2K22, players will come across several game modes. MyGM is one of these modes, and it allows players to become the General Manager for any of the brands in the WWE franchise. In this game mode, players will have to book shows, schedule matches, improve their roster, and aim for higher ratings than their competitors in the network. 
MyGM is a comprehensive game mode where players need to strategize properly to earn higher ratings. This will determine the journey of your General Manager, and good ratings will always give players an edge. At the start, you will have a specific budget. You will then have to purchase Superstars from both men's and women's divisions to complete the roster. Select your Rival GM, and get the best talents from the Draft to start this game mode.
How to book matches and set Rivalry in WWE 2K22 MyGM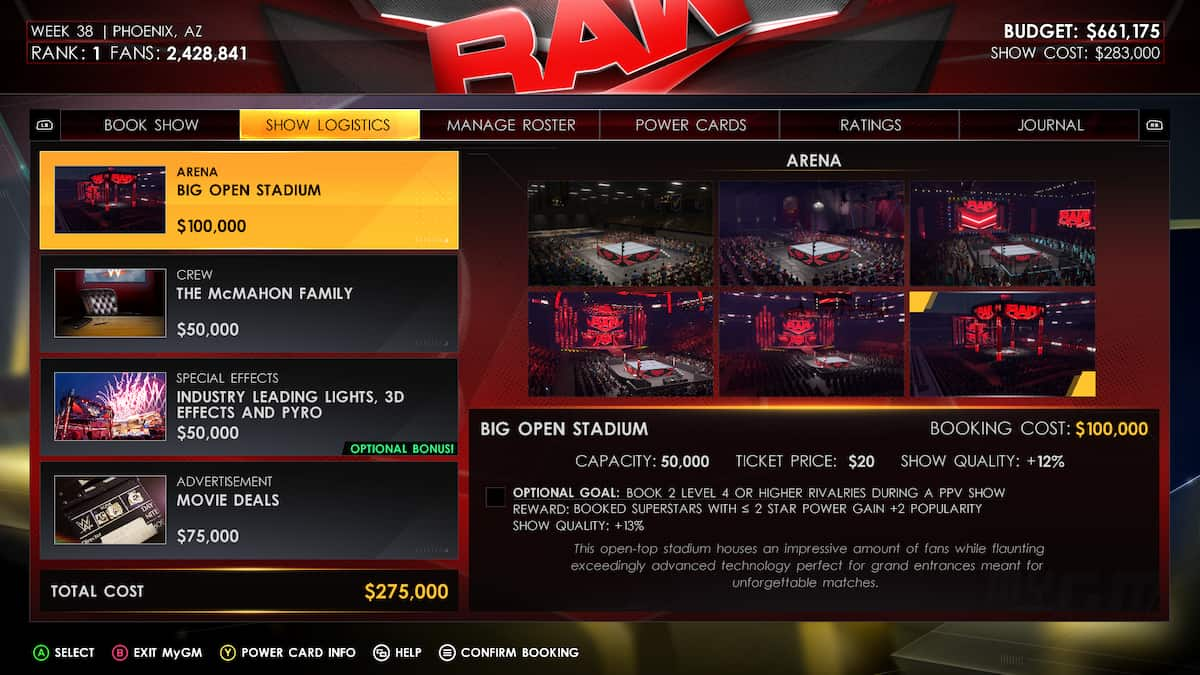 Once you have a solid roster, start booking shows by scheduling matches in three categories: Opener, Mid Card, and Main Event. Players can also ask Wrestlers to run Promos to improve the show's ratings and start Rivalries. Each Rivalry builds up for four weeks, and it's ideal to schedule fights between Rival Wrestlers to make a strong impact on your show.
Players will have to do this every week, and setting the best Opener and Main Event will reflect on the rating chart. However, keep in mind that a Rivalry grows stale after four weeks. Also, make sure that you are selecting a variety of matches each week to keep the fans interested. Mix it up between Singles, Tag Team, and Title matches to gain better Ratings.
What are Power Cards in WWE 2K22 MyGM?
Players will earn Power Cards each week by completing Commissioner Goals, and these can be used for various purposes. You can also purchase Power Cards to heal injured Superstars, give them a Spa Break, guarantee the outcome of a match, boost ratings for special match types, and much more. Using specific Power Cards will boost your ratings for Tables, Extreme Rules, Hell in a Cell, and TLC matches. 
In the Manage Roster section, players can purchase Free Agents and Legends for a few weeks. Signing big names means that you have to schedule them for Title matches and Main events, or they will switch brands.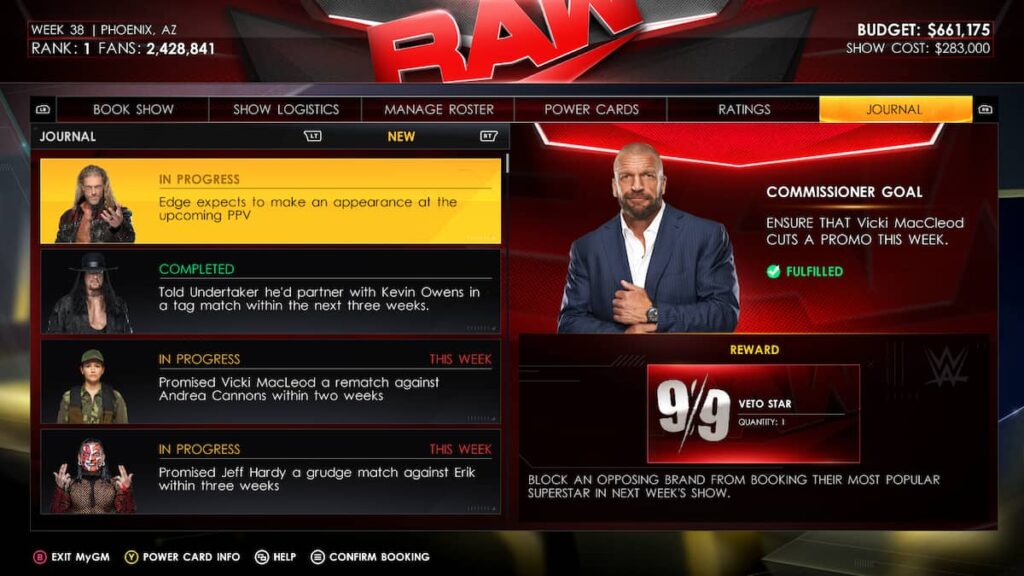 The Ratings section shows your progress leading up to the weeks for the next big Pay-Per-View. Keep an eye on this section to see how fans are reacting to your decisions and how well a Rivalry plays out. Players can also see the revenue earned from each booking in the Ratings section.
Next up, check the Journal section to see Commissioner Goals set by Triple H. Completing these will give you a bonus Power Card. Make sure to keep an eye on the Journal to check all the objectives before booking a show. Failing to complete these objectives will reflect poorly on your Ratings, and big names will eventually walk out from your show.
Wondering when is the next Patch Update coming? Check out When will WWE 2K22 Update 1.06 Patch Notes release? on GameTips.PRO.