You want to get crafting fast in Bear and Breakfast. We understand because sometimes we don't want to wait for the story to hold our hand through a tutorial. The Logger's Tools item is the key to getting started on building in the game. Here's where to look.
Where are the Logger's Tools in Bear & Breakfast?
You need the Logger's Tools to repair the outhouse. If you are an eagle-eyed Bear and Breakfast player, you probably noticed this before the game even brought it up to you. If you're hoping to get your hands on these tools because you already have all the other materials, you'll be able to get them rather easily.
All you have to do is go to Tony's shop in Sawdust, which is West of Timber Crossing. In his shop, he has the Logger's Tools located in the back corner of his back room. You'll walk up to the tools and hit E to grab them.
When can you get the Logger's Tools?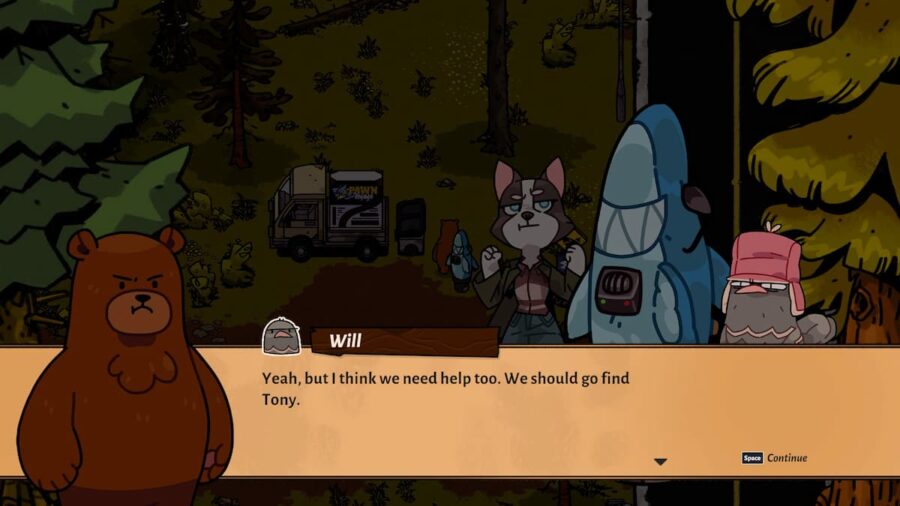 You can only access Sawdust, and Tony's shop, once you have accepted the offer from Fin the Shark. Once you press the green button and accept his proposal, Will, Anni, and Hank will discuss what to do next. This is when Will suggests that you find Tony for more help. After this, you'll have this part of the map unlocked.
How to find Tony's shop in Bear & Breakfast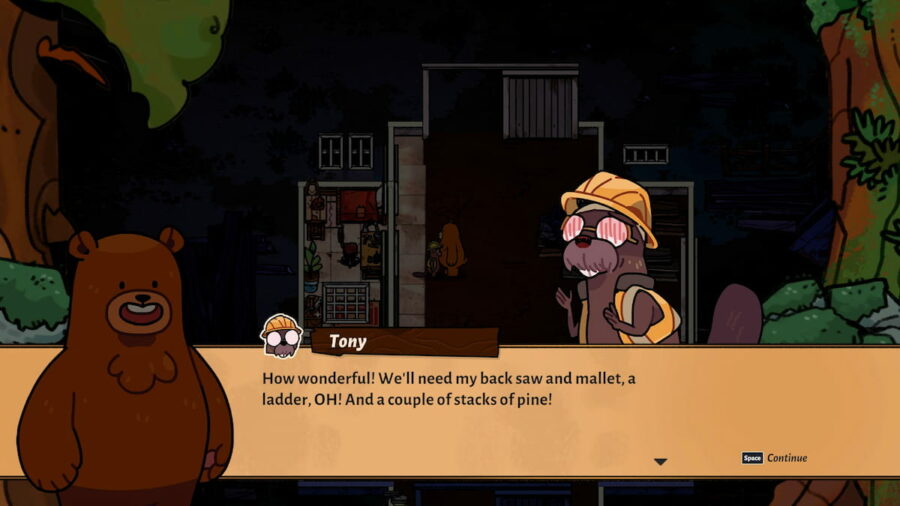 Tony's shop is located in Sawdust, which is to the West of the Pawn Voyage truck (this is where Fin and Hank's friends wait when you go find Tony). Make sure you have your tracking on in your Quest Log to get a pointer that will lead you in the right direction. You'll see a large building in the middle of the woods, so it is pretty hard to miss.
How to get pine wood for Tony
Once you talk to Tony, you may notice the Logger's Tools in the back. You can't get to them just yet. First, give Tony some wood. If you want to do this before you go to Tony's shop, you'll be able to. Once you get into Sawdust, look around and you'll find wood everywhere.
The large tree stump shown above is located just slightly North of Tony's shop. There's a lot of wood here, including Pine. Put the wood in your inventory and talk to Tony again after he asks for the wood. Now, you can grab the Logger's Tools in the back of his shop.
Want to read more about Bear and Breakfast? If so, check out How to Delete Your Save Data for Bear and Breakfast on GameTips.PRO.