Genshin Impact's Resonating Visions event runs from July 15, 2022, to August 24, 2022, and takes place alongside the Summertime Odyssey event in the Golden Apple Archipelago. You can collect up to 20 Phantasmal Conches for rewards, including Fischl's Outfit at 16 Conches. Some of these Phantasmal Conches can be tough to find, as they're locked behind Mirages and Hidden Exploration Objectives. Read on to find the location of a hard-to-find Conch in Twinning Isle.
Before starting your search, you need to unlock the Immernachtreich by completing all three parts of Fischl's Mirage:
Immernachtreich Apokalypse Part 1
Immernachtreich Apokalypse Part 2
Immernachtreich Apokalypse Part 3
Once you've completed all three, you'll be free to explore the transformed Twinning Isle, where the Phantasmal Conch is hidden.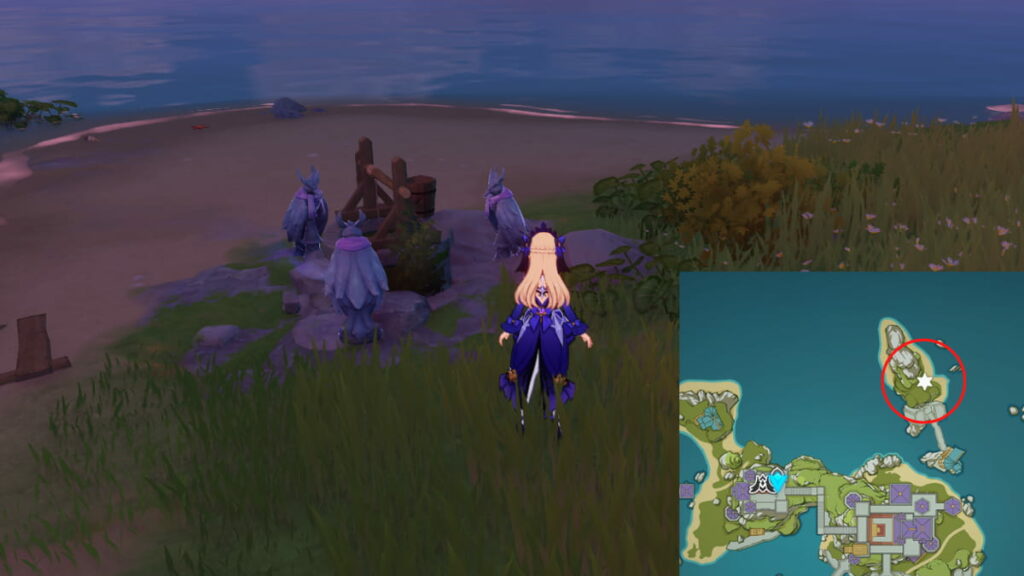 Head to the small islet north of the Twinning Isle—its exact location is circled in the image above. Once you're there, you'll find three Night Ravens staring at a well. Talk to all three Night Ravens. After that, you'll get a new interaction with the well, called Throw Stone. You can sacrifice any three ores to prompt an Imaging Conch to surface.
Don't forget to interact with the Imaging Conch for it to count toward the Resonating Visions event! The same Conch doubles up as Misplaced Conch 3, which is a Quest Item for another objective in the Golden Apple Archipelago.
Check out our guide on How to unlock and complete the Drama Phantasmagoria World Quest in the Golden Apple Archipelago in Genshin Impact and get more rewards from Night Ravens.