Lost Sectors serve as mini-dungeons, where Guardians must fight a horde of enemies in order to loot the chest at the end. With the release of Beyond Light expansion, Bungie introduced Legend Lost Sectors. These rotate on a daily basis, and if a Guardian completes the Master version solo, they have a chance to acquire an Exotic armor piece.
How to find Excavation Site XII in Destiny 2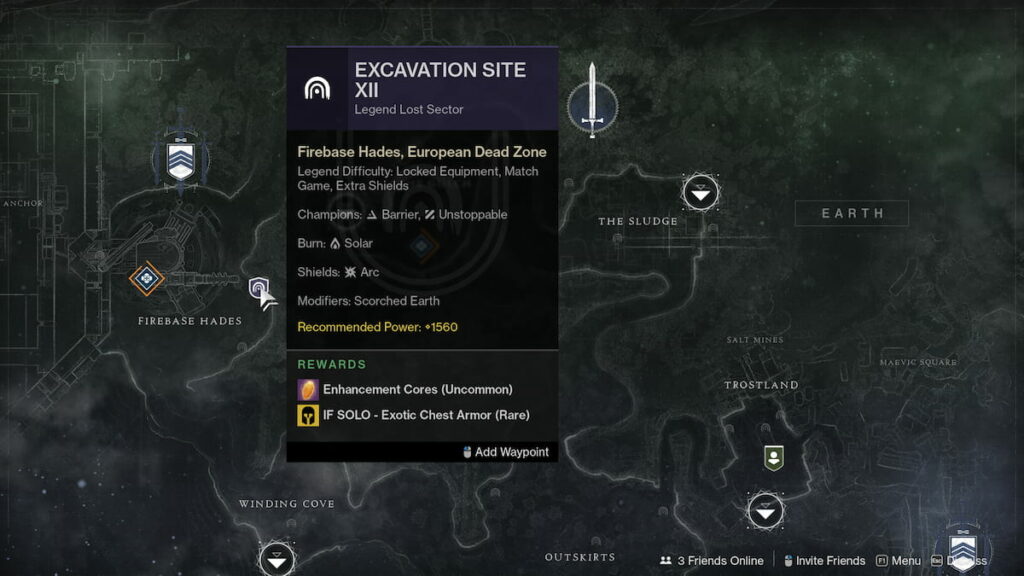 Excavation Site XII can be found in the EDZ next to Firebase Hades in the west. Guardians should spawn at the Winding Cove and follow the road to the northwest to get to the base. Once there, the Lost Sector is directly on the right. It's very hard to miss.
Excavation Site XII Master Lost Sector Exotic Drops
Cuirass of the Falling Star: Exotic Titan Chest Armor
Hoarfrost-Z: Exotic Titan Chest Armor
Omnioculus: Exotic Hunter Chest Armor
Mantle of Battle Harmony: Exotic Warlock Chest Armor
It is absolutely critical to pay attention to the modifiers of the Lost Sector before going in. Once launched, all gear becomes locked and cannot be changed. In particular, Champions are going to pose a huge threat, even with the correct countermeasures. Throw in a 15-minute time limit, and the pressure is on. That being said, Legend Lost Sectors can be a lot of fun because of the challenge they provide. And with high stat Exotics to be had, there's plenty of reason to run them.
For more Destiny 2 goodies, check out Destiny 2: How to complete the Daily Challenge in Iron Banner on GameTips.PRO.