Fortnite Chapter 3 Season 4 is now in its third week, and players have several quests to complete and earn XP from. One of the Weekly quests requires players to emote at three different locations, The Flairship, The Driftwood, and No Sweat Insurance. These three locations are unnamed landmarks, which means you won't get to see their names on the map. Naturally, fans are eager to know where these locations are to complete the quest. Here's where to find the Flairship in Fortnite Chapter 3 Season 4.
How to emote for 5 seconds in The Flairship in Fortnite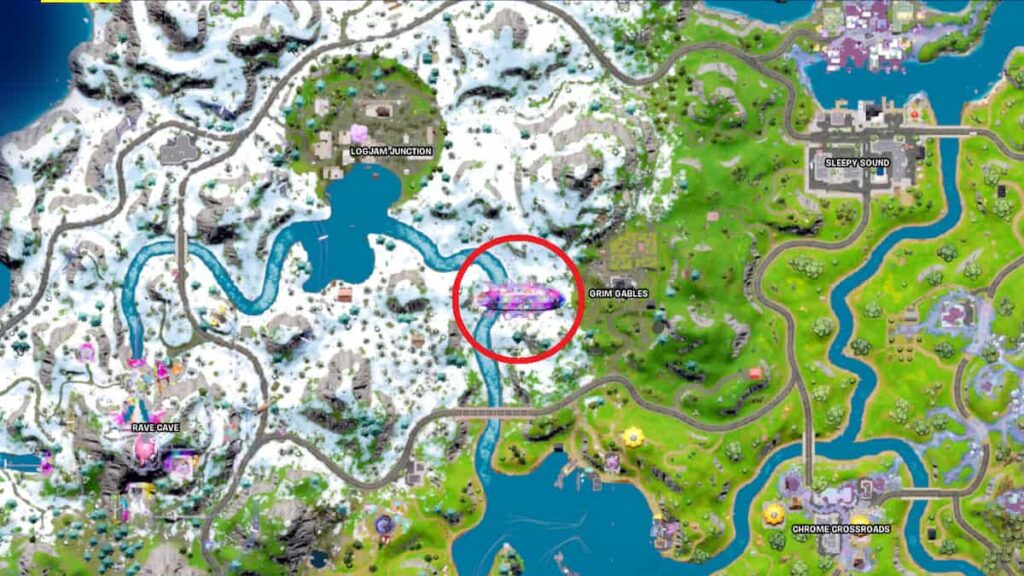 The Flairship is one of the Blimps that was earlier located near the Rave Cave POI. After the recent update, The Flairship has changed its location and is now located east of the Grim Gambles POI. Check the red circle on the map image above to see the exact location of the Blimp. You can land directly at this spot from the battle bus. We recommend finding weapons first before attempting the quest, as several other opponents will land at this location.
It is ideal to get inside the Blimp, search for weapons and shields, and then emote when opponents are not around. In case there are too many opponents, use the air fans on the Blimp to fly and rotate from The Flairship. You can always return later to complete the quest. Players need to emote for at least five seconds to complete the quest. Finishing this quest rewards players with 20,000 XP. You can use the battle stars to unlock cosmetics from the battle pass, including the popular Spider-Gwen outfit.
Wondering what is new in Fortnite Chapter 3 Season 4? Check out Where is the Herald's Sanctum in Fortnite and All new Weapons in Fortnite Chapter 3 Season 4 on GameTips.PRO