In the recent Final Fantasy XIV Live Letter, the game's director and producer Naoki Yoshida and other members of the development team shared details about the game's future. One of these was the announcement of the Duty Support System for A Realm Reborn (ARR) duties. But what is the Duty Support System?
In short, the Duty Support System is a version of the existing Trust system that allows you to complete duties like Dungeons and Trials with NPCs instead of players. The Duty Support System is designed to help new players get through the A Realm Reborn content without needing to queue with other players. 
Related: Final Fantasy XIV releases Letter from the Producer LIVE LXVIII Digest online
In the Duty Support System, members of the three Grand Companies of Eorzea will accompany you into some of the main dungeons of ARR. A full list of supported duties available on release of 6.1 was also detailed. These include:
Satasha
The Tam-Tara Deepcroft
Copperbell Mines
The Bowl of Embers
The Thousand Maws of Toto-Rak
Haukke Manor
Brayflox's Longstop
The Navel
The Stone Vigil
The Howling Eye
Castrum Meridianum (Newly modified Dungeon)
The Praetorium (Newly modified Dungeon)
The Porta Decumana (New Ultima Weapon Trial)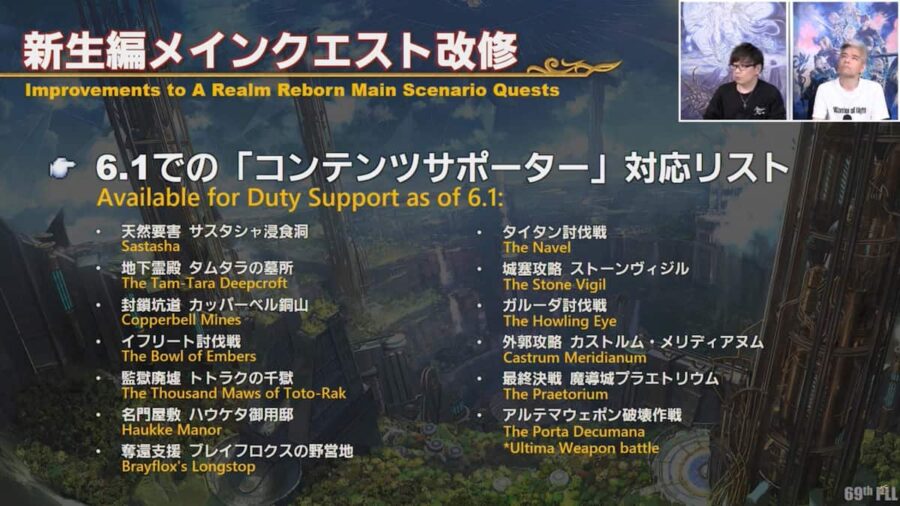 The Duty Support System is set to be released alongside 6.1, and will eventually expand to cover more major Main Story Quest dungeons and trials. The ultimate aim is to make it possible for players who may not be able to or want to experience these pieces of content with other players to still be able to complete it. Patch 6.1 for Final Fantasy XIV: Endwalker is set to release in the in late March or the beginning of April.#
For more Final Fantasy XIV information, check out Does Final Fantasy XIV run on Steam Deck? on Pro Game Guides.