Chaos Gates are one of the raids that you can experience when you play through Lost Ark. Up to thirty players can join in on the fun and there are six different dungeons in total. These dungeons will only appear on Mondays, Thursdays, and Sundays every hour between 11:00 am and 5:00 pm local time. You can open up Procyon's Compass for more detailed information about the raids and the rewards you can earn from completing each.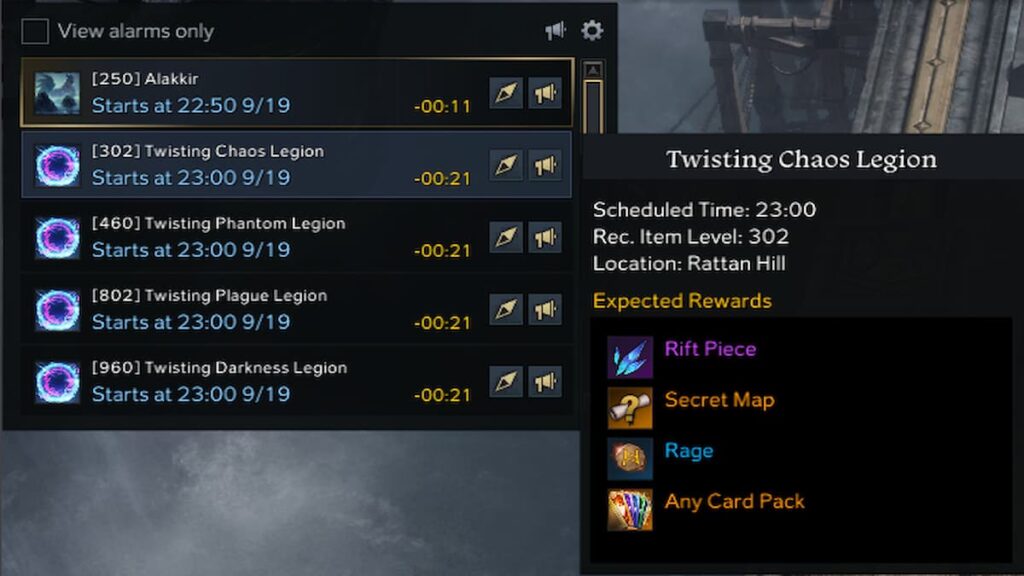 Listed below are all of the dungeons themselves as well as their location and the required Item Level you must be at in order to start them. It's also important to note that the rewards from these dungeons can only be earned once per day per character.
Twisting Chaos/Darkness/Phantom/Plague Legion

Location: Shushire/North Vern/Anikka/ Arhetine
Item Level: 302

Twisting Phantom Legion

Location: Rohendel
Item Level: 460

Twisting Plague Legion

Location: Yorn
Item Level: 802

Twisting Darkness Legion

Location: Feiton
Item Level: 960

Twisting Chaos Legion

Location: Punika
Item Level: 1302

Twisting Chaos/Darkness/Phantom/Plague Legion

Location: South Vern
Item Level: 1415
How do you unlock Chaos Gates in Lost Ark?
These raids will be available to you once you reach the end game at Level 50. These are only one of the new things that you'll be able to start doing with other players including Chaos Dungeons and Guardian Raids.
For more on Lost Ark, check out both How Do You Unlock Hall of the Twisted Warlord in Lost Ark? and Best hunting spots in Lost Ark only on GameTips.PRO.