Hearthstone Battlegrounds is introducing a new feature called Buddies. Introduced with the new season starting Jan. 25, 2022, it will change a big part of combat.
Buddies are similar to minions in terms of how they fight and act, but these are special. Each hero will receive a Buddy that you cannot buy in the item shop. Rather, the Buddy defaults to the hero and must be activated in-game.
Every hero will have a buddy meter over their portrait, as shown below. A hero's meter fills up when they enter combat, deal damage, pop Divine Shields, or win or tie a combat phase. In addition, heroes also receive bonuses based on the number of minions they have at the beginning of combat.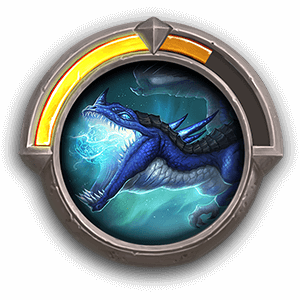 Related: All Hearthstone Battleground Buddies and their Heroes
There are two sections on the meter:
When the first is filled out, the player will receive a copy of the Hero's Buddy in their hand.
Filling out the second will give the player two copies of the Hero's Buddy.
The meter fills at different rates, with lower tiers filling the fastest and higher tiers filling the slowest. Nevertheless, there's a limit to how much a Buddy Meter can be filled each round, so it's always fair. Once the meter is full, you can't fill it again. The meter will be broken for the rest of the match.
A few new updates are included in this new system:
While players learn the new Buddy System, heroes selection has been temporarily extended by 10 seconds (70 seconds per selection round).
Tavern Tier 5 costs 2 gold more than before, so prices now start at 11 gold.
The Armor System will be deactivated as this new system is tested.
Interested in the new changes in Hearthstone? Check out Will Hearthstone be an Xbox exclusive? here on Pro Game Guides.