In the Final Fantasy XIV March 3 Live Letter, Square Enix revealed a plethora of new features that will be introduced to the game with the release of the 6.1 patch. One of these features is Adventure Plates. But what are Adventure Plates?
Adventure Plates are a brand new profile display system for your player character. Featuring customizable profile pictures and editable bios, Adventure Plates will allow you to display your character's information to other players. Back in Nov. 2021, these were previewed as "Calling Cards."
Related: What is the Unending Codex in Final Fantasy XIV?
In the Live Letter, Director and Lead Designer Naoki Yoshida shared some details about this new feature. Beyond allowing fully customizable profile pictures, Adventure Plates will be available for each of your jobs, meaning you can fully transform your character when you change class.
When these were first previewed in Nov. 2021, they were described as custom profiles that appeared before the start of PvP matches and could be used in the player search window. The customization options will be added as rewards in the game, either as PvP rewards or milestone and achievement rewards.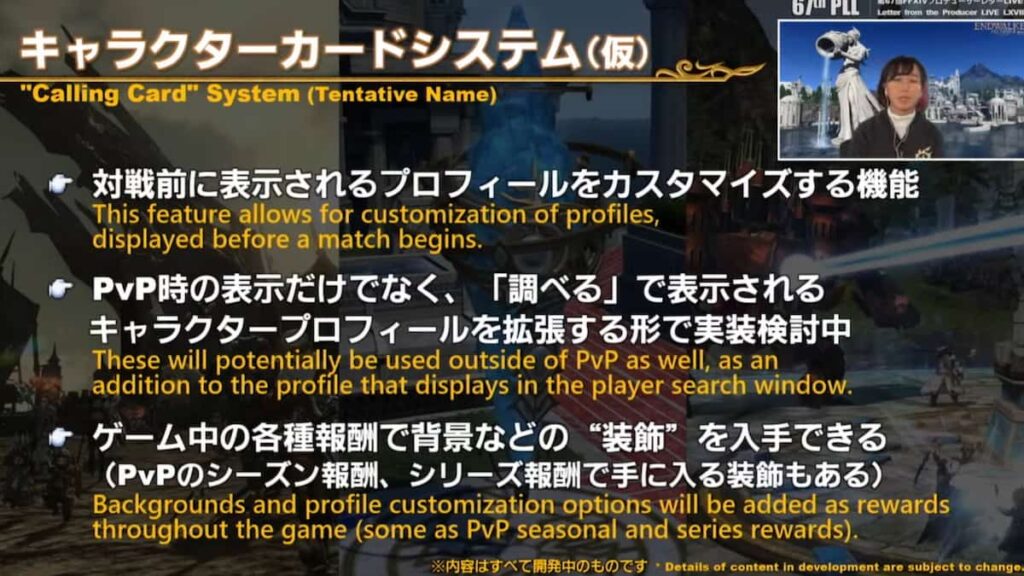 Yoshida went on to explain that customization options will be included with this feature, but the team wasn't ready to show off details. However, it's confirmed that Adventure Plates will be included in the 6.1 patch cycle, adding a new level of customization to your character. 
For more Final Fantasy XIV information and guides, check out What is Crystalline Conflict? All we know about Final Fantasy XIV's new 5v5 PvP on Pro Game Guides.