Call of Duty: Warzone is receiving a brand new map before its sequel, Warzone 2, comes out later this year. The map goes by the name Fortune's Keep and is expected to replace the highly popular Rebirth Island map in the Season 4 update. Here are the major details about the map.
Everything we know about Warzone Fortune's Keep
Rebirth Island received various changes during Season 2 of Warzone such as upgrades to areas on the map, the introduction of communication towers and golden vault bunkers, etc. However, in the Season 3 Reloaded update patch notes, it was mentioned that players may need to evacuate the island soon. A playlist schedule was also shared that hides the game modes for June 20-22, possibly an event.
This may tie into the Perseus lore from Black Ops Cold War or may be the beginning of an entirely new story that links with the upcoming Modern Warfare 2 game. While the actual information on Fortune's Keep is to be shared soon, we've tried to speculatively explain and answer every major question that you may have about the new Warzone map.
When is Fortune's Keep releasing for Warzone?
Fortune's Keep is coming out with the Season 4 update for Warzone. Although we don't have an official release date yet, you can expect the map to come out on June 23.
When does Warzone Season 4 start?
Call of Duty: Warzone Season 4 is expected to arrive on or around June 23, which is a day after the Season 3 Battle Pass ends and the unrevealed playlist for Rebirth Island ends. More information will be shared in the coming days by the game developers.
Fortune's Keep full map layout & all POIs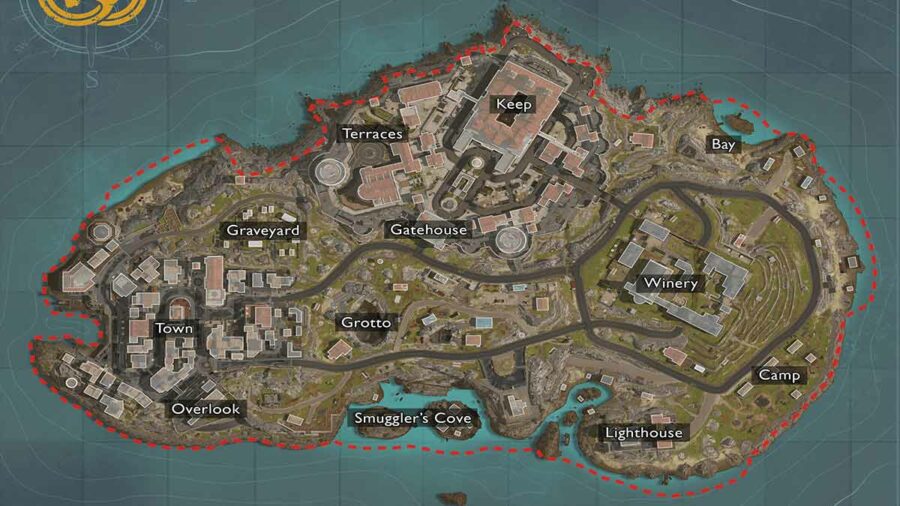 Fortune's Keep layout is in many ways different from the current Rebirth Island map. While the center of the map doesn't seem to have an important point of interest (POI), some major POIs can be seen as the edges of the map, including Keep, Town, and Winery. You can also see Smuggler's Cove being separated from the mainland by a water body, which indicates that operators can now cross shallow waters just like Caldera.
Fortune Keep POIs
Keep
Terraces
Graveyard
Gatehouse
Bay
Winery
Town
Overlook
Grotto
Smuggler's Cove
Lighthouse
Camp
Is Fortune's Keep replacing Rebirth Island?
Fortune's Keep will replace Rebirth Island as the new fast-paced, action-packed Battle Royale experience. This can be concluded by analyzing the hints given in the patch notes, which indicate we may have to leave the island map altogether after a potential in-game event.
Will Rebirth Island ever come back to Warzone?
As of now, it's extremely difficult to say whether Rebirth Island will ever return to Warzone, though it's clear that the map will not reamin when Season 4 launches. But who knows, it may come back from time-to-time on a map rotation basis like the maps in Apex Legends.
Stay tuned to GameTips.PRO for more Call of Duty and Warzone content. In the meantime, head over to our article on How to get open beta early access for Call of Duty: Modern Warfare 2.