Hand cannons are a staple in Destiny 2. They come in a variety of flavors, but no matter your preference, they're fairly adept at clearing out enemies and rogue Guardians. Since the sunsetting shakeup of Season 12, the meta has been shifting in both PvE and PvP in terms of what's best. A lot of that is determined by the Seasonal Artifact, but some guns shine no matter what. For our ranking, we referred to the user ratings at Light.GG in addition to our own experiences.
What are the Best Hand Cannons in Destiny 2?
16. D.F.A.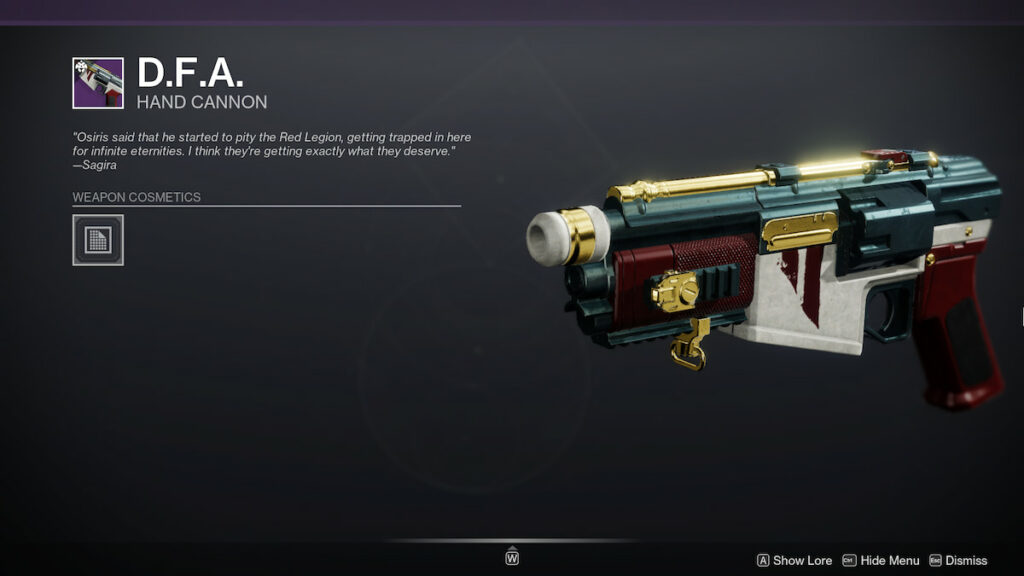 PvE Rating: 4.4
PvP Rating: 4.1
It was tough placing D.F.A. on our list as it has had a tumultuous history. It was swept up in the sunsetting cull before returning as a Nightfall reward in a later season. Everyone was hot to trot for it, but it ultimately fell off the radar in short order.
15. Something New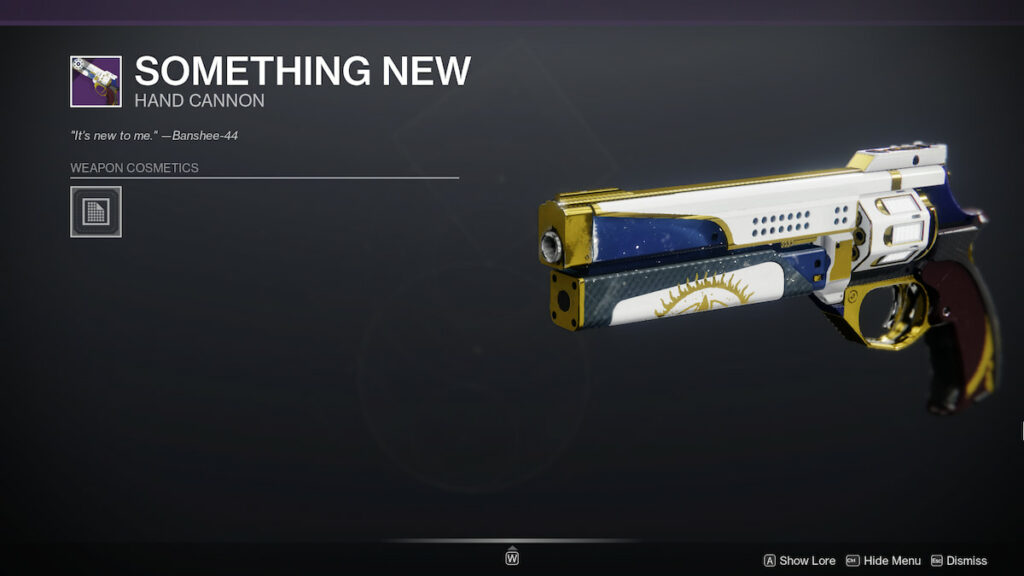 PvE Rating: 4.4
PvP Rating: 3.5
Introduced during Solstice 2022, Something New isn't really remarkable for anything aside from its stylish design. With rolls being harder to acquire than they should be, Something New went the way of D.F.A. and disappeared shortly after the seasonal event.
14. Eyasluna
PvE Rating: 4.4
PvP Rating: 4.8
Introduced with the 30th Anniversary, Eyasluna is like Hawkmoon Jr. and has better ratings than its older sibling in both PvE and PvP. It's a versatile, no-nonsense weapon.
13. The Palindrome (Adept)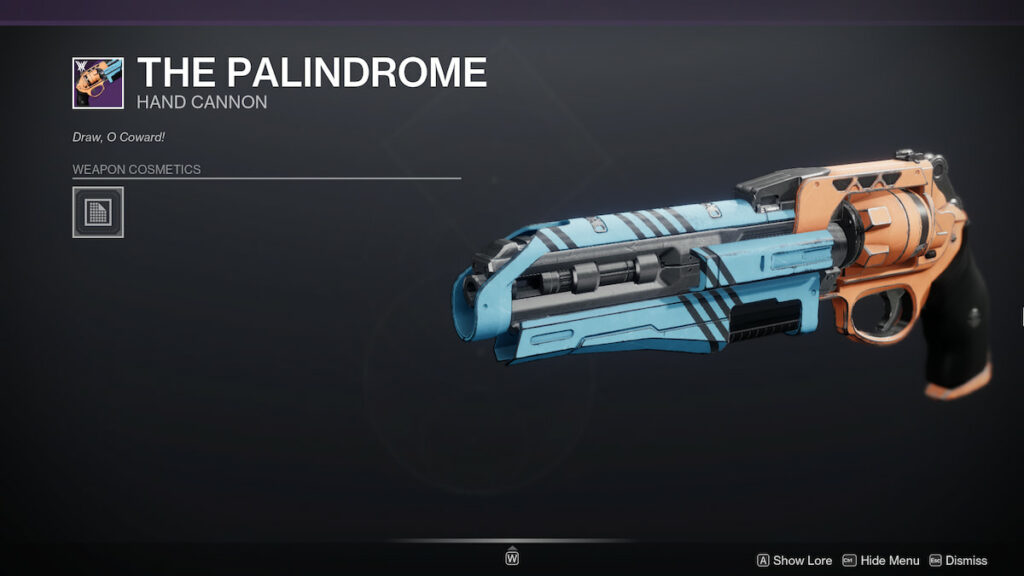 PvE Rating: 4.3
PvP Rating: 4.6
Introduced in Season 13, The Palindrome quickly became a favorite of Guardians thanks to its perk rolls. It performs admirably in both PvE and PvP and is definitely worth farming Nightfalls for.
12. Crisis Inverted
PvE Rating: 3.8
PvP Rating: 4.4
Introduced alongside the Cantata-57 during The Witch Queen, Crisis Inverted quickly made waves in Crucible. This Omolon hand cannon might be best known for looking like a caulk gun, but don't mistake it for being harmless.
11. Cantata-57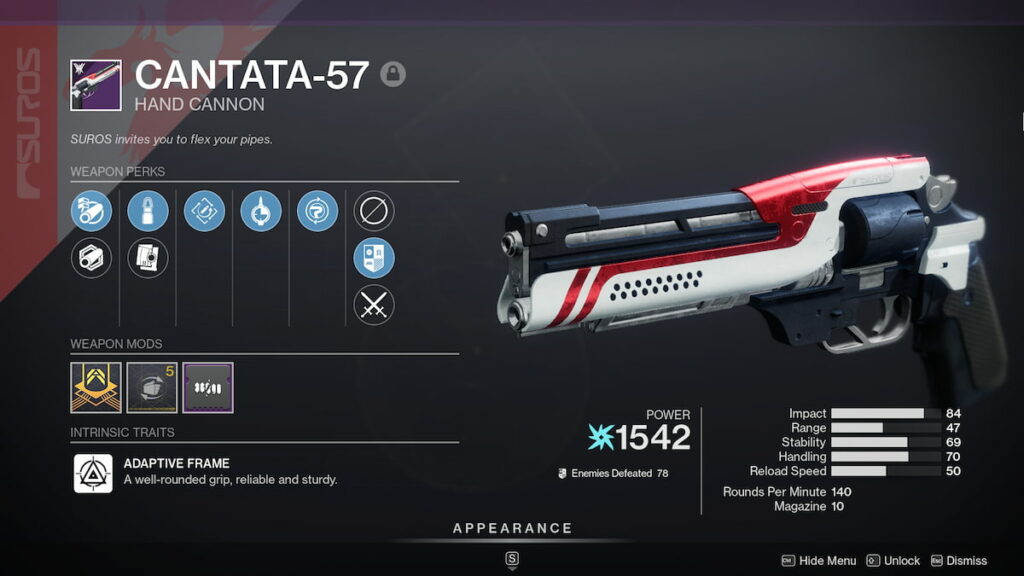 PvE Rating: 3.5
PvP Rating: 5
Cantata-57 is a weapon built for dominating in Crucible. If "mean" were a gun, this would be it.
10. Fatebringer (Timelost)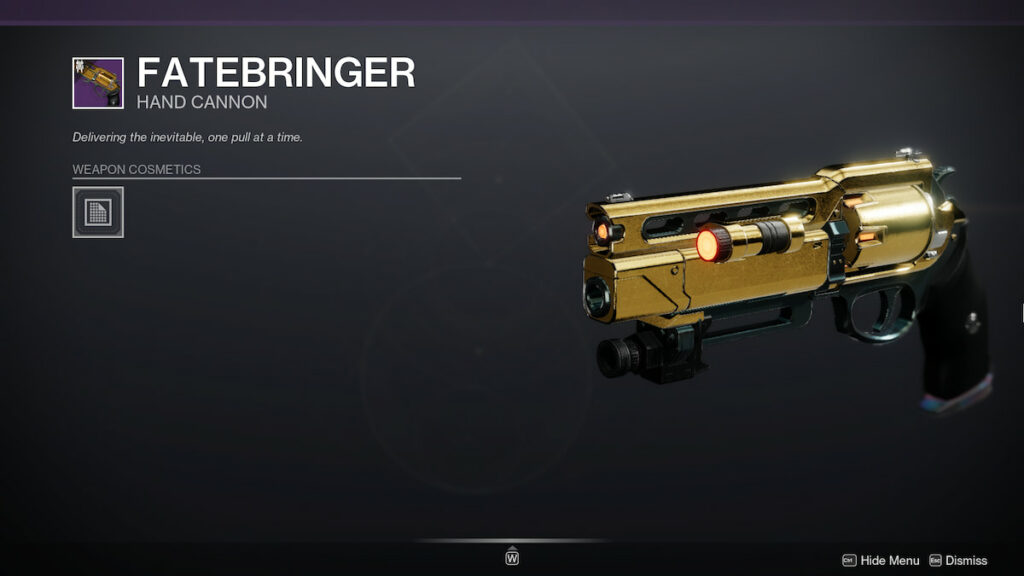 PvE Rating: 4.9
PvP Rating: 4.6
There's not much that anyone could say against having Fatebringer in your arsenal. It's a solid, well-rounded gun that can clean up in any activity. Plus it has one of the more iconic looks for a hand cannon.
9. Zaouli's Bane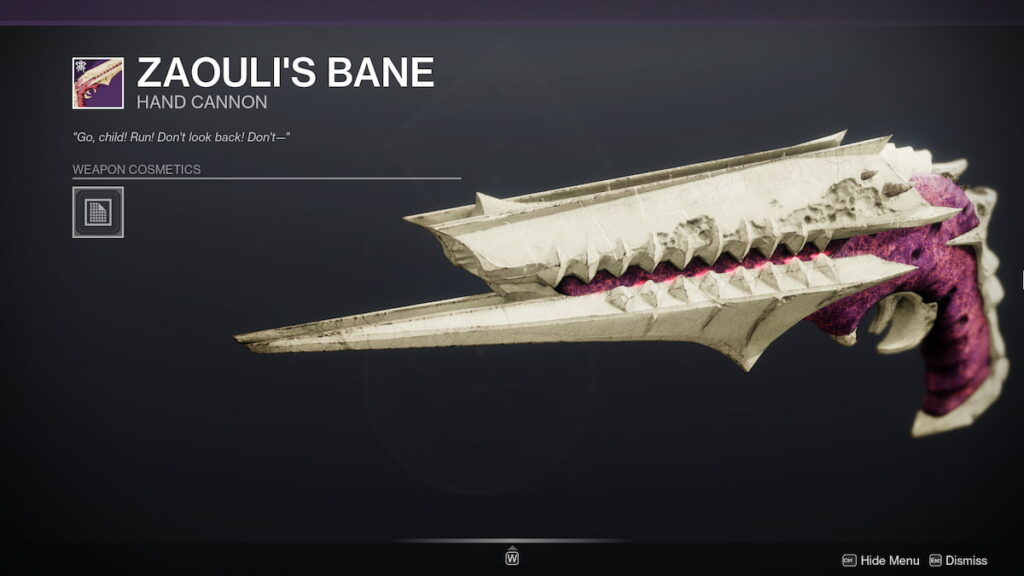 PvE Rating: 4.8
PvP Rating: 4
The reprised King's Fall raid has no shortage of well designed weapons. But there's something incredibly grisly about Zaouli's Bane that makes it one of our ghoulish favorites.
8. IKELOS_HC_v1.0.2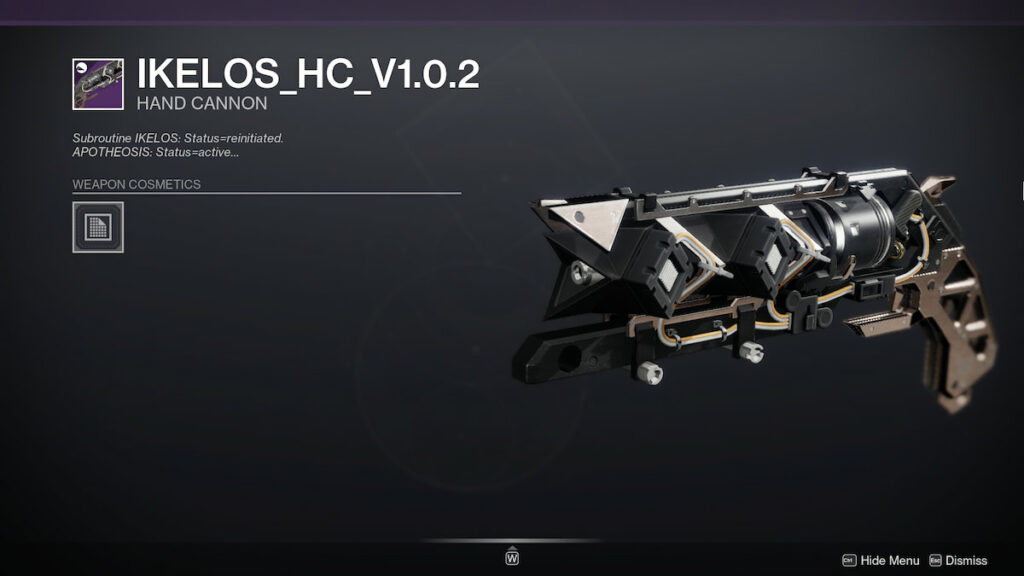 PvE Rating: 3.4
PvP Rating: 3.2
This will be a controversial placement, but ever since its inception, the IKELOS hand cannon has been one of our favorites. It has an incredibly unique design and such a sturdy fire rate that it's a sleeper hit in Crucible.
7. Sunshot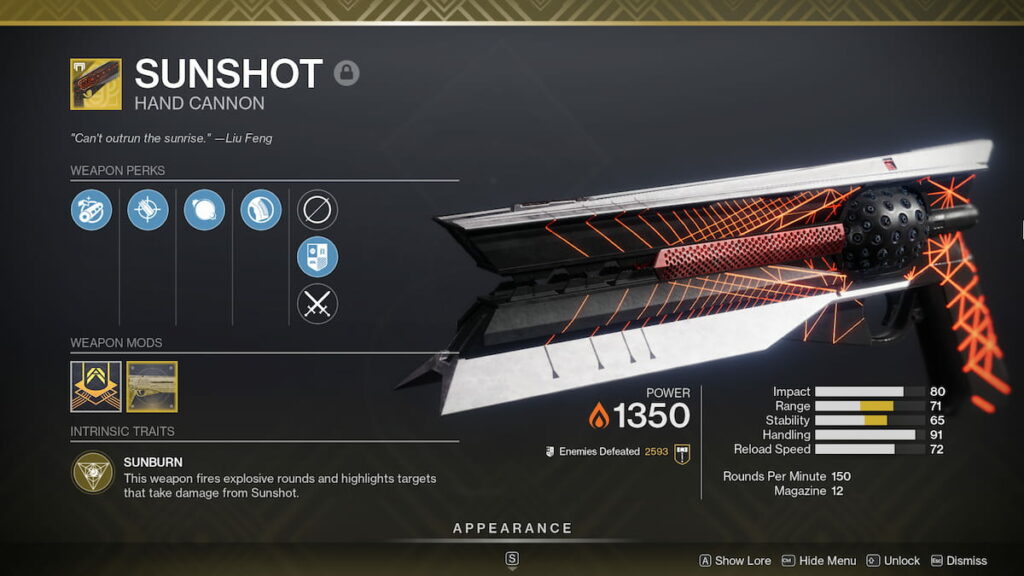 PvE Rating: 4.8
PvP Rating: 4
Big effing explosions. Sunshot is one of the original exotics in Destiny 2 and never really let up on the gas since its inception. It's hard to compete when you have the power of the sun in your hands.
6. The Last Word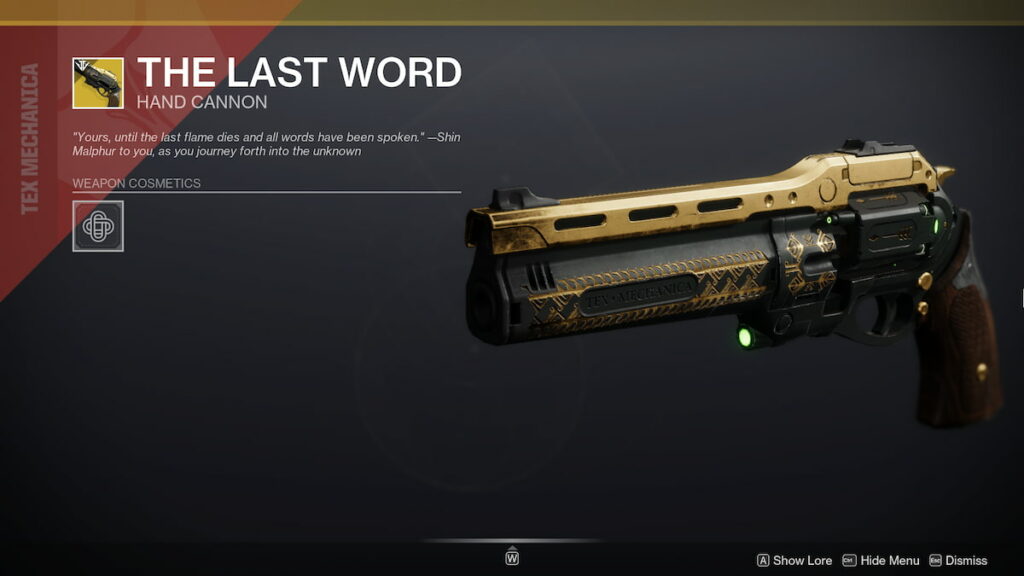 PvE Rating: 3
PvP Rating: 4.4
The Last Word was and still is a menace in PvP. Though it has been tempered a bit since it was released, Guardians will be hard-pressed to find something better at living out the cowboy fantasy and dropping foes with hip fire.
5. Eriana's Vow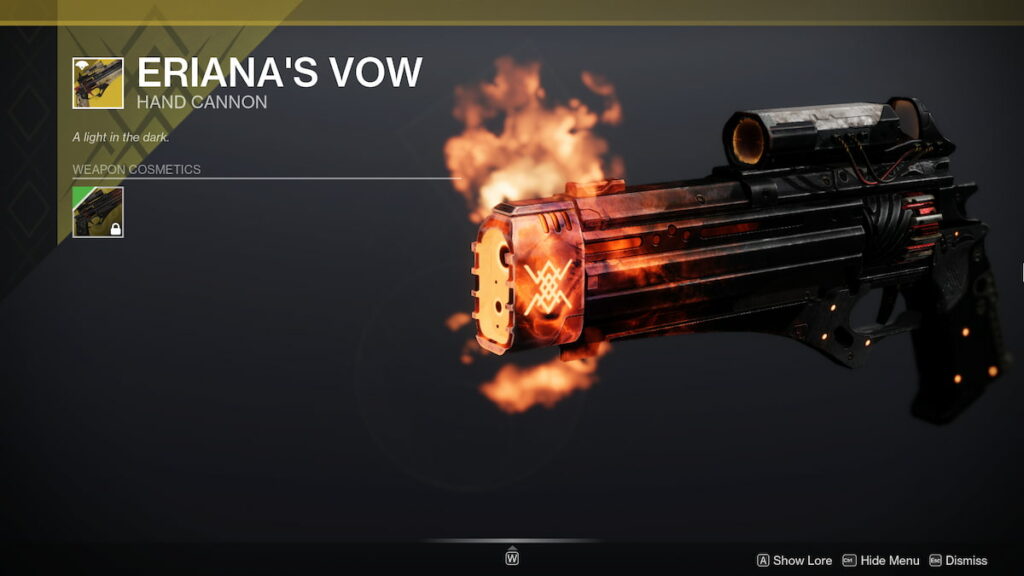 PvE Rating: 4.6
PvP Rating: 4.1
You either love or hate this gun. But when we take a step back, it's not the gun that draws so much ire as it was the catalyst quest for it. However, once acquired, this hand cannon becomes an absolute beast at dropping Champions.
4. Lumina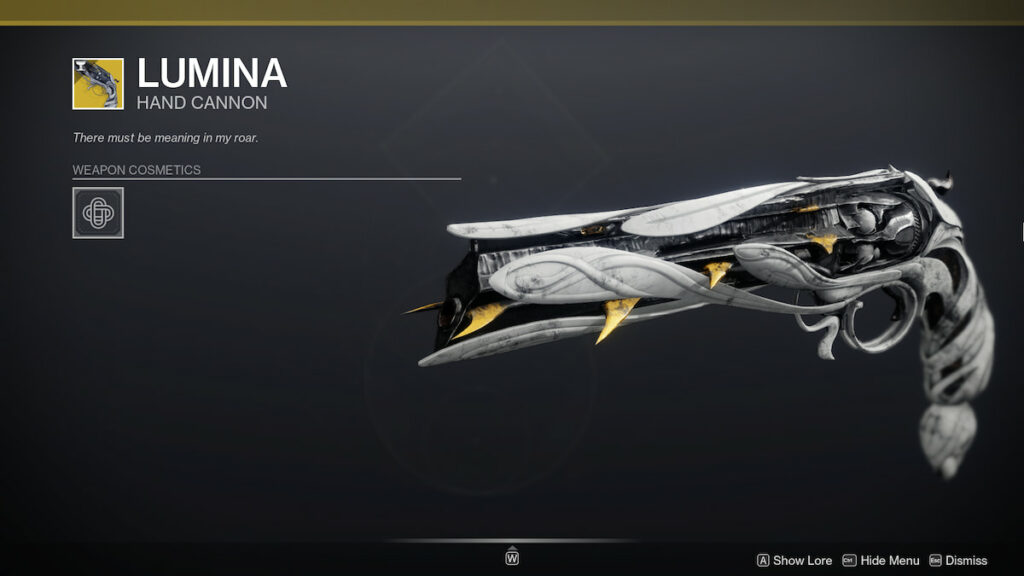 PvE Rating: 4.1
PvP Rating: 3.5
The antithesis to Thorn, Lumina was one of the first support weapons to come to Destiny 2. This beautifully crafted weapon could heal Guardians with its shots.
3. Thorn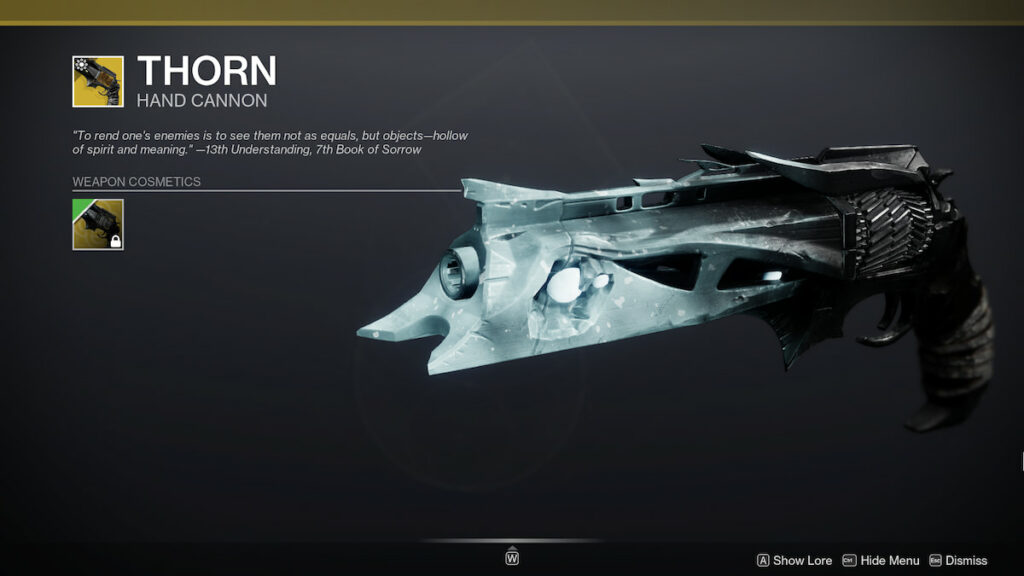 PvE Rating: 4.4
PvP Rating: 4.6
They say that you can hear some images. Thorn is one of the few weapons in Destiny history to have such an iconic firing noise. Those that hear it are more often than not dead before they realize what hit them.
2. Igneous Hammer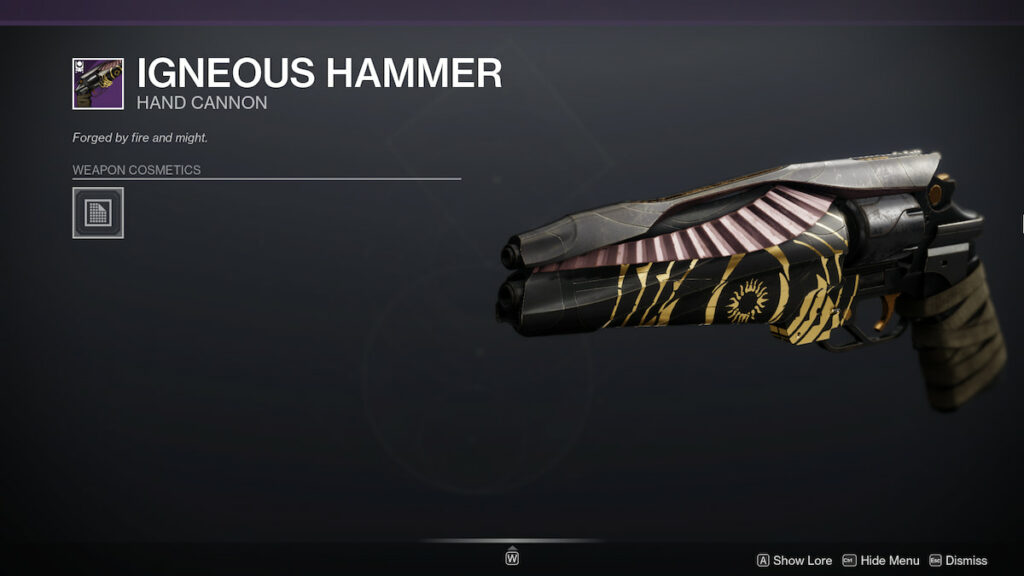 PvE Rating: 3.8
PvP Rating: 4.6
If you've been playing any kind of PvP since Season 17 onward, odds are you've run up against an Igneous Hammer user. As annoying and as deadly as a malaria-infested mosquito, this hand cannon has a nasty habit of racking up kills.
1. Ace of Spades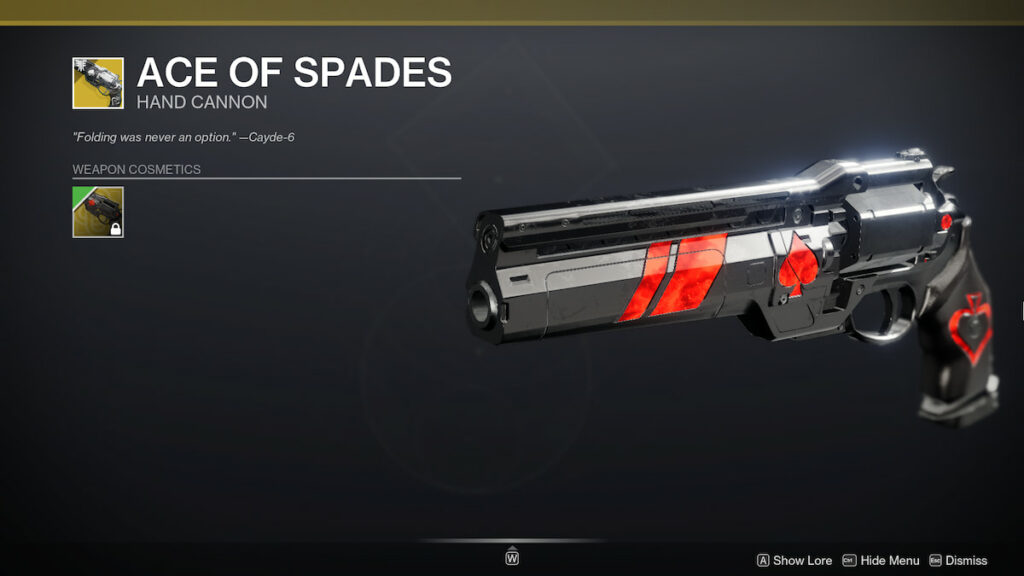 PvE Rating: 4.8
PvP Rating: 4.9
As if there could be any other weapon at the top of this list. Cayde-6's memento to the Guardian is an equal threat in PvP and PvE. It comes with the unique Firefly perk and stylish reload animation. Throw in that distinct metal "chink" noise with each shot fired and Ace of Spades is a favorite amongst many a Guardian.
For more Destiny 2 goodies, check out Who is the Drifter in Destiny 2? Lore, Voice Actor, and More! on GameTips.PRO.