The Sims 4 has all sorts of hidden gems of gameplay to explore. One of those is element collection. You can be a rare elemental collector in no time if you no where to look.
How do you find elements in The Sims 4?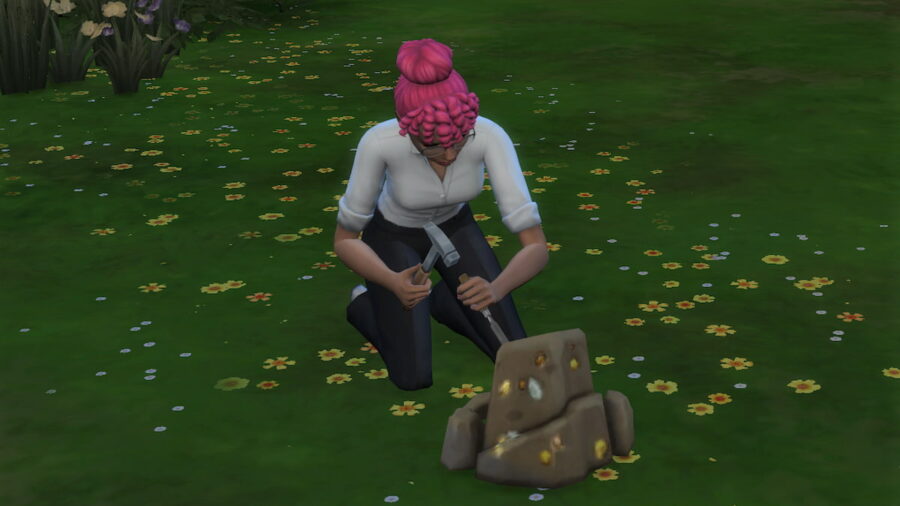 Elements are randomly spawned throughout the world in your Sims 4 game. All elements but one (part of the Get to Work expansion) can be collected within the base game. Since elements are ranked with rarity, some elements will spawn more often than others. When you see a brown and silver rock sticking out of the ground outside, dig it up and send it to the Geo Council (send by clicking on it in your inventory) to test and determine which element it is. To get the plaque for collecting all elements, you do not need the element from Get to Work.
How many elements are there to collect in The Sims 4?
There are 15 base game elements you can collect, as well as one additional element found in Get to Work. You can store all of your elements in a rack bought from Build/Buy mode to keep better track of them. Here are the elements you can find.
Alcineat
Common
Goobleck
Common
Melacoo
Common
Oxypin
Common
Ozinate
Common
Phozone
Common
Selium
Common
Sydrolin
Common
Volentin
Common
Peryllium
Uncommon
Plathium
Uncommon
Wolfium
Uncommon
Crytacoo
Rare
Firaxium
Rare
Plumbobus
Rare
Xenopetrium
(Get to Work,
Alien Material)
Want to read more about The Sims 4? If so, check out How to play the 100 Baby Challenge in The Sims 4 on GameTips.PRO.