The Sims 4 has released another update, this time with a specific focus on fixing bugs. Some of the bugs could not wait until the end of the month to be fixed, like Adult Sims hitting on minors. We've got the breakdown on all the fixes in this patch.
What was done in The Sims 4 August 2022 Update?
With the Aug. 2, 2022 update, there were no free goodies or UI changes. There were just a few immediately necessary bug patches for this update. Here's an itemized breakdown of what was remedied:
Base Game

Lifespan irregularities patched
Sims will no longer have the option to ask age/relationship-inappropriate Sims to date them.
Fixed problem of adult-aged Sims posting flirty posts about teens.
Sims not on the lot can once again travel with the group.

Get Famous

Fixed issue of Sims who are not famous showing fame.

High School Years

"I was a Teenage Garbage Artist" asset no longer prevents Sims from walking.
When is the next Sims 4 patch update?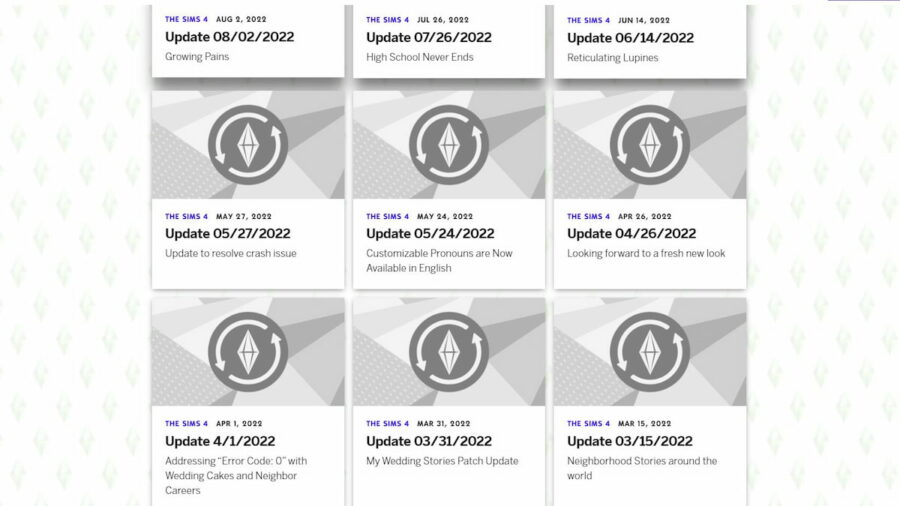 We aren't exactly sure when the next Sims 4 update will come about, but we have some clues that can help us infer a likely answer. Looking back on the last nine updates in 2022 (pictured above), we get more of an idea about update patterns. It appears that, aside from smaller bug fix patches, we can likely expect the next update sometime at the end of Aug. 2022.
Want to read more about The Sims 4? If so, check out How to have Prom in The Sims 4 – Prom Event Guide on GameTips.PRO.