The Stanley Parable: Ultra Deluxe has plenty of easter eggs, secret endings, and achievements to keep players busy. The game often requires players to take specific steps before gaining access to further story progression. One achievement that is particularly tricky and requires players to first complete a long list of steps is Test Achievement Please Ignore.
How to unlock Test Achievement Please Ignore
The first step in unlocking the Test Achievement is gaining access to the New Content Door, which can be reached by following this guide. Follow through this sequence until the game resets. In the next run-through, head back to the door, which is now named the New New Content Door. This will lead players to the Expo Hall.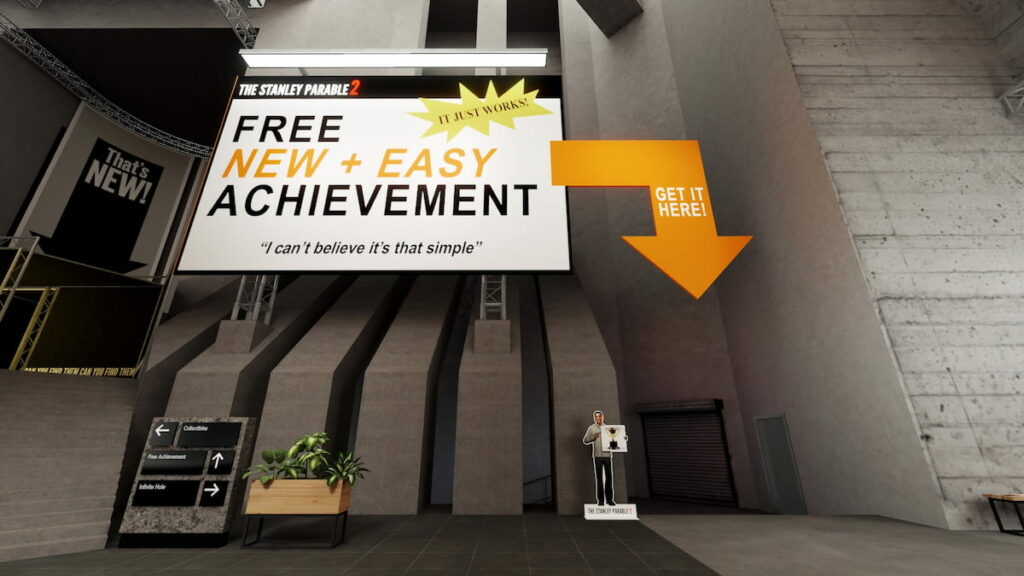 Once in the Expo Hall, head to the room labeled "Free New + Easy Achievement," and when inside activate the Test Achievement machine's lever. The Narrator informs players that the machine is broken and that the achievement will be added in the game later. Don't give up hope yet, as the achievement can be unlocked by completing some additional steps.
From the room with the Test Achievement machine, head to the right and enter the Collectibles room and pick up the first Stanley Figurine. This will allow players to progress in the next playthrough, where they must find the five remaining Stanley Figurines. After finding all of the Stanley Figurines, reset the game to progress the story. Follow this playthrough until the next reset.
This is the point where some have experienced issues. After exiting the game and re-entering, the player should see an Epilogue button below Settings in the Main Menu. If this does not appear, keep restarting until the Epilogue button appears. Once it appears, play through the Epilogue until that run is complete. This will grant access to the New Content door again, allowing players to travel back to the Expo Hall and activate the Test Achievement machine lever.
Interested in reading more about The Stanley Parable: Ultra Deluxe? Check out "Settings World Champion" Trophy/Achievement guide – The Stanley Parable: Ultra Deluxe on GameTips.PRO!