The Tears of Themis Sweet Home Day is a furniture event that runs from September 27, 2022, to October 11, 2022, and is open to all attorneys who have completed the X-Note Main Story 4-15. During this event, you can collect Blueprints for Sweet Fairy Tale-themed furniture and farm Exquisite Lumber for building.
How to complete the Tears of Themis Sweet Home Day event
Click on the event menu on the lefthand corner of the home screen and select Sweet Home Day. The click Home Tasks on the bottom right of the screen. Your main goal is to complete as many Home Improvements as possible to collect Blueprints and Exquisite Lumber. These can then be used to customize (craft) Sweet Fairy Tale furniture to get S-Chips and the event-exclusive Playful Badge.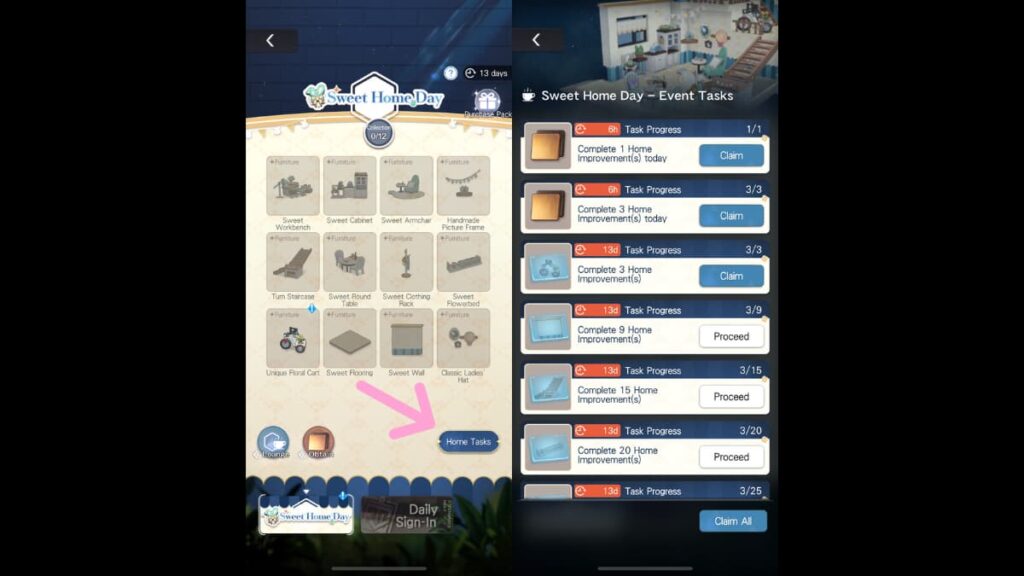 To get all the rewards, you need to do the following:
Customize 9 pieces of Sweet Fairy Tale furniture to get all S-Chip rewards (x200 total).
Customize 12 pieces of Sweet Fairy Tale furniture to get the event-exclusive Playful Badge.
How to do Home Improvements in the Tears of Themis Sweet Home Day event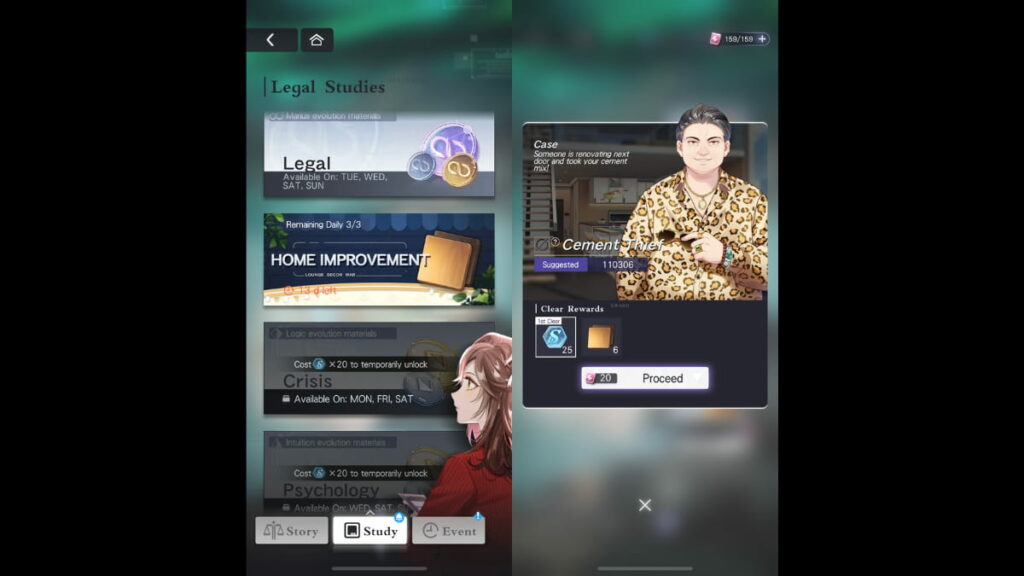 You need to do Home Improvements to complete Home Tasks and claim rewards, including Sweet Fairy Tale Blueprints. Head to the X-Note and select Study. Scroll down to find the Home Improvement section, which will only appear during the event period. There are five stages that each give a one-time reward of 25 S-Chips, so we highly recommend doing all of them at least once before focusing on the final stage for farming.
Difficulty
Cost
Exquisite Lumber Reward
Easy
(25,845 Suggested Power)
10 AP
x1 Exquisite Lumber
Normal
(40,609 Suggested Power)
10 AP
x2 Exquisite Lumber
Hard
(59,019 Suggested Power)
15 AP
x3 Exquisite Lumber
Very Hard
(85,153 Suggested Power)
15 AP
x4 Exquisite Lumber
Challenge
(110,306 Suggested Power)
20 AP
x6 Exquisite Lumber
You can only complete three rounds for free each day and can spend 100 S-Chips to refresh your daily chances three times a day. Assuming that you play for all 15 days of the event, you can collect a total of 45/90/135/180/270 Exquisite Lumbers for free depending on which difficulty level you choose.
How much Exquisite Lumber do you need to craft all furniture in the Tears of Themis Sweet Home event?
You need 960 Exquisite Lumbers to customize all 12 Sweet Fairy Tale furniture items in the event. Apart from the amount you can get by completing Home Improvement stages, you can farm the material through the following means:
Collect compensation from in-game mail (x100 Exquisite Lumber).
Complete Home Tasks (not free-to-play friendly).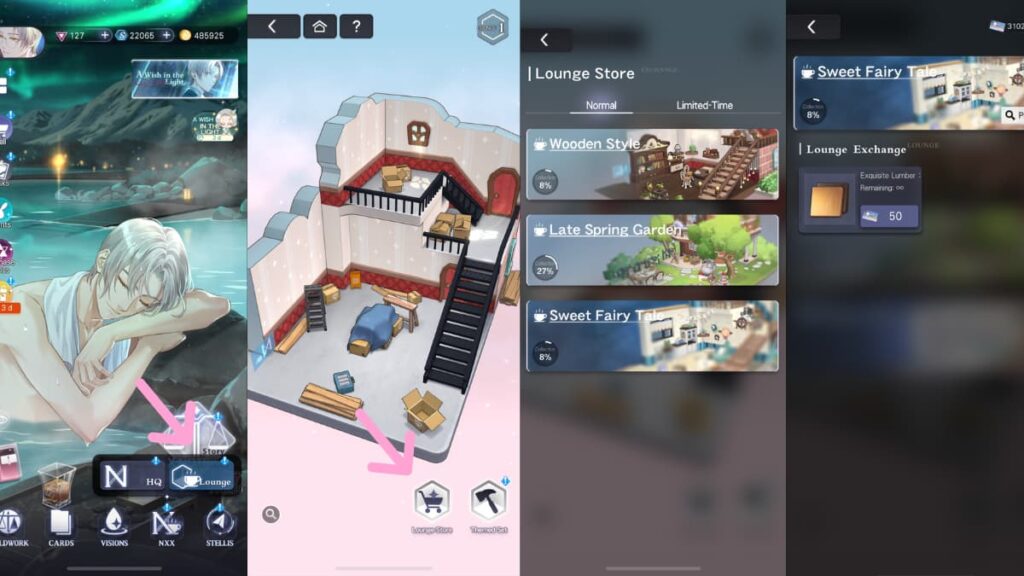 Additionally, you can get a supply of Exquisite Lumbers by purchasing them with Home Improvement Vouchers. Head to the NXX, select Lounge, open the Lounge Store, and choose any of the furniture sets. You'll find an option to purchase x1 Exquisite Lumber for x50 Home Deco Voucher.
Keep in mind that Exquisite Lumber is not an event-exclusive resource, so any of your existing Exquisite Lumbers can be used for the event. Likewise, if you aren't interested in the rewards, all the Exquisite Lumbers you collect can also be used for future events or for customizing other furniture sets that you prefer.
Check out our Tears of Themis Daily Check-in Guide to farm Home Deco Vouchers for this event.