Tears of Themis' Main Story has been at a standstill for a while. However, the game has finally released the next chapter of the compelling story surrounding Rosa and the four male leads. Episode 6 (1) A Vicious Cycle (I) is finally out—with the second part to follow on Mar. 17, 2022.
To celebrate the release of Episode 6, you can enjoy limited-time tasks for rewards, as well as higher drop rates for Anomaly levels. The mini-event runs from Mar. 4, 2022, to Mar. 11, 2022, and requires you to play through Episode 6 (I) to enjoy.
Event Tasks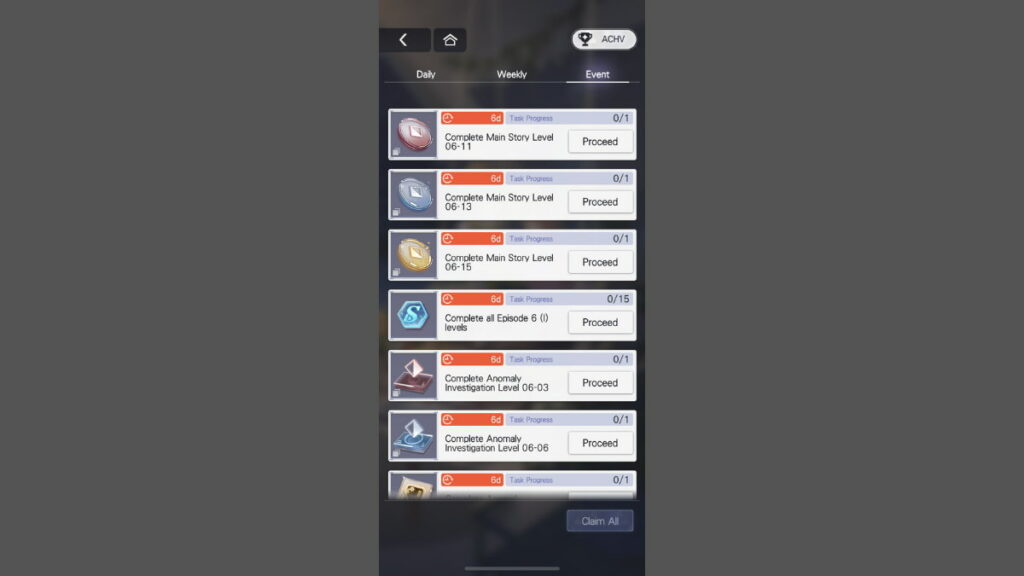 An Event tab has been added to the Tasks menu, detailing the things you need to do within the event period to earn rewards. You can get S-Chips, upgrade materials, and Tears of Themis by completing Episode 6 (I) and all corresponding Anomaly levels.
Keep in mind that you need to complete Episode 5 (III) and all Episode 5 Anomaly levels as a prerequisite to all Episode 6 (I) content.
Related: How to get and use Work Permits in Tears of Themis
Anomaly Card Fragment Double Drop Rate
All Anomaly levels from Episodes 1 to 6 will get an increase in their Card Fragment drop rates. Play through the following stages to farm the SR Card Fragments that you love. You can only debate on each stage thrice per day, and each debate costs 15 AP.
While the drop rates will double, completing a stage will still not guarantee a Card Fragment drop. You need 100 of the same Card Fragments to claim a full SR.
There's still enough time to go on a vacation with Artem or Vyn! Check out our Tears of Themis Romantic Rail Getaway – Treasured Time With Him event guide to hop on board.