Episode 5 (Part 2): Sins of Cynicism (II) continues from the first part of the Investigation surrounding Jasmine Kenders' death. It takes you to Opaline Village, the location that connects Heirson's laboratory, Huey's origin, and the car accident.
As with the first part, Luke Pearce will continue being your primary Investigation partner, while the other members of the NXX focus on their respective tasks.
5-16
Upon your arrival to Opaline Village, you run into Irvin Soong, a grumpy old man who refuses to cooperate with your Investigation. Luke will ask you to infer, based on the evidence gathered so far, who aside from Irvin Soong is most relevant to the case. Reply with Hans Weller.
5-18—Inspection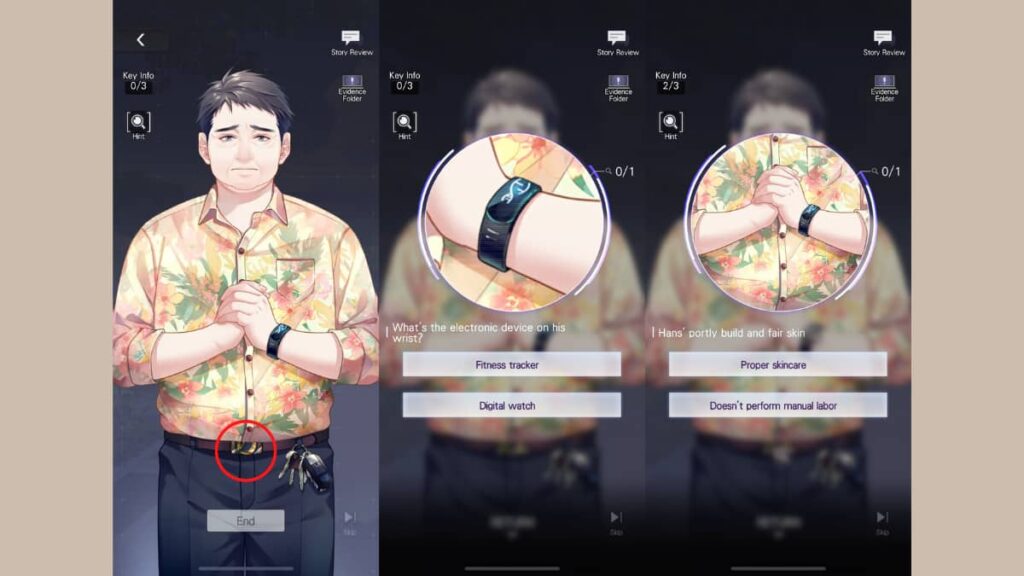 In this part, you encounter Hans Weller, giving you the opportunity to inspect his physique. Inspect the following:
Belt
Watch: select Fitness tracker
Fair skin around his hands: select Doesn't perform manual labor
5-22—Analysis
Inquiry #1: It's obvious that Hans Weller is lying, because…
Connections:
Affected Opaline Fisheries
River Water Purification
Inquiry #2: Hans Weller must have seen Hugh before, because…
Connections:
Hugh's History
Hans' Unfamiliarity with Hugh
Inquiry #3: Hans Weller's opinion of Heirson is obvious, because…
Connections:
Hans Weller's Pollution Suspect
Laboratory's Operating Status
Inquiry #4: Hans Weller's source of income is problematic, because…
Connections:
The Wellers' Exorbitant Spending
Accident Compensations
Check out our Tears of Themis Episode 5 (Part 1): Sins of Cynicism (I) Investigation walkthrough to complete the first part of this long Investigation.