In Roblox Theme Park Tycoon 2, players will have to build their own amusement park with various rides, fun activities, and other unique elements that attract guests. Players will need to build a fair amount of rides with proper entrances and exits to earn better ratings, and it is best to start working around the Editor mode in-game. At the same time, you will need to keep the guests happy, and for this, you will have to spend wisely on food stalls, rides, and other attractions. Here are a few tips and tricks to get started in Roblox Theme Park Tycoon 2!
How to build a roller coaster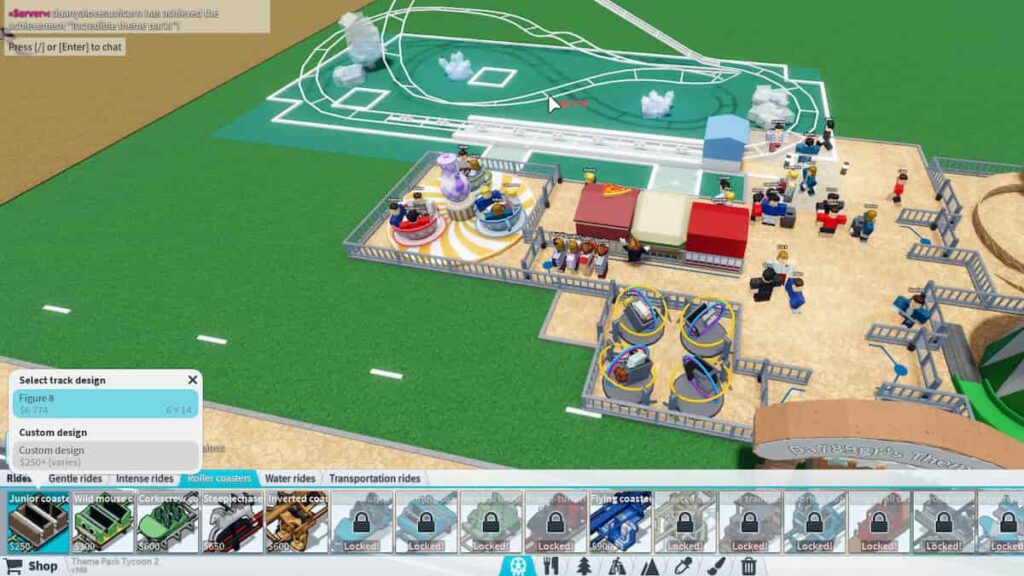 To make a new Roller Coaster, select the Roller Coasters tab in Roblox Theme Park Tycoon 2. Here you will find various types of Roller Coasters, and they can be custom-built as well. We recommend starting with the Junior Coaster as it is the cheapest, and gives players a good idea about how to use the Editor. Visit the Advanced Editor tab and select the Spherical Manip option to add verticality options to your Roller Coasters! You can also select different track types by choosing them from the More Pieces section.
How to build entrances and exits
Entrances and exits are essential for every ride, and players will have to build them next to the rides, along with a queue path. Make sure to always build ample paths for the guests to travel around the park while designing a ride's layout. Not having proper pathways will stop guests from leaving, which in turn will make them unhappy. You can essentially build symmetrical pathways that connect all the exits together, allowing a steady flow of guests to enter and leave the rides.
How to get more guests
Players will need to enhance the quality of rides, add more food stalls, build proper entrances along with exits, and add various scenery items to attract more guests in Roblox Theme Park Tycoon 2. Start with a few rides first and build up your financial status. Build new rides once you have enough money, and test each ride before opening them to the public. Make sure to set up restrooms, seats, and garbage cans around the park to always keep it clean.
How to get a good rating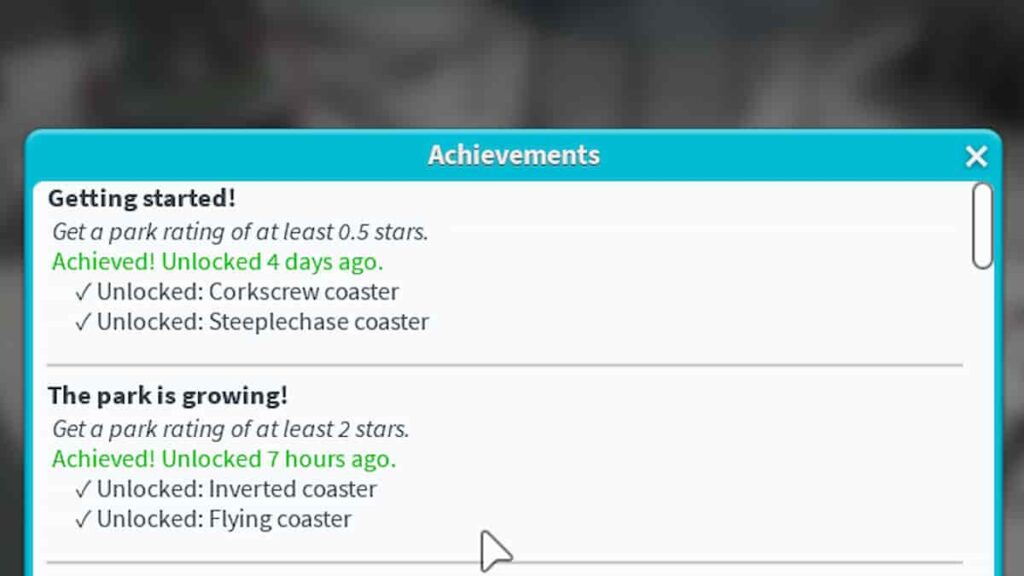 Your Theme Park will eventually start getting good ratings with better rides, unique decorations, and by completing various Achievements. Make sure the rides are not overly priced, and that food stalls, as well as seating arrangements, are found in every area of the Park. Once you get enough money, start building new unlocked rides. You can also build attractions at another player's Park to unlock the Teamwork Achievement. Ratings will eventually start increasing, and this will attract more guests to your Theme Park.
How to delete your park
Deleting your Theme Park is easy enough, and for this, you will need to visit the Settings tab. Scroll down to the Delete Everything option. Players will find that they can only delete the park if they have $100,000. At the same time, players will get to keep their current money, unlocked areas, park likes, and park statistics. Managing money can be a big factor in Roblox Theme Park Tycoon 2, and it's best to save for a while before building an expensive ride!
Wondering how to make your Theme Park attractive to get a five-star rating? Check out How to get a five star park rating in Roblox Theme Park Tycoon 2 on GameTips.PRO!