Space Noob Tycoon is an experience developed by AirPenguin Studios. In Space Noob Tycoon, you are in charge of a space person who wants to get as many resources from planets as possible. The game gives you some gold and ore so that you can begin your mining excavations and quickly grow big enough to leave the planet and colonize other planets. You will start off with a large number of resources from each planet, and there is a wide variety of resources to choose from.
You can get more ore and resources by using the codes below. Be sure to go to where you receive your gifts next to the spaceship to find your ore. Although it may seem unfair at first, everyone has an equal opportunity to gain these benefits, and training can be challenging at first. You will spend a lot of time grinding either way, so it makes sense to get this boost as soon as possible. These codes are easy to use, and the developer intentionally incorporated them into the game, so it's not unfair. Below, you will find our Space Noob Tycoon codes, so try them and see if they will improve your gameplay!
For more codes on Roblox games like Space Noob Tycoon, check out Roblox Space Tycoon Codes, Roblox Space Base Tycoon Codes, Roblox Space Legends Codes, Roblox Space Simulator 2 Codes, Roblox Space Combat Tycoon Codes, or Roblox Rocket Rush Simulator Codes. Use our codes to keep your gaming experience at its peak.
Space Noob Tycoon Codes List
Space Noob Tycoon Codes (Working)
Here's a look at all the working Space Noob Tycoon codes.
SNB1KLIKE—Redeem code for a reward (New)
SN100LIKE—Redeem code for a reward (New)
NEWGAME—Redeem code for a reward (New)
Space Noob Tycoon Codes (Expired)
These Space Noob Tycoon codes no longer work.
SNB500LIKE—Redeem code for a reward (New)
Roblox Space Noob Tycoon FAQs, Answered
Here's everything you need to know regarding Roblox Space Noob Tycoon codes.
How to Redeem Roblox Space Noob Tycoon Codes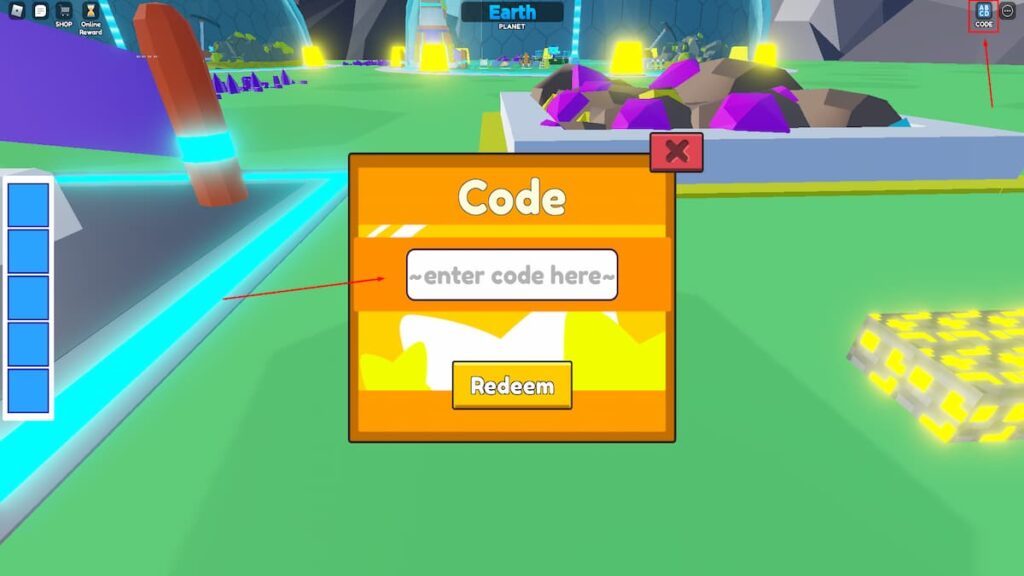 It is very easy to redeem codes in Space Noob Tycoon:
Launch Space Noob Tycoon on your device.
Tap on the ABCD icon with Codes under it on the top right.
Enter a working code into the code redemption box.
Press the REDEEM button to redeem the code.
Enjoy your free in-game rewards.
How can you get more Space Noob Tycoon codes?
Some methods are better than others for staying up to date on the newest codes when they are released. The most effective way to keep updated on Roblox Space Noob Tycoon codes is to return to this page regularly. As we continue adding and verifying codes in Space Noob Tycoon, we will ensure that they work perfectly. Please leave a comment if you find new codes we do not have. Readers who quickly catch any code errors are always appreciated, and we will add the code to the expired section if it does not work for us.
Your next step should be to join the Space Noob Tycoon Discord. Players can establish relationships with players who enjoy Space Noob Tycoon in this community. In Discord, the Developers usually announce new codes or where to find them on your own. This Discord is for the game developers, not only for Space Noob Tycoon, but you can find a channel for Space Noob Tycoon in the Discord. 
Finally, players can follow the game's official Twitter account to stay informed. It is usually the game's official Twitter account that announces new codes. The developers want you to stay on top of new tweets, so they use their Twitter accounts exclusively to announce new codes. After following, you can opt-in to be notified when one is available by pressing the bell icon.
Why can't I redeem any codes for Roblox Space Noob Tycoon?
If you ever have trouble redeeming codes in Space Noob Tycoon, look at our list of possible reasons and solutions:
Codes must be typed exactly as they appear above. Any changes to the code will result in an error.
We recommend that, when possible, you copy the code from the list above and paste it into the game so that there is a lesser chance of entering it incorrectly.
A blank space is left behind after the copying process in some cases. To enter a code, enter only the letters and numbers above, and do not include any spaces.
This code is no longer valid. Should this happen, please let us know in a comment. We will treat each expired code seriously and ensure it works before updating the article. In the event that the code doesn't work after we test it, we will move it to Expired.
The code has already been entered and redeemed. A code cannot be redeemed more than once. Entering another code will not be allowed if you've already entered one and received rewards. Exceptions to this rule include codes that expire and start working again since these will affect all users.
What is Space Noob Tycoon?
With Space Noob Tycoon, you start off as a lonely space person who has to manage an entire resource-building operation. It may seem intimidating, but players are given some ore to begin with, and they must use that to make their first Noob. The Noobs run on bikes to give you more ore and resources.
You will need these resources to upgrade your workstations and, ultimately, to build a greenhouse so you can feed your Noobs. You may find that some resources differ from planet to planet, but you will have to wait a lot near the end of each planet so they can be made. As your backpack can only hold so many resources, you'll spend a lot of time going back and forth.
The cost of moving from planet to planet is high, and every time you go to a new planet, you start over. The game is played with other Roblox users at different stages of their factories. There is no fighting, so you don't have to worry about other players sending Noobs to attack you. The main objective of the game is to move from planet to planet.
If you're looking for codes for other games, we have a ton of them in our Roblox Game Codes post! You can also get a bunch of free stuff via our Roblox Promo Codes page.