Break the backboard and dominate your opponents on the court RB World 4. Gather your friends on Roblox and create a team of five power players to take on other players in the game. You can create and customize your character and level up your player to be a power forward or a creative center. Be the playmaker that you always dreamed of being in this court battle!
The codes you can claim in RB World 4 will give you the in-game currency of tickets and Koins. Use these currencies to buy cosmetic items and level your character up. These codes are helpful for first-time players to use at the start of the game.
Dunking and shooting three-pointers are so much fun on Roblox. Try these codes for your favorite basketball games to get some serious air while making that bucket. Claim these codes for Basketball Simulator Codes, Roblox Dunking Simulator codes, Hoops Life Codes, Roblox Ball Throwing Simulator Codes, and Roblox RH2 The Journey Codes.
All RB World 4 Codes List
RB World 4 Codes (Working)
Here's a look at all the working RB World 4 codes.
SeasonOne—Redeem code for 10k Koins
#RobloxDown—Redeem code for 50 Tickets
#ForgiveMe?—Redeem code for 20k Koins
3KKoins—Redeem code for 3k Koins
GrayJoggers—Redeem code for Gray Joggers
GenericShoes—Redeem code for rewards Generic Shoes
RB World 4 Codes (Expired)
These RB World 4 codes no longer work.
1MKoins—Redeem code for rewards
BetaKoins—Redeem code for rewards
BetaTickets—Redeem code for rewards
WhiteShirt—Redeem code for rewards
RB World 4 Frequently asked questions
Here's everything you need to know regarding RB World 4 codes.
How to redeem RB World 4 codes
Redeeming codes in RB World 4 is easy. Follow our guide below.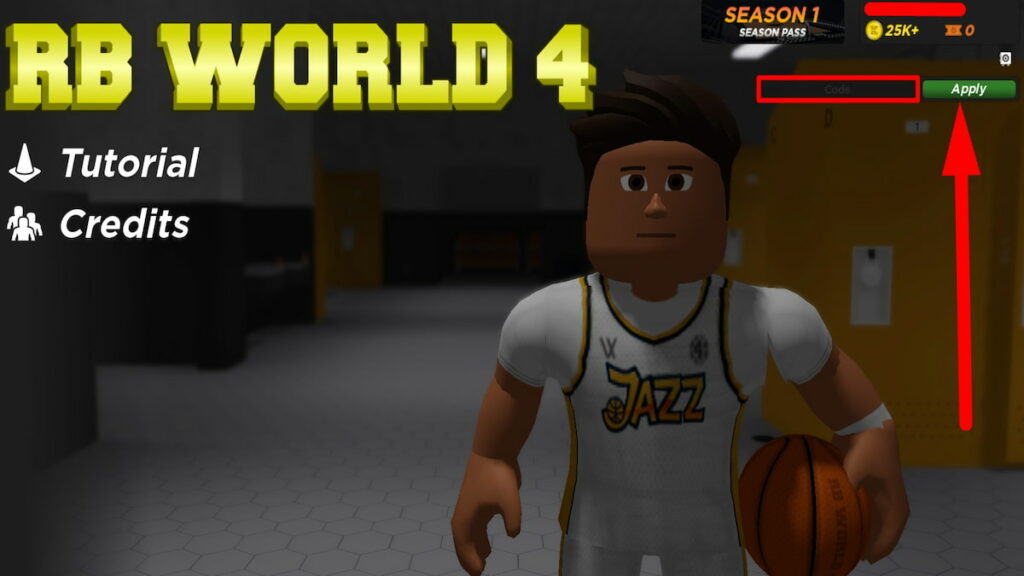 Launch RB World 4 on Roblox.
Click on the Safe Icon on the top right-hand side of the screen.
Enter the codes into the Codes text box.
Click on the Apply button to claim your rewards.
How to get more RB World 4 codes
To get the latest RB World 4 codes from the developer Jokes' Games, follow them on Twitter @jokes4lifex or Jokes' Games Discord Server. Here at GameTips.PRO, we have all the latest codes from the developer, so bookmark this page and often return to claim all the freebies! 
Why aren't my RB World 4 codes working?
There may be several reasons why the RB World 4 codes are not working. The codes could expire, codes for Roblox experiences, and the developer decides that. Claim the codes on our working list as soon as possible because the codes could expire in a few hours or last a few months. The codes may be misspelled or missing punctuation; copy and paste the codes from our list to avoid making mistakes before you click on the apply button.
How to get more cash in RB World 4?
To get extra cash in RB World 4 is super simple. Compete in as many games as you can. Each victory you get in the game will give you a cash reward. The more games you win, the more cash you will earn. The other way to make extra cash is to score as many points in the game as possible. Even if you lose a game, you will be rewarded for the number of points you make in the game.
What is an RB World 4 game?
An RB World game is an online basketball game where you will play against other players in the game and put your shooting skills to the test. Team up with your friends, take on other teams in the game and rank up with every victory. Do you want your character to be better than other players? Go to the gym and rank up your stats by training.
If you're looking for codes for other games, we have a ton of them in our Roblox Game Codes post! You can also get some free stuff via our Roblox Promo Codes page.