Experience a different One Piece Roblox title in Piece X Tycoon. Manage your island and become a powerful pirate lord. Earn money and spend it on upgrading your base, thus increasing your power and making you a fearsome pirate.
Use codes in Piece X Tycoon to get rewards like money and heroes. Each code has an expiration date, so be sure to keep an eye on them and use these codes once they are released. We have compiled a list of available codes so you can earn gear and more in Piece X Tycoon.
If you're looking for more Roblox content, check out Legacy Piece Online Codes, One Piece Tower Defense Codes, Sea Piece Codes, and more on GameTips.PRO. Use our various Roblox code guides to get loads of free stuff.
All Piece X Tycoon Codes List
All Piece X Tycoon Codes List (Working)
PIECE—20,000 Money (New)
X—Garp (New)
All Piece X Tycoon Codes List (Expired)
There are no expired codes at the moment.
Roblox Piece X Tycoon Codes FAQ
Here's everything you need to know about Roblox Piece X Tycoon codes.
How to redeem codes in Piece X Tycoon
You can use codes in Piece X Tycoon to get resources and rewards quickly. Make sure you enter the code correctly, or it will not work. Here is how to redeem codes in Piece X Tycoon.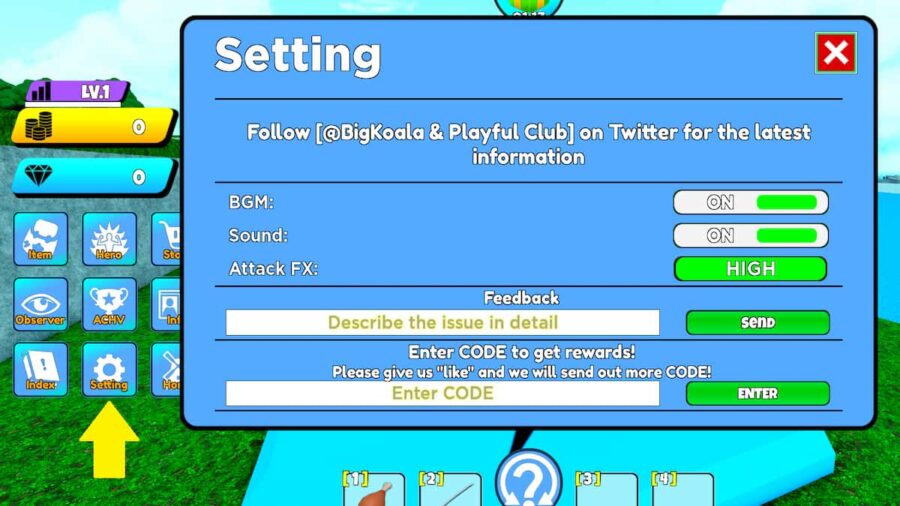 Click on the Settings button at the bottom of the screen.
Select the Enter Code box.
Input the code and hit enter.
How to get more Piece X Tycoon Codes
Join the Piece X Tycoon Twitter, Discord, and Community Group for more codes and to interact with the community. You can also bookmark this page, as we will update this list once new codes are released. So be sure to check back often to see if there are new codes for Piece X Tycoon.
Why aren't my Piece X Tycoon Codes working?
The developer controls codes for Piece X Tycoon codes, and this is who determines how long they are active. Some codes may expire quicker than others, and some may not work with others. If a code does not work for you, double-check if there is a spelling error, the code isn't active yet, or it has already expired. To help solve that issue, bookmark this page and come back often to see if Piece X Tycoon has added new codes or if some are expired.
What to use money on in Piece X Tycoon?
You will spend money upgrading your base, pier, and crew. We recommend spending money on upgrades that will earn you more. That way, you have a constant cash stream. This will let you continue to upgrade your base and pirate life.
What is Piece X Tycoon?
Piece X Tycoon combines the world of One Piece with the joy of building up an empire on your island. Upgrade your base, recruit crewmembers, and earn money until you become a true pirate lord. You can also hop on your ship and sail the seas when the urge takes you.
For more information on Roblox, check out A One Piece Game Codes – Beli and fruit resets! and Grand Piece Online Codes – Free rerolls & resets on GameTips.PRO.