Collect all of the cutest and fluffiest Pets in Pet Gods Simulator that you can. The power of your Pets will be used to explore different worlds with different difficulty levels. Secrets can be found throughout every unlockable area, and it's up to you and your companions to find them. Upgrade your Pet to Godly status and summon the powers from Olympus to smite anything in your way.
These codes will allow you to give Boosts to your Pets and add Coins to your funds to buy upgrades sooner for your Pets. The Boosts will provide you with critical additional resources while you are mining the area for Coins and Gems.
Pet games in Roblox are some of the most played games. We have codes to help you in these Pet Simulators so you can upgrade your Pets and get limited edition Pets that only codes can unlock. Try the codes for Roblox Adopt Pets Codes, Roblox Pet Legends Codes, Roblox Strong Pet Simulator Codes, Roblox Pet Fighting Simulator Codes, and Roblox Pet Champions Codes.
All Pet Gods Simulator Codes List
Pet Gods Simulator Codes (Working)
Here's a look at all the working Pet Gods Simulator codes.
woo750likes—Redeem for Coin and Luck Boost
likes250thx—Redeem for Double Damage Boost
thx500likes—Redeem for Coin Boost
wow100likes—Redeem for Double Damage and Luck Boost
update1—Redeem for Luck Boost
Release—Redeem for 150 Coins
Pet Gods Simulator Codes (Expired)
These Pet Gods Simulator codes no longer work.
thxforplaying—Redeem for Boosts
Roblox Pet Gods Simulator Frequently Asked Questions
Below, we list some of the players' most common questions when playing Roblox Pet Gods Simulator.
How to Redeem Pet Gods Simulator Codes
It's easy to redeem codes for free rewards in Pet Gods Simulator. Follow the instructions below: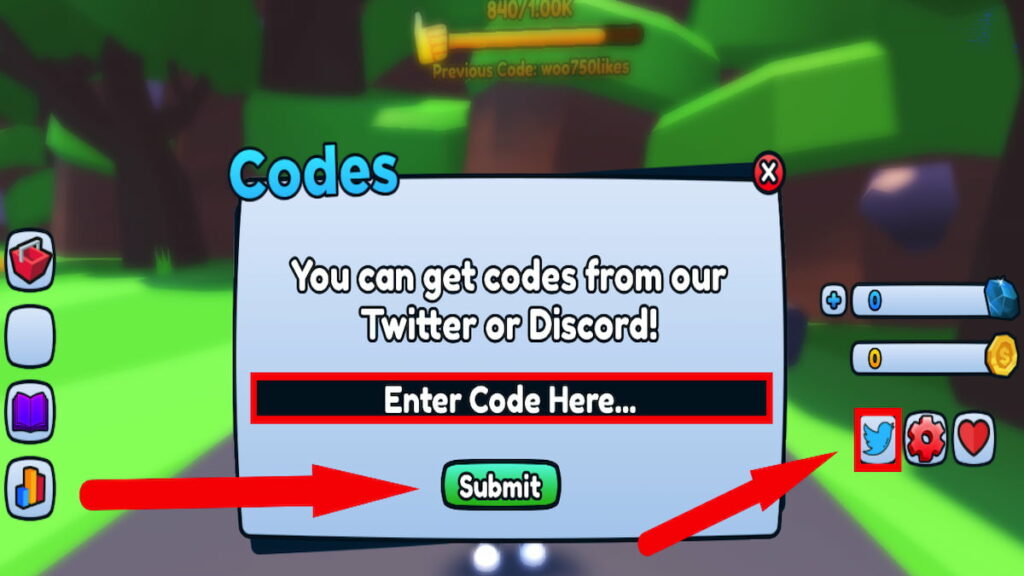 Launch the game.
Press the Twitter Icon on the righthand side of the screen.
A new window will appear where you can enter each working code into the Enter Code Here box.
Press Submit to receive your free reward.
How to get more Pet Gods Simulator codes
You can get all the latest codes from the developer, Big Boys Games, by following them on their Twitter account, @BladianMC, or joining their Pet Gods Discord Server. You can also find active codes in the game on the left of the Upgrades section. An active code message is left here by the developer. We here at GameTips.PRO have the latest code drops for Pet Gods Simulator, so make sure to bookmark this page to never miss another reward!
Why aren't my Pet Gods Simulator codes working?
There are a few reasons your Pet Gods Simulator codes may not be working. These codes may be typed in the Enter Code Here box incorrectly. Ensure all your spelling and punctuation are correct before hitting the submit button. These codes may have expired already, but they have an expiration date determined by the developer, so make sure to claim the codes on our list before they disappear. If any of the codes are expired, let us know in the comments below so we can update our list.
What does Auto Send do in Roblox Pet Gods Simulator?
The Auto Send button in Roblox Pet Gods Simulator can be found at the bottom of the screen. You can turn the Auto Send feature on and off by clicking the red box next to the name. This feature will send your Pets to collect resources for you automatically instead of you clicking away and mining the resources yourself. This feature is great if you need to step away from the game, and there is no time limit or cap on how often you can use it.
What is Pet Gods Simulator?
Pet Gods Simulator is a Pet collecting game in Roblox. Mine resources all over the map to unlock bigger and stronger Pets. The more resources you collect, you will be able to unlock new areas to mine for more resources in each location. Get as many resources as possible to collect all the Pets. The better and stronger your Pets become, the higher you climb on the leaderboards!
If you're looking for codes for other games, we have a ton of them in our Roblox Game Codes post! You can also get a bunch of free stuff via our Roblox Promo Codes page.