Squid Game was a global sensation in 2021, quickly jumping up the ranks as one of the most-watched shows ever on Netflix. But the gripping thriller series has been lacking in spin-offs and tie-in games, with only unofficial games such as Crab Game or Roblox games to tide people over.
But in an interview with The Hollywood Reporter, Minyong Kim, Vice President of Content for Netflix in Asia Pacific, revealed that the company was working on a roadmap for the Squid Game IP. This, according to Kim, included "games, consumer products, and others."
Related: How to play Crab Game for Beginners
Since then, there's been little to no news on any potential games, but it's good to know the company is hard at work developing projects. But bear in mind most games take months, if not years, to develop, and Squid Game only became a hit in September 2021. So it's unsurprising not to hear too much since then.
Who makes the Squid Game video game?
At the moment, there's no word who will be developing the Squid Game video game. However, Netflix has its own games division, which focuses on publishing mobile games.
The leading developer on those games was Bonus-XP, who've made dozens of games with Netflix-owned IPs, including Stranger Things: 1984 and The Dark Crystal: Age of Resistance. But Netflix also recently acquired Night School Studio, a company that previously made tie-in games for Amazon's Mr. Robot. These two are just some of the many potential developers for the game. 
What will the Squid Game video game be like?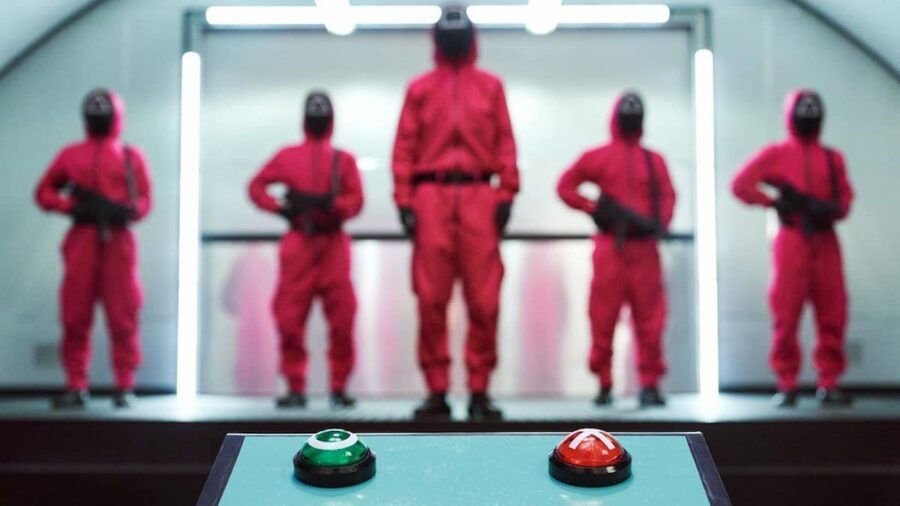 Currently, there's no information about precisely what the Squid Game game will be like. However, if we're talking recent imitators as an example, expect some kind of third-person action game. It could also be based around the Battle Royale genre, which is incredibly popular.
Alternatively, with the compelling story of Squid Game, simply replicating the games in Squid Game may not be worthwhile. Instead, the game could follow the story of someone drafted into the Squid Game, and capitalize on the narrative of the original series. 
What platforms will the Squid Game Video Game be on?
Netflix Games is currently a mobile app that works alongside your Netflix subscription. But Netflix also has access to almost every console available. So if the Squid Game video game is incorporated into the Netflix app, it could be made available on nearly every platform.
If the Squid Game video game is a stand-alone game, then it will depend on which platforms want to work with Netflix to put the game out. However, with the unprecedented popularity of Squid Game, any publisher would likely jump at the chance to have the game on their platform. 
Until we have more information about Squid Game's official adaptation, check out our Crab Game guides on Pro Game Guides.