There are several weapons to unlock, level up, and use in Call of Duty: Modern Warfare 2 Beta. The iconic MP5 Submachine Gun has made a comeback and falls within the Lachmann Meer platform or weapon family. Here's how to unlock the MP5 and build the best custom class for it.
How to unlock the Lachmann Sub MP5 in Call of Duty Modern Warfare 2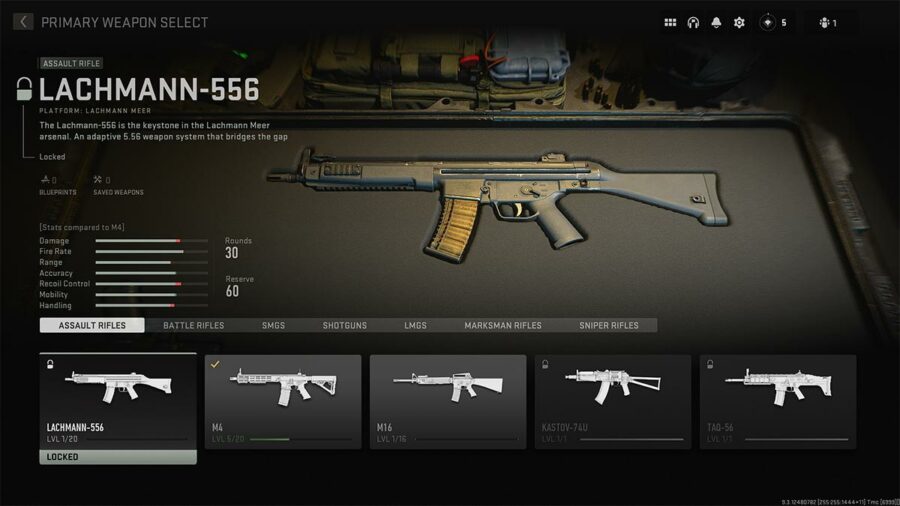 To equip the Lachmann Sub in Modern Warfare 2, follow the steps shown below:
Unlock the Lachmann-762 Battle Rifle by reaching Rank 16 in the multiplayer's progression tree.
Equip and level up the Lachmann-762 to level 12 to unlock the Lachmann-556 Assault Rifle.
Equip and level up the Lachmann-556 Assault Rifle to level 11, which will then unlock the Lachmann Sub or the MP5 for you.
You can now select the SMG from the Receiver attachment slot for the Lachmann platform in the gunsmith or loadout customization menu.
Best Lachmann Sub MP5 Build Modern Warfare 2
Although not all attachments are available right now, you can use the following for a powerful close-mid range Lachmann Sub build in Modern Warfare 2 Beta:
Muzzle: Lockshot KT85
Barrel: FTAC M-Sub 12″
Stock: No Stock
Underbarrel: Lockgrip Precision-40
Magazine: 40-Round Mag
Firstly, the muzzle and barrel used here help with vertical and horizontal recoil control, which is essential for landing your shots accurately. The FTAC 12″ barrel also boosts the damage range and hipfire accuracy of the gun. If you'd like your MP5 to have better aim-down-sight (ADS) and movement speeds, equip the L38 Falcon 226mm Barrel instead.
Next up, the Lockgrip Precision-40 further improves the hipfire spread and accuracy of the gun to give you an edge in close-quarters combat. While all the aforementioned attachments hurt the weapon's mobility to some extent, the No Stock balances this by adding various mobility features to the gun. Finally, you can use the extended mag for some extra bullets.
Best Lachmann Sub MP5 Loadout Modern Warfare 2
Primary: Lachmann Sub
Secondary: X12
Tactical: Flash Grenade
Lethal: Frag Grenade
Perk Package

Basic Perks: Double Time and Battle Hardened
Bonus Perk: Fast Hands
Ultimate Perk: Ghost

Field Upgrade: Dead Silence / Munitions Box
Stay tuned to GameTips.PRO for more Call of Duty: Modern Warfare 2 content. In the meantime, head over to our article on Player feedback not being considered for upcoming Modern Warfare 2 beta changes.