The FSS Hurricane Submachine Gun in Call of Duty: Modern Warfare 2 falls under the M4 Platform or weapon family. Players can use this SMG alongside the Fennec and Lachmann Sub MP5 during the Beta. If you don't want to go the tedious route of unlocking the MP5, the FSS Hurricane is a great alternative to use in Modern Warfare 2.
How to unlock the FSS Hurricane in Call of Duty Modern Warfare 2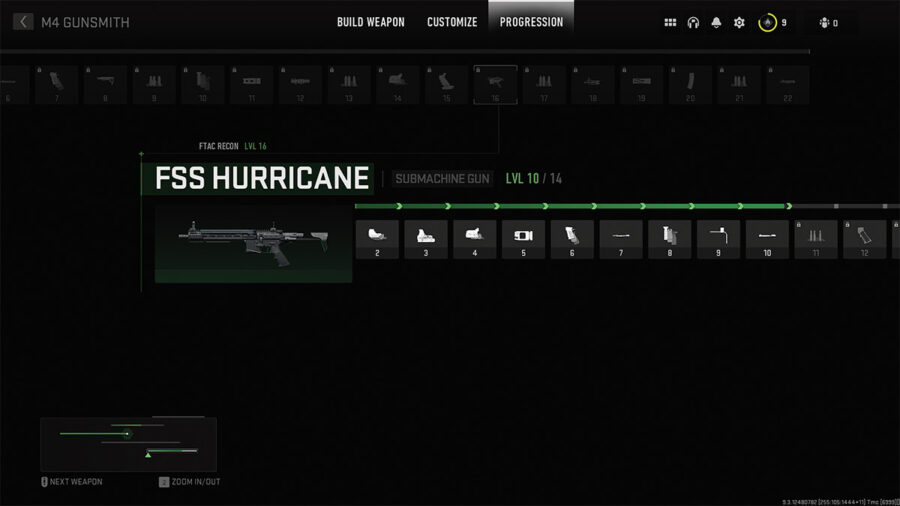 Follow the steps shown below to unlock the FSS Hurricane SMG in Modern Warfare 2 Beta:
Equip the M4 Assault Rifle as a primary weapon in one of your loadouts.
Play some matches using the M4 until it hits level 13 to unlock the FTAC Recon Battle Rifle.
Now equip the FTAC Recon in your loadout and progress it up to level 16 to unlock the FSS Hurricane Submachine Gun.
You can check your weapon levels and unlocks from the "Progression" tab in the gunsmith as shown in the image above. Furthermore, players who've purchased the Modern Warfare 2 Vault Edition already have access to the FSS Hurricane via the FJX Cinder Weapon Vault.
Best FSS Hurricane Build Modern Warfare 2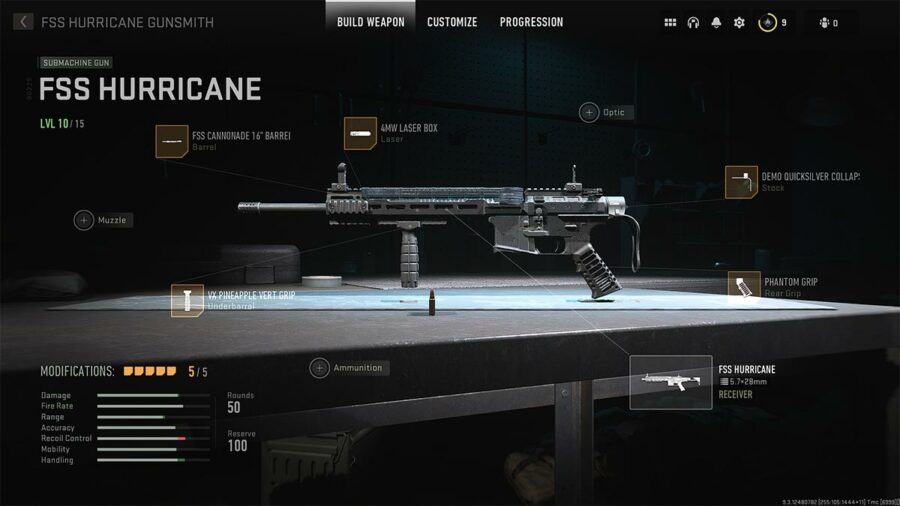 Barrel: FSS Cannonade 16″ Barrel
Laser: 4mW Laser Box
Stock: Demo Quicksilver Collapsed
Underbarrel: VX Pineapple Vert Grip
Magazine: Phantom Grip
This is our FSS Hurricane loadout recommendation using the limited set of attachments available during the Beta. The stock and rear grip attachments used here improve the weapon's viability in close range gunfights by boosting its mobility stats such as movement, sprint-to-fire, and aim-down-sight (ADS) speeds.
The FSS 16″ barrel adds damage range and bullet velocity to the SMG, making it suitable for medium range combat as well. Furthermore, it improves the hipfire accuracy of the gun. For an even tighter hipfire spread, we use the Pineapple foregrip and 4mW Laser on our FSS Hurricane build.
Best FSS Hurricane Loadout & Class Modern Warfare 2
Primary: FSS Hurricane Submachine Gun
Secondary: X13 Auto Handgun
Tactical: Flash Grenade
Lethal: Drill Charge
Perk Package

Basic Perks: Double Time and Tracker
Bonus Perk: Fast Hands / Quick Fix
Ultimate Perk: Ghost

Field Upgrade: Munitions Box
Stay tuned to GameTips.PRO for more Call of Duty: Modern Warfare 2 content. In the meantime, head over to our article on All Gunsmith Weapons in Modern Warfare 2 Beta and How does Ground War Invasion mode work in Modern Warfare 2?