Call of Duty: Modern Warfare 2 Beta gives players three options when it comes to the Light Machine Gun category: 556 Icarus, RAPP H, and SAKIN MG38. The first weapon, the 556 Icarus, is of the M4 Platform and has decent mobility features despite being an LMG. Here's a guide on how to unlock and build a custom class for this gun.
How to unlock the 556 Icarus in Call of Duty Modern Warfare 2
To unlock the 556 Icarus LMG in Modern Warfare 2 Beta, you need to upgrade your M4 Assault Rifle to level 18. The M4 comes pre-unlocked and you can easily equip it in your loadout. Play some matches using a custom M4 build of choice until it reaches level 18, after which you will unlock the 556 Icarus as an LMG and a Receiver option for the M4 Platform. You can check the weapon level and unlocks in the Progression tab within the gunsmith.
Best 556 Icarus Build Modern Warfare 2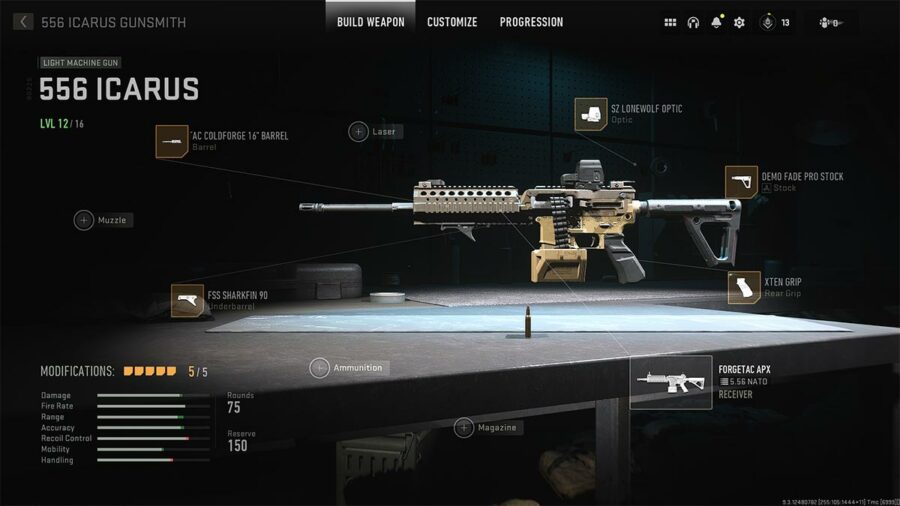 Barrel: FTAC Coldforge 16″ Barrel
Optic: SZ Lonewolf Optic
Stock: Demo Fade Pro Stock
Underbarrel: FSS Sharkfin 90
Rear Grip: XTEN grip
This 556 Icarus loadout performs extremely well at all ranges, however, don't expect it to be as mobile as SMGs and ARs. Starting with the role of the first attachment, the FTAC 16″ barrel improves the weapon's damage range and bullet velocity at the cost of aim-down-sight (ADS) speed. Next up, the Sharkfin foregrip adds aiming stability for better target acquisition.
Since mobility is crucial for the Icarus LMG to compete with other weapons in the game, we've used the Demo Fade stock and XTEN rear grip to help with features like sprinting, ADS, and sprint-to-fire speeds. Finally, the SZ Lonewolf sight is equipped for enhanced visibility. For large-scale Ground War modes like Invasion, you can replace this optic with the SZ Reflex scope for a higher zoom level.
Best 556 Icarus Loadout & Class Modern Warfare 2
Primary: 556 Icarus Light Machine Gun
Secondary: X12 Handgun
Tactical: Flash Grenade
Lethal: Semtex
Perk Package

Basic Perks: Double Time and Battle Hardened / E.O.D.
Bonus Perk: Fast Hands
Ultimate Perk: Ghost

Field Upgrade: Munitions Box
Stay tuned to GameTips.PRO for more Call of Duty: Modern Warfare 2 content. In the meantime, head over to our article on Modern Warfare 2 – How to get Lachmann Sub MP5 & best builds.