The M4 Assault Rifle is one of the first few weapons that come pre-unlocked when you play the Call of Duty: Modern Warfare 2 Open Beta. You can level up the gun in various multiplayer modes and customize the attachments to create a solid build. Furthermore, leveling up the M4 unlocks other weapons in its platform or family, including the FSS Hurricane, 556 Icarus, and FTAC Recon.
Best M4 Build Modern Warfare 2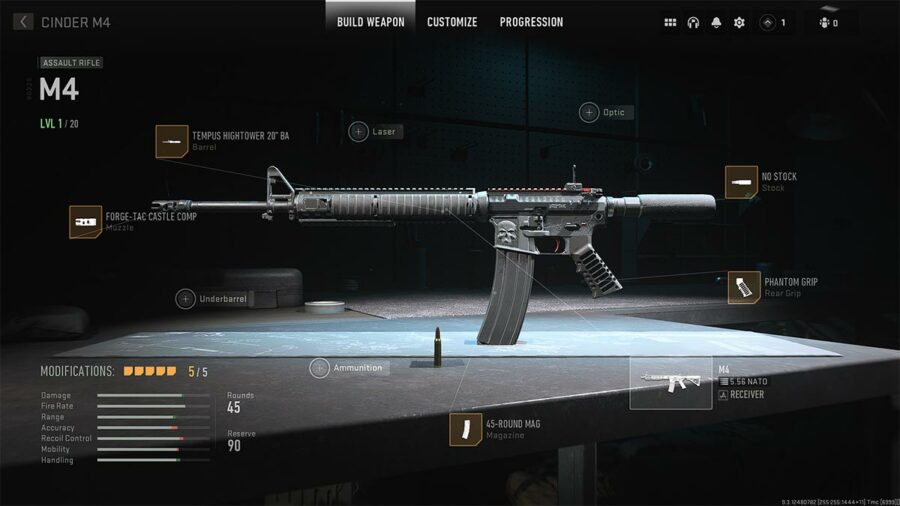 Muzzle: FORGE-TAC Castle Comp
Barrel: Tempus Hightower 20″ Barrel
Stock: No Stock
Magazine: 45-Round Mag
Rear Grip: Phantom Grip
From the limited number of attachments available during the Beta, we've created the perfect M4 loadout that can be used regardless of the map, mode, and combat range. Firstly, the muzzle and barrel used here improve the accuracy of the gun by reducing the visual shake and recoil while firing.
The Tempus Hightower barrel also increases the damage range and bullet velocity, making the M4 viable at all ranges. As these two attachments hurt the weapon's mobility, we use the No Stock and Phantom rear grip attachments to add movement, aim-down-sight (ADS), and sprint-to-fire speeds of the gun.
For the final mod, equip the extended mag so that you don't run out of bullets too often. While the iron sights are great on the M4, feel free to swap the stock attachment for the Cronen Mini Red Dot optic for better visibility. Moreover, you can use the higher zoom SZ Reflex optic for large-scale modes like Invasion.
Best M4 Loadout & Class Modern Warfare 2
Primary: M4 Assault Rifle
Secondary: X12 Handgun
Tactical: Flash Grenade
Lethal: Frag Grenade
Perk Package

Basic Perks: Double Time and Battle Hardened
Bonus Perk: Fast Hands
Ultimate Perk: Ghost

Field Upgrade: Dead Silence
Stay tuned to GameTips.PRO for more Call of Duty: Modern Warfare 2 content. In the meantime, head over to our article on All Perks in Modern Warfare 2 Beta and All Gunsmith Weapons in Modern Warfare 2 Beta.