Magnum Quest is a mobile fantasy role-playing game with idle mechanics. Thanks to that, you can relax and watch as the heroes are auto-battling to bring you hard-earned loot. The goal is to collect heroes and form a mighty party to annihilate enemies. To be successful, you'll need some help.
Magnum Quest Codes will help you speed up the process and get some much-needed assets. You can expect various goodies like Gold, experience, Draw Coupon (used for summoning heroes), Dragonshards (rare currency), Beryl (used for leveling heroes), and Adamantite Dragon Scale (used for summoning), etc.
For more information about idle PRGs, check out Idle Heroes Codes, Roblox Idle Fighters Codes, and Idle Angels Gift Codes on GameTips.PRO.
All Magnum Quest Codes List
Magnum Quest Codes (Working)
These Magnum Quest codes are active.
explorenow—Redeem for 1000K Gold, 6 Large Pile of Hero XP Scrolls, and 10 Draw Coupons.
dragoneggs—Redeem for 1000 Dragonshards, 10 Bag of Gold, and one Golden Hammer.
mqgift2022—Redeem for 10 Adamantite Dragon Scale, 20 Customize Chest of Light, one Golden Hammer, and 5 Chest of Gold Rewards.
Magnum Quest Codes (Expired)
These Redemption codes for Magnum Quest are no longer active.
giftcode
mq61
ilovemom
cu2mr1
cu2mr2
cu2mr3
cu2mr4
woodsburrow
easteregg
foolfriend
herovoice
mqharvest
fbfan100kgift
mq123
mq999
thanksgiving
halloween2021
magiclist
ilovefather
arcanecard
7daysleft1
7daysleft2
7daysleft3
7daysleft4
clover
Magnum Quest FAQ, Answered
Here's everything you need to know regarding Magnum Quest Redemption codes.
How to redeem Magnum Quest Codes
Redeeming Magnum Quest Redeptopn codes is simple if you follow these steps.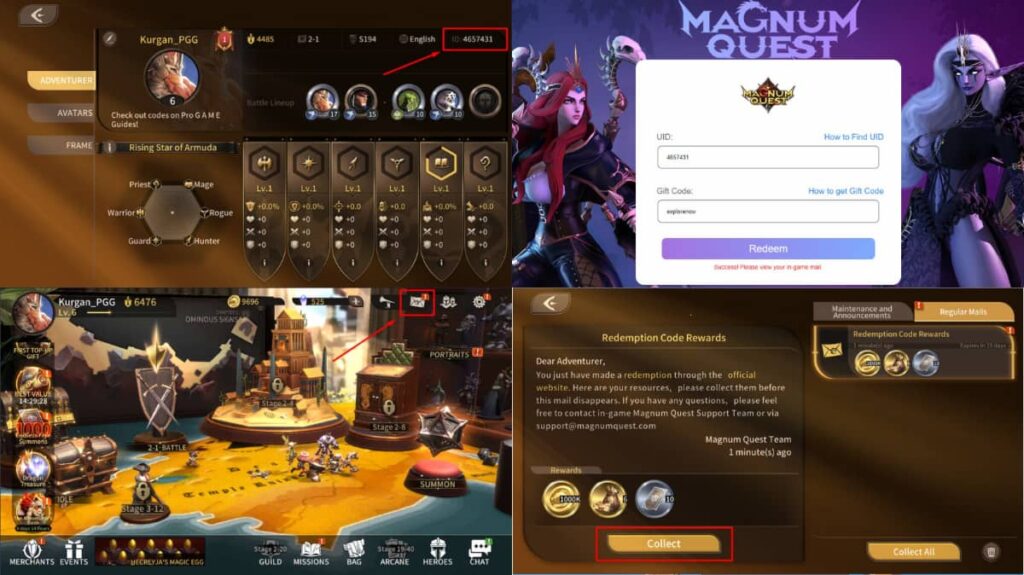 Enter the game, and click on the Profile picture in the upper left corner. In there, you'll find your ID number. Copy it.
Go to the official Magnum Quest page.
In the UID box, enter your ID number, and in Gift Code box enter the code.
Click on a Redeem button.
Return to the game, and click on the Mail button in the upper right corner.
You'll notice you have Redemption Code Rewards mail. Open it and click on the Collect button.
How can you get more Magnum Quest Redemption Codes?
If you want to have all Magnum Quest Redemption code information in one place, bookmark this page and check it out for updates. You can also visit the official Magnum Quest Facebook and Twitter pages for more information.
Why aren't my Magnum Quest Codes working?
The main reason some Magnum Quest codes don't work is the limited time for activation. If some codes from the active list have expired, let us know so we can update the page! Another reason for codes not working can be a simple typo. To avoid that, enter codes precisely as they appear in the working Magnum Quest Codes segment.
What is Magnum Quest?
Magnum Quest is an idle RPG adventure that lets you collect heroes and upgrade them. The brave warriors come from different factions with different fighting styles. As this game has idle mechanics, your adventurers can fight without your help.
If you're looking for more information on idle games, check out Best Idle Mobile Games and Best Heroes in Idle Heroes. You can also get a lot of free stuff via our Game Codes page.