Set sail in Infinity Sea 2 as there are many islands to liberate from marines. Loot and unlock better weapons by defeating as many enemies as possible. If the lands or enemies look familiar to you, it is because this story is told by drawing inspiration from the hugely popular anime One Piece. Become a pirate and wield a blade that would make Zoro proud.
The codes in Infinity Sea 2 can give you several boosts and rewards. Claim these codes to help give you an early boost in the game so you can level your character up or purchase new weapons to help defeat stronger enemies easier.
All your favorite characters from One Piece are all here on Roblox. We have codes to conquer the seven seas and scare every marine ship out of the water. Claim these codes and raise the skull and cross bones in Cat Piece Codes, A Piece Codes, Sea Piece Codes, Roblox Project: One Piece Codes, and Legend Piece Codes.
All Infinity Sea 2 Codes List
Infinity Sea 2 Codes (Working)
Here's a look at all the working Infinity Sea 2 codes.
!Code_Friend GuizeraYT—Redeem code for Stat Reset
!Code_400 Likes—Redeem code for 3,5k Beli, 2,4k exp, 20 minutes 2x Beli and Stat Boost and Stat Reset
!Code_50K VISITS—Redeem code for 3,5k Beli, 2,4k exp, and 20 minutes 2x Beli and exp
Infinity Sea 2 Codes (Expired)
These codes are no longer valid for Infinity Sea 2.
!Deploid_Family—Redeem code for 5x Family Rolls
!XexAndZitBestScripters—Redeem code for 5x Race Rolls
!Code_10K VISITS—Redeem code for 2,5k Beli, 1,4k exp, 7 minutes 2x Beli and exp Boost and a Stat Reset
!Code_100 LIKES—Redeem code for 2,5k Beli, 1,4k exp, and 5 minutes 2x Beli and exp Boost
!Code_sky—Redeem code for 1,5k Beli, 1,4k exp, and 5 minutes of 2x Beli Boost
!Code_release—Redeem code for 2x Money Boost
!Code_DeploidStudios—Redeem code for 2x exp Boost
Infinity Sea 2 FAQ, Answered
Follow our guides for all your questions on Infinity Sea 2 codes.
How to redeem Infinity Sea 2 codes
It's easy to redeem codes for free rewards in Infinity Sea 2. To do so, follow the instructions below.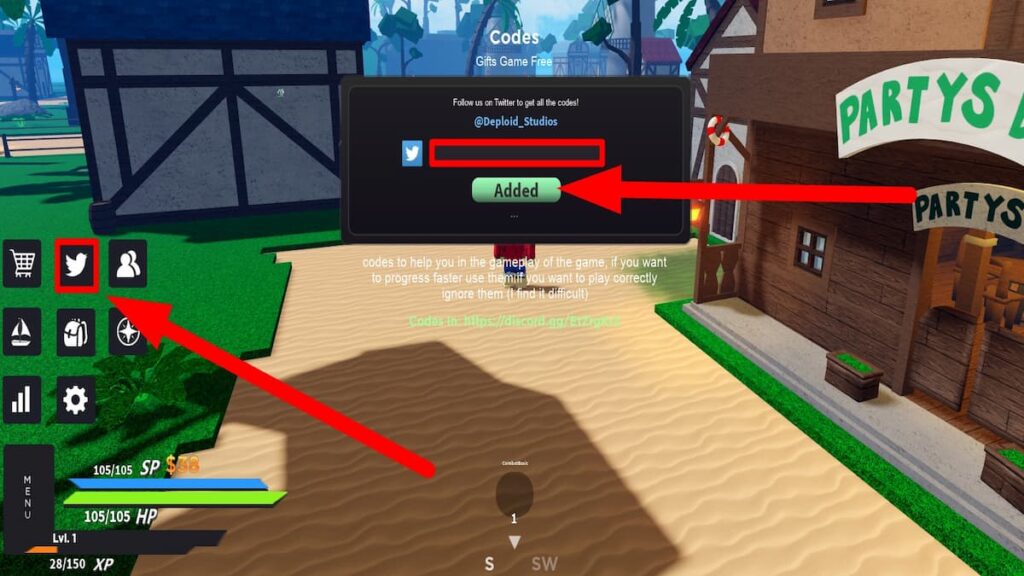 Launch Infinity Sea 2 on Roblox.
Click on the Menu button on the bottom left-hand side of the screen
In the next Menu click on the Twitter Bird icon on the left-hand side of the screen.
Enter the codes into the text box.
Click on the Added button to claim your rewards.
How can you get more Infinity Sea 2 codes?
To get the latest Infinity Sea 2 codes from the developer, Deploid Studios, follow them on Twitter @DeploidStudios and join their Deploid Studios Discord Server. Here at GameTips.PRO, we have all the latest codes from the developer, so be sure to bookmark this page and visit us often to never miss out on another freebie! 
Why aren't my Infinity Sea 2 codes working?
There could be several reasons why your Infinity Sea 2 codes are currently not working. These codes may be mistyped or missing punctuation when put into the text box. Copy and paste the codes from our working list to avoid making any mistakes before you click on the Added button. The codes may be expired, most Roblox experiences have time-sensitive codes, and it is up to the developer to decide to expire the codes. Claim the codes as soon as possible because they can last for months or just a few hours.
What are the basic controls in Infinity Sea 2?
To sail the seven seas and explore the lands in Infinity Sea 2, you must have a firm understanding of the basic controls. Learn the basic controls to level up faster and complete challenges easier at the start of the game.
Controls
M key: Menu window
Shift key: Sprint
Left Click Mouse: Attack
Q key: Dash
What is an Infinity Sea 2 game?
Infinity Sea 2 is an action RPG where you can choose what kind of warrior you would like to become. You can use weapons to fight enemies, or you can use fruits to your advantage and use them in battle. Choose how you want to build your character and explore the islands with quests to complete to help you level up. Can you be the strongest player in the pirating world?
If you're looking for codes for other games, we have a ton of them in our Roblox Game Codes post! You can also get a bunch of free stuff via our Roblox Promo Codes page.