Ice Factory Tycoon is a tycoon game on Roblox. This tycoon requires players to upgrade their factory to expand production. The better the tycoon, the more profit players receive. You gain money by selling as much ice and popsicles as possible, which can take time since it costs you money to unlock multiple flavors. However, you can earn quick money using some Ice Factory Tycoon codes.
The developers give codes for players to enter in-game for free rewards, such as extra money instantly or multipliers that help you earn money quicker. They are super quick, easy to enter, and well worth it so you can get a jumpstart to your factory.
You can get even more amazing free rewards with codes right here on GameTips.PRO for great games just like this, such as Gumball Factory Tycoon Codes (August 2022), Farm Factory Tycoon Codes (August 2022), or Roblox Donut Bakery Tycoon Codes (August 2022).
All Ice Factory Tycoon Codes List
Ice Factory Tycoon Codes (Working)
Here is a look at all the working Ice Factory Tycoon codes.
10KFAVORITES—Redeem for $25,000 and three minutes of Doubling Brain Freeze
ICECUBES—Redeem for $25,000 and three minutes of Doubling Brain Freeze
Ice Factory Tycoon Codes (Expired)
These codes for Ice Factory Tycoon no longer work.
RELEASE—Redeem for money and 2x
500KLIKES—Redeem for money and 2x
Ice Factory Tycoon FAQ
Here is everything you need to know regarding Ice Factory Tycoon codes.
How to redeem Ice Factory Tycoon codes
Redeeming codes for free rewards in Ice Factory Tycoon is easy.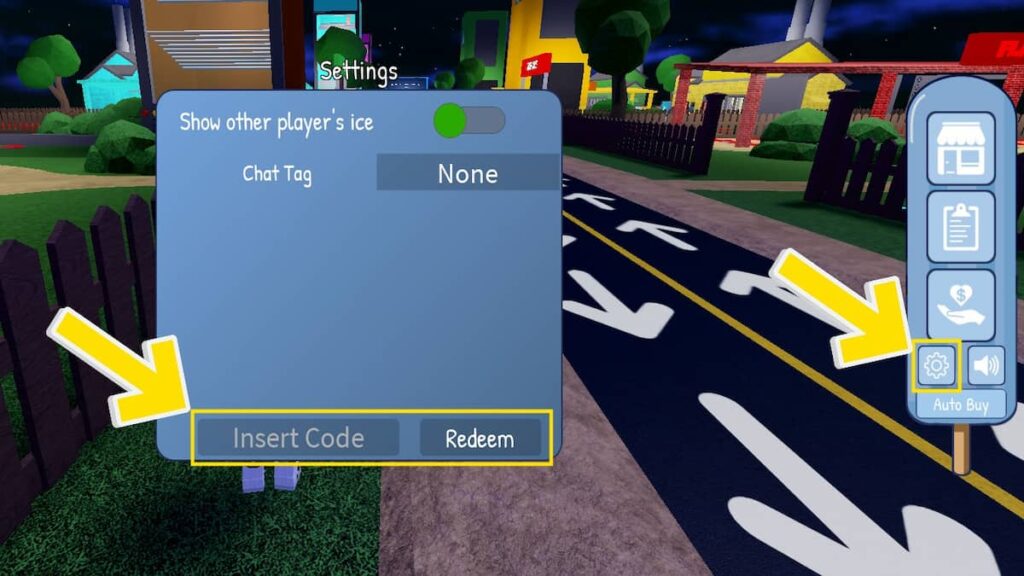 First, you must click on the developer's name and join the group.
In the game, press the Settings button, symbolized by the gear on the right side of the screen.
Enter your code into the text box as shown in the list above.
Press Redeem to enjoy your rewards!
How can you get more Ice Factory Tycoon codes?
Codes are usually added to the game regularly by the developers as a goal is met, or an update is made. Some developers put the codes in the game description to notify players, but others, like the Ice Factory Tycoon, can be found on the group page, or on their social media accounts like Discord.
For your convenience, bookmark this page and check frequently to see if a new code has been added.
Why aren't my Ice Factory Tycoon codes working?
Your codes might not be working correctly for a few reasons. The most common being the code has already expired. It is common for codes to cycle in and out continuously and often without notice. We try to keep our code lists as updated as possible, but feel free to comment if you notice any changes before us.
Double-checking your spelling while typing in codes is also a good idea. They are almost always case-sensitive, meaning any little typo could make the code appear invalid. Ensure you are typing it exactly as shown in the list above, or if the game allows, copy and paste to avoid any issues.
What is VIP in Ice Factory Tycoon?
VIP or Premium is a game pass upgrade that can be bought in-game with Robux. It adds a bonus multiplier that allows you to make double the amount of money permanently and earn a Doubling Brain Freeze multiplier every ten minutes. If you have extra Robux to spend, this is a great pass to help your factory reach greatness in no time!
What is Ice Factory Tycoon?
Ice Factory Tycoon is a chill experience where you run an ice factory. Earn money as you produce and package ice, and attempt to grow and expand your factory by upgrading your machinery, adding to your ice flavors, and increasing your profits. As you expand, you will add more flavors to your ice production and upgrade your packaging and cooling techniques to make greater quantities of ice and money. Once you can purchase every single upgrade, you are capable of a rebirth that evolves your factory to overall better qualities and quantities for you to restart again.
If you're looking for codes for other games, we have a ton of them in our Roblox Game Codes post! You can also get a bunch of free stuff via our Roblox Promo Codes page.