In Tower of Fantasy, you will find various items that you can use to upgrade, enhance, and augment weapons to higher levels. Matrices are items that can further strengthen a weapon, and they come in a varied range of combinations. Matrix Chips can be equipped as a weapon in four slots: Mind, Memory, Belief, and Emotion. Every weapon has four slots, and these Matrices can be placed on the respective slot. So if you're wondering how to upgrade these Matrices, we have you covered. Here's how to upgrade a Matrix to level five in Tower of Fantasy.
How to develop Matrices in Tower of Fantasy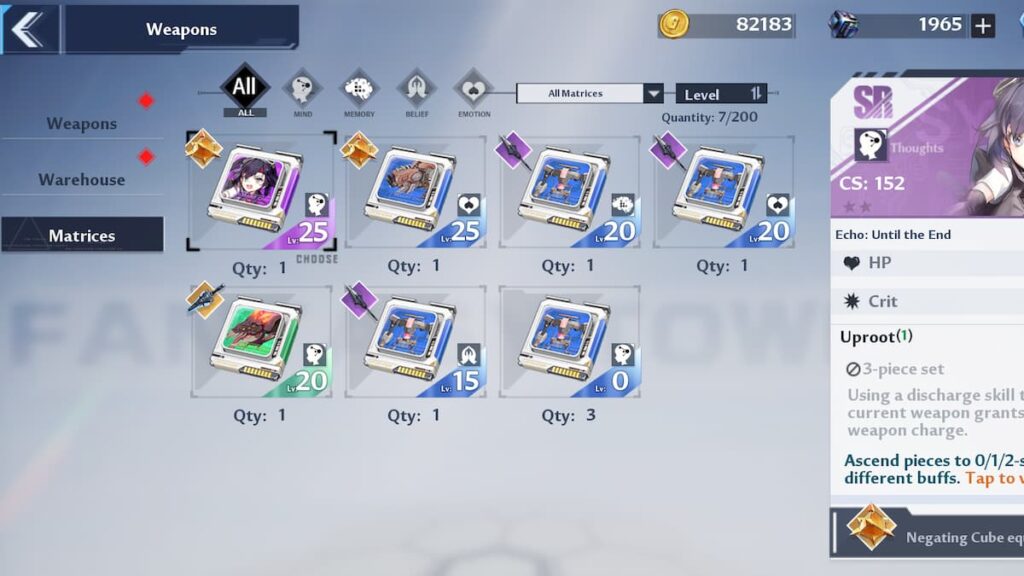 Players need to reach Wanderer Level 20 to use Matrices on weapons. Matrices can be acquired by completing Bounty Missions, upgrading Suppressors, and various other ways in Tower of Fantasy. You need to equip them with specific slots to strengthen the weapons. Each Matrix Chip has its HP and Crit and can be developed with Matrix Data Packs. To upgrade Matrices to level five, players will need several Matrix Data Packs, so saving up on them is ideal. Select the Matrix Chip you want to upgrade, and click on Develop after you have the required Matrix Data Packs.
Matrix Data Packs can be obtained from Dimensional Trials, Omnium Beacons, Mia's Kitchen, Bounty Missions, Cracking open Password Chests II, and Points Store. Players can also increase their Matrices level if they have duplicate Matrix Chips. Enhance these Matrices to level five or above before equipping them to respective slots on weapons. To equip a Matrix Chip click on the Affix option and place it in the proper slot. You can also remove these Matrices from weapons once you find a better one. We recommend stocking up on Matrix Data Packs as much as possible before upgrading the Matrices in Tower of Fantasy.
Wondering how to find more Gold Nuclei, check out All Gold Nucleus locations in Warren, All Gold Nucleus locations in Banges, and All Gold Nucleus locations in Astra on GameTips.PRO.