If you want to update Minecraft to version 1.19.1, you must check the platform you play Minecraft on. In short, update 1.19.1 is available to all users and can be downloaded by checking the game on their platform. While checking Minecraft on PC, Xbox, PlayStation, etc., you should see an update pending if it didn't already install.
If you see an update pending, download the new update. You can download the update by starting the pending download on your system or through the Minecraft launcher. Doing so will cause the game to download the new update. Let the game download the new update, and afterward, your Minecraft will get updated to version 1.19.1. 
How to download Minecraft version 1.19.1 using the launcher
To download Minecraft's latest version using the launcher, you must open the Minecraft Launcher and set the launcher to be on the latest releases. You can do this by hitting the button next to Play and selecting Latest Release 1.19.1, as shown in the image below.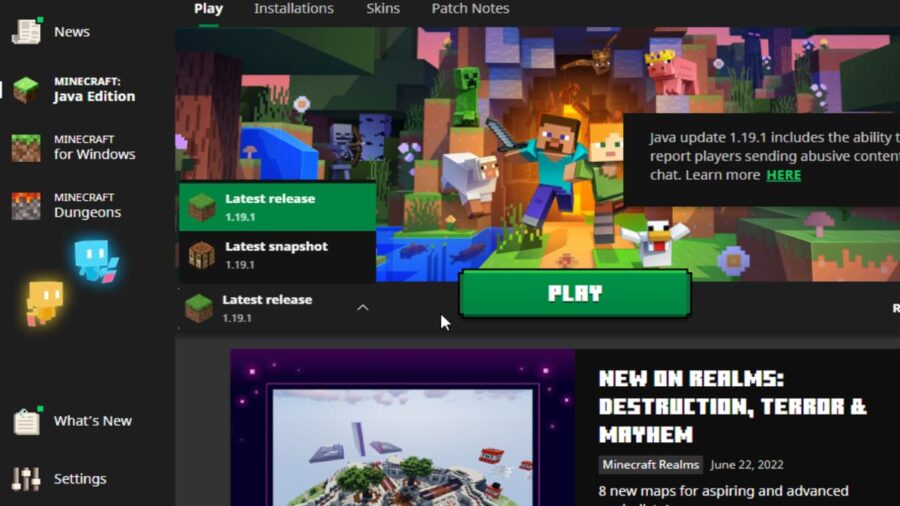 What was added with Minecraft version 1.19.1?
Minecraft version 1.19.1 made various changes to the game, including making it so Allays can duplicate if they are handed an Amethyst Shard while dancing. Other changes include implementing a new Trust system for Minecraft's chat and more options for reporting users in the game. The reporting system allows users to select individual abusive messages and report them with various categories to Minecraft's moderation team. Other changes made in Minecraft 1.19.1 include various bug fixes and minor technical changes. You can find the complete list of changes in the official patch notes for Minecraft 1.19.1.
For more on Minecraft, we at GameTips.PRO recommend the following guides: Minecraft Spongebob DLC – Price, Content, Trailer, and Possible Release Date and How to breed Villagers in Minecraft.