The Chatrakam Cave is located in Sumeru's Lokapala Jungle area, directly above Sumeru City and west of the Palace of Alcazarzaray. Despite its name, upon exploring the Chatrakam Cave for the first time, you'll only be able to access it aboveground. You'll need to follow a World Questline in order to traverse through its underground area.
How to light up Chatrakam Cave in the Sumeru World Map in Genshin Impact
Before exploring the depths of Chatrakam Cave, you should first light up the area in the Sumeru World Map. To do so, head south of the Mawtiyima Forest, north of Gandha Hill, to interact with the Lokapala Jungle Statue of The Seven. This will unlock the Chatrakam Cave and the surrounding areas.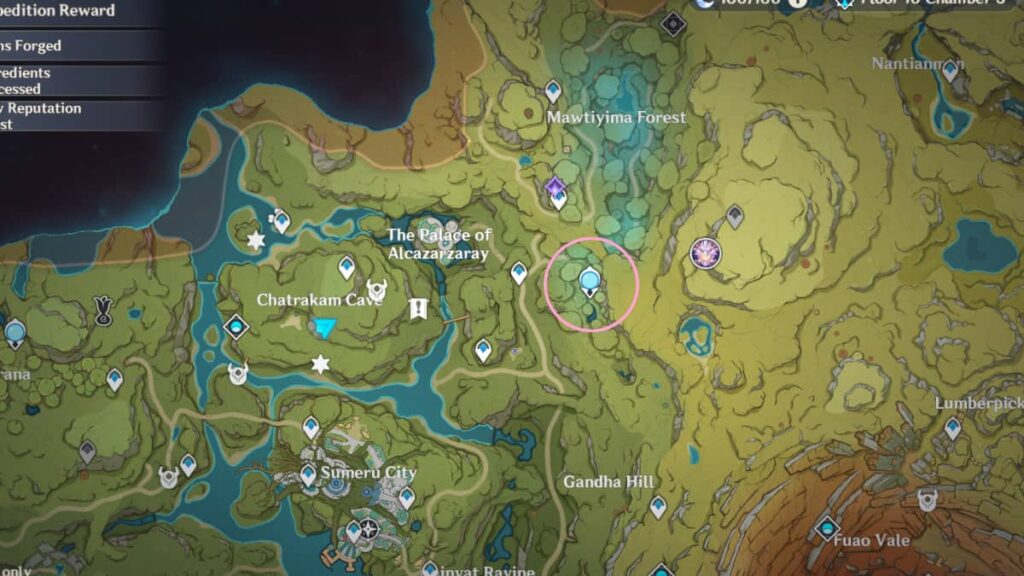 How to unlock Chatrakam Cave underground area in Genshin Impact
Since the entrances to Chatrakam Cave's underground area are blocked by rocks, you need to follow the Agnihotra Sutra World Questline in order to gain the "Kusava" Gadget, which has the ability to remove these giant rocks. First, you must complete the first quest in Aranyaka: Part II – Dream Nursery called The World of Aranara. Once that's done, you can initiate Agnihotra Sutra's first quest, the Starry Night Chapter. After that, you will automatically unlock the Risen Moon Chapter.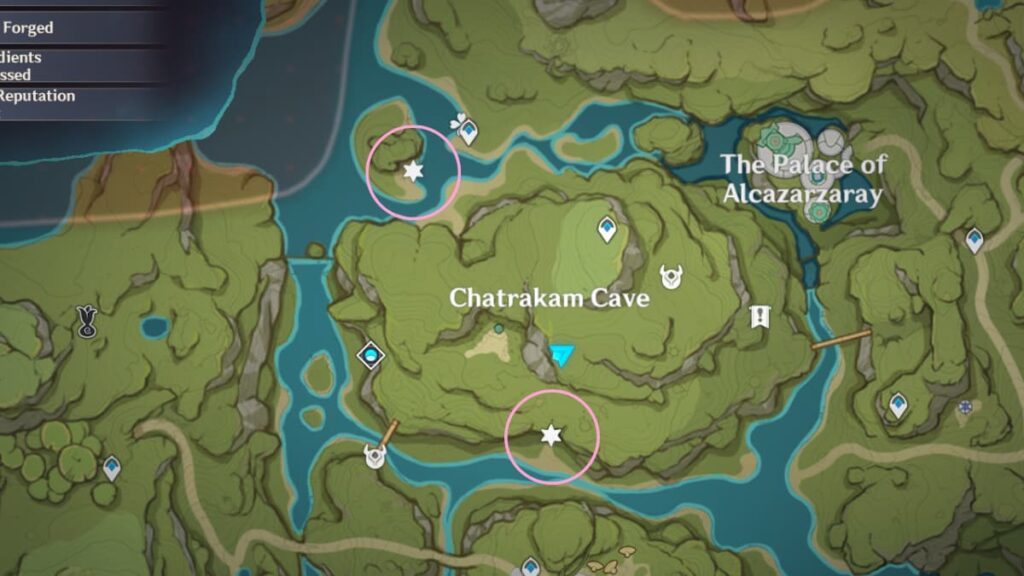 During the Risen Moon Chapter, you will gain access to two entrances leading to Chatrakam Cave's underground areas. After completing the World Quest, you can return to the underground areas at any time—the locations of the two entrances are circled in the image above. Keep in mind that you must jump down the waterfall to access the north entrance.
Check out our Genshin Impact The Final Chapter World Quest guide – Agnihotra Sutra to help you complete this World Questline.