There are a lot of things you can unlock right away in Bear and Breakfast. This includes materials to improve facilities like the Bus Stops. You may have noticed that you need Bus Signs to upgrade these areas. Here's the quest you need to complete to get them.
How do you get Bus Signs in Bear and Breakfast?
What are Bus Signs used for?
Bus Signs are progression items that can be used as upgrade materials in Bear and Breakfast. Specifically, they're used for upgrading Bus Stop kiosks. Once you upgrade these areas, you'll be able to fast travel in the game.
How to complete the quest for Oliver
Oliver is a Bus Driver and the Mechanic who is always seen in the Bus Parking Lot. Once you talk to him, you'll begin the On the Road quest. Oliver will want you to take a note to his friend Beanie in the Watchtower area of Sawdust. Doing this quest will get you the Bus Signs.
Where to find Sabine
Sabine, introduced to you via Oliver as Beanie, is in the Watchtower in Sawdust. You can find her to the North of Sawdust, deep in the trees. She loops around the watchtower and briefly goes up while she waits to interact with you. This means you will likely see her at the base of the tower.
She'll give you an item to take back to Oliver. This will complete the On the Road quest. After this, go back to the Bus Lot and give this to Oliver. He will then let you know about fixing the Bus Stop kiosks and will hand over the Bus Signs.
How to fix Bus Stops in Bear and Breakfast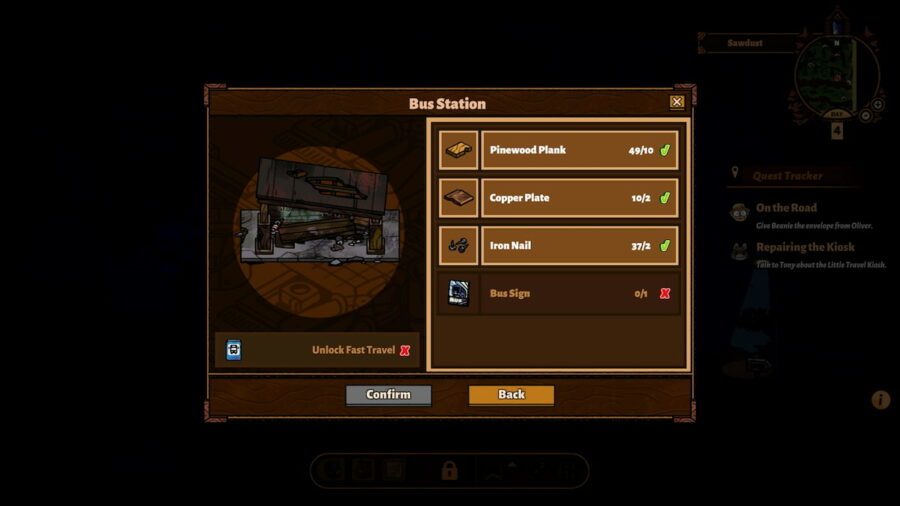 To fix a Bust Station kiosk, you'll simply need to walk up to it and press E to interact. Make sure you have all of the required materials. You know you have the required items when there are no red crosses. Once you have everything, click Confirm. That's all! This will fix the Bus Station for you. Make sure to do so with the other nearby station.
Want to read more about Bear and Breakfast? If so, check out Why are my guests not paying in Bear and Breakfast? on GameTips.PRO.