While Cookie Run: Kingdom is primarily a solo game, you can still help other players out by sending them a Gift every day. There are three types of Gifts in the game, one of which is free to send, while others come with a small cost.
Here's how you can send Gifts to friends, as well as the types of Gifts you can send them!
Related: What are Landmarks in Cookie Run: Kingdom – Landmark Tier List
Enter the Friends menu from the upper right of the screen. It's located right beside the number of Crystals you have. Once there, you can choose to click the Gift icon beside a friend to send them a Daily Gift, or click the All button on the bottom right of the UI to send all your friends a Daily Gift.
You can send one Daily Gift per day (based on the server reset), and they're completely free to send. These Gifts contain various resources—from Toppings to Stamina Jellies and Crystals—that can help your friend with their game progression.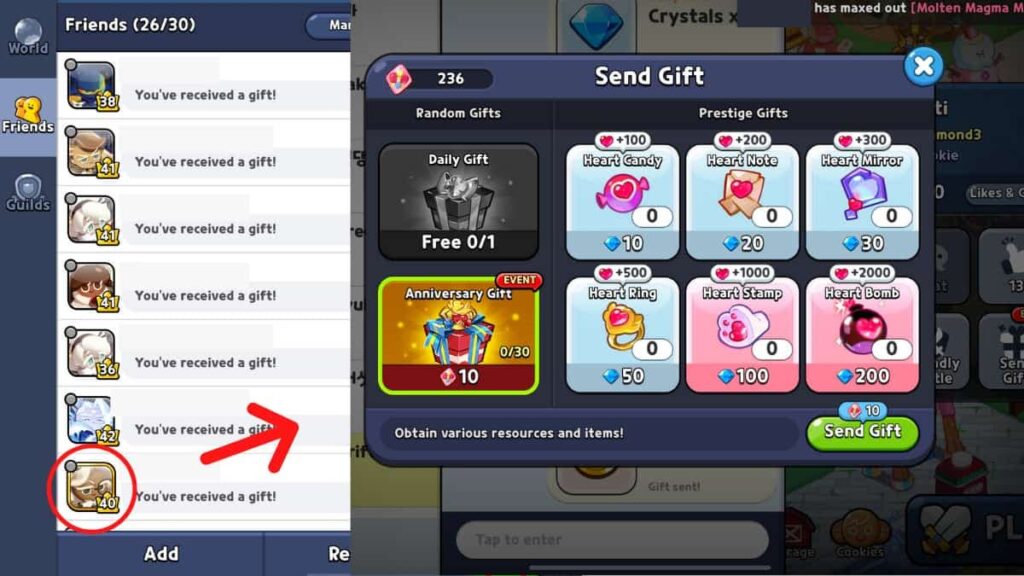 Clicking on a friend's icon will open up your chat and Gift-giving history with that particular user. On the right, you'll also get a basic overview of their stats, including buttons that redirect to their Profile and Kingdom. Within the same menu, you'll find the Send Gift button, which will open up a menu containing more Gift options.
Prestige Gifts: These are permanent Gifts that cost Crystals to send. The items will boost the receiver's Prestige.
Special Gift: When a Gift-giving event is ongoing, another Present option will appear under Daily Gift. The Special Gift can be sent using event currency, and it contains various resources that are specific to the ongoing event.
Check out our guide on How to get Faded Insignia in Cookie Run: Kingdom to participate in the game's first year anniversary event.