In Final Fantasy XIV patch 6.2 the ability to repair other player's gear inside of dungeons, trials, and raids was added. This meant that there was perhaps no longer an issue with having to zone out of a raid after everyone's gear had gotten too low in durability. But how exactly do your request gear repairs and repair others gear in Final Fantasy XIV.
Where you can request gear repairs after FFXIV 6.2
You can request to have your gear repaired by other members of your Party or Alliance. Players may then offer gear whose durability is below 100% to have it repaired, adding 100% to its durability.
Making Requests for Repair in Final Fantasy XIV
To request a repair, select the player to whom you wish to send a request in the party menu and Right Click. Then select Request Repair from the subcommand menu. In the window that appears, confirm all the gear you wish to have repaired, set a reward (if you want), then select Submit Request. You can offer a reward for repair of your gear, up to a maximum of 1,000,000 gil.
The list of items to offer for repair will only include gear whose durability is less than 100%. If the requested player isn't able to meet the requirements to repair a piece of gear, such as being too low level, or not having enough dark matter, it will appear grayed out in the list.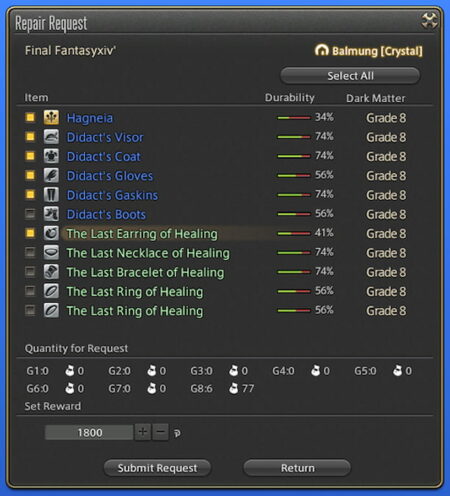 Repairing other player's gear in FFXIV
To repair someone else's gear, just accept the request. This will consume Dark Matter appropriate to the level of the gear being repaired.  
For more Final Fantasy XIV news, guides, and information, check out, Where to catch Thavnairian Calamari in Final Fantasy XIV on GameTips.PRO.