Pokémon Legends: Arceus is a Pokémon game unlike any other in the franchise. This mainline entry aims to create the first functioning PokéDex, and doing so requires more effort than logging Pokémon in an existing database like previous mainline games. There are specific steps players must take when adding to the PokéDex in Pokémon Legends: Arceus.
To register Pokémon to the PokéDex in Pokémon Legends Arceus, players will have to complete a series of Research Tasks listed in their incomplete PokéDex. These tasks will vary depending on which of the Hisui region's Pokémon you've encountered, and we've recorded an example below for your convenience.
Related: What are Wardens and Noble Pokémon in Pokémon Legends: Arceus?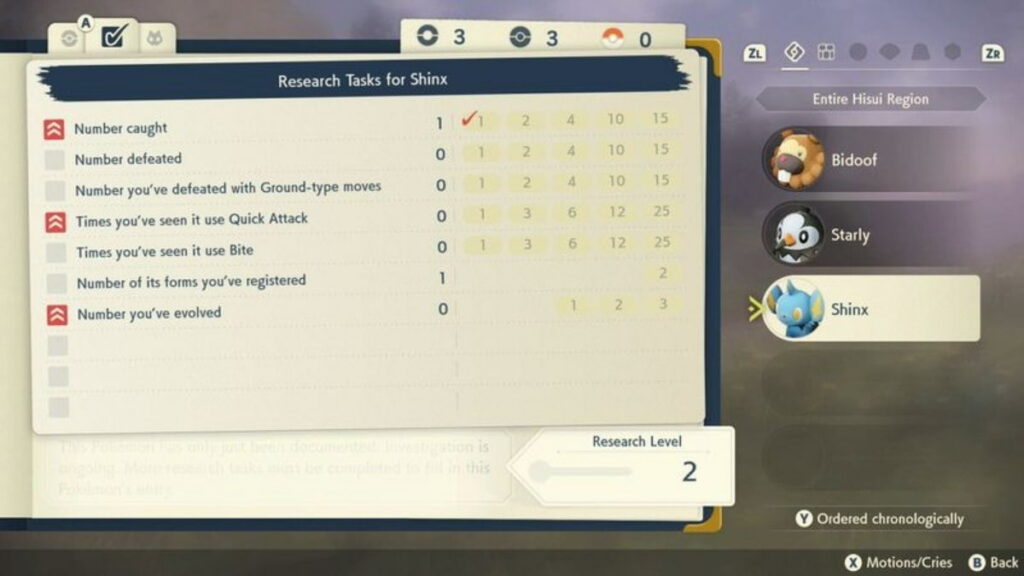 As shown above, catching Pokémon is part of the requirement for filling an entry in the PokéDex, but it's only the first of many criteria for completing a PokéDex entry. As users achieve Research Tasks in their PokéDex, their Research Level will increase. As shown below, when trainers have finished enough of the Research Tasks, they'll have a complete Pokédex entry.
Completing Research Tasks also raises Galaxy Expedition Team rank. When Galaxy Expedition Team rank is high enough, trainers can explore new areas in the Hisui region. Players can return to Professor Laventon when they've added further information to the PokéDex to complete Survey Reports or update the PokéDex and receive materials to aid in future Survey Missions.
For more on Pokémon Legends Arceus, be sure to visit some of our other guides, like How to get the Pikachu and Eevee-themed masks in Pokémon: Legends Arceus here on Pro Game Guides.