To redeem Techland GG codes for Dying Light, you will first need to step up an account. Start by going to TechlandGG.com and creating an account. 
Once you create your account, you will need to link the platform you play on. The following are the supported platforms for Techland GG and the Dying Light games.
Steam PC
Epic Games PC
PlayStation
Xbox
You can link your platform by clicking on the profile icon at the top right of the main page. After clicking the profile icon, find the account summary and scroll down. 
Towards the bottom of the page, you will see Connect Platforms. Under Connect Platforms, you can o link your platform by clicking on its icon and following the account linking steps. 
Related: Dying Light 2 Update Patch Notes 1.0.6
After your platform is linked, you can redeem Techland GG codes by heading to the reward page. At the Reward page, find a reward you have earned and click redeem at the bottom of its icon. 
Doing so will give you a code, which you can then redeem at the Redeem page. The Redeem page will have a box where you will need to paste the code inside it, as shown below.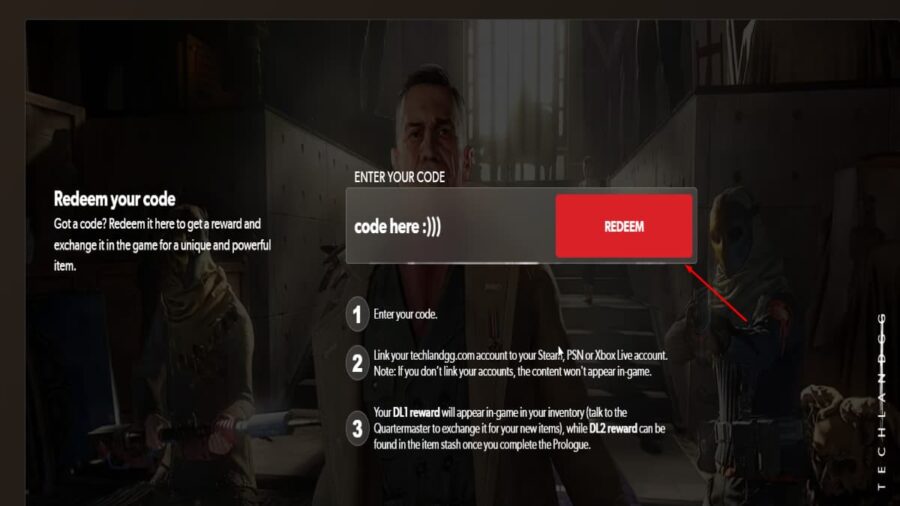 After pasting the code or typing it, just hit redeem, and your reward will appear in your game the next time you launch into either Dying Light 1 or 2. 
How to earn Techland GG rewards for Dying Light
You need to complete Techland GG quests to earn Techland GG rewards for the Dying Light games. Techland GG quests are special quests that allow players to earn XP on their accounts.
Eventually, if players earn enough XP, they will level up and unlock rewards. That said, you can complete Techland GG quests by heading over to the quest page at the site. 
At the quest page, click on one of the quests and read its objective. The objective will task you with completing an objective in the game. For example, the quest above tasks players with driving 5 km in the Buggy. 
Complete this Buggy task, and you will earn a total of 400XP. After which, you can follow the same process for the next quest. 
When you complete the second quest, you will gain the first reward called the Last Hope, which is a Dying Light 2 Stay weapon.
Keep following this process of completing quests, and you will unlock more rewards for the Dying Light games. 
For more on Dying Light 2, we at Pro Game Guides have you covered with a vast roster of content!