Fans of the Pokémon franchise are always eager for a new game. That's why it is no surprise that many are excited to Pre-Order Pokémon Scarlet and Violet. We have all the details on where you can purchase the game early, as well as the special gift Nintendo will give you if you buy ahead of time.
How & where can you Pre-Order Pokémon Scarlet and Violet?
You can obtain the Pre-Order for Pokémon Scarlet and Violet through several means. The main method is to purchase the games through Nintendo eShop. You can also choose to find the game at retailers such as Best Buy, GameStop, Target, and Walmart. Here are the Pre-Order links through Nintendo:
Pokémon Scarlet
Pokémon Violet
Pokémon Scarlet and Pokémon Violet Double Packs
How to claim the Pokémon Scarlet/Violet Special Flying Type Pikachu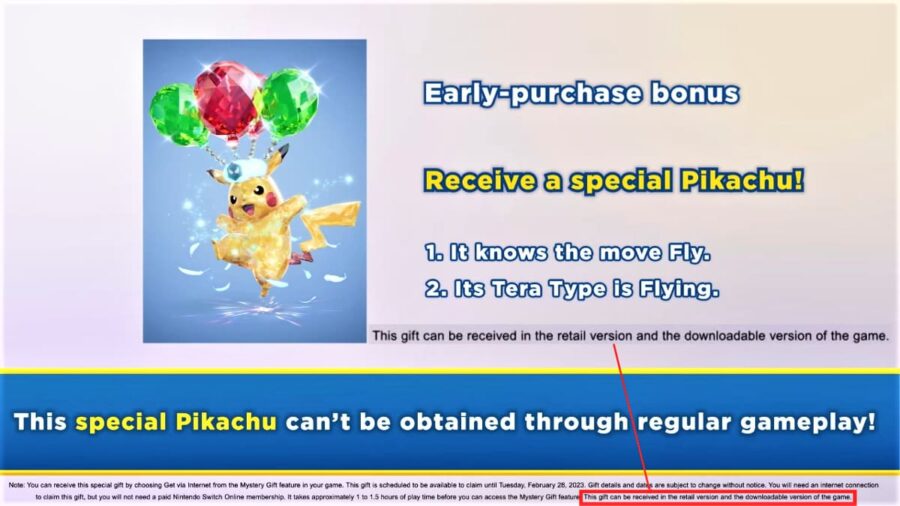 Players will have to Pre-Order any of the games (Scarlet, Violet, or Double) to receive the crystalline Terastal Pokémon. According to the fine print shown by Nintendo during the August 2022 Pokémon Presents, The gift can be acquired with pre-order through either Nintendo eShop or buying the pre-ordered version from miscellaneous retailers.
The Mystery Gift feature will show up as an option for players in-game after an hour or so of playing. Nintendo states that this is not meant to mean that this Pikachu can be obtained through regular gameplay, it still requires early purchase.
How long does the Pikachu Pre-Order promotion last?
The game itself releases on Nov. 18, 2022, but the ability to claim the special Pikachu reward is available for players until Feb. 28, 2023. Nintendo specifies that while you need an internet connection to get the gift, you do not need a Nintendo Switch Online paid membership.
Want to read more about Pokémon Scarlet and Violet? If so, check out What are Tera Types in Pokémon Scarlet and Violet? on GameTips.PRO.