To multiplayer with friends in V Rising, you will need to either join a server or host a server yourself. If you join a server, you and your friends can play multiplayer together by joining the same server as you. After joining the same server, you will need to meet up in the game. 
But if you rather play on a server with just your friends, you can do it by hosting a Private Game. To host a private game, click the Play button in the main menu. Doing so will take you to a screen that will present the following options:
Online Play: There are two online modes in V Rising, PVP and PVE. Choosing Online Play will allow you to pick between PVP and PVE game modes.
Host Dedicated Server: The Host Dedicated Server option allows users to host servers on their pc or rent one through a partner site. 
Private Game: Private game allows you to host a game on your server and invite friends through Steam. 
We recommend hosting a Private Game as it is the easiest out of the options available. Selecting Private Game will take you to the page shown in the image below, filled with several server options. We recommend looking through these server options and setting them according to your taste and play preference.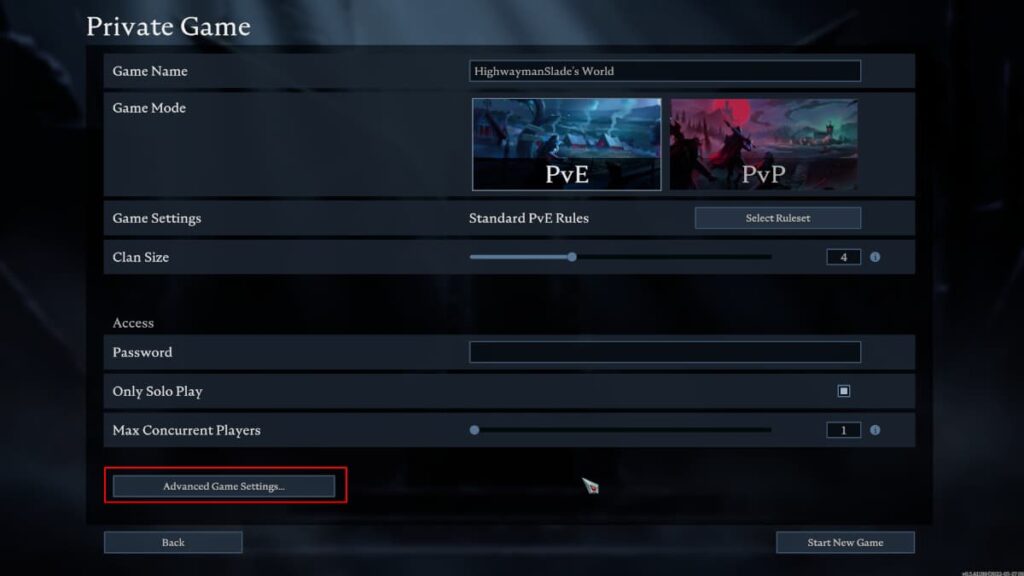 You set custom settings by clicking Advance Game Settings. When you finish selecting your settings, click Save at the bottom right corner, head back to the previous page, and click then start New Game. After your game starts, your friends can join in on you by right-clicking on your name in the Steam Friends List, or you can invite them through Steam. If you want to invite your friends, Right-Click on their names and click Invite To Play to invite your friends. 
All Online Game Modes in V Rising Explained
There are currently four online game modes in V Rising. Each offers a unique experience for PVP or PVE players with varying settings and rules. The following is each of these Online Game Modes explained in V Rising.
PVE: The PVE game mode is exactly what you expect in V Rising. In Short, it's all the content from the PVP mode, but players can fight or raid each other. 
PVP: The PVP game mode in V Rising allows players to fight the environment and engage in Raiding and PVP during specific periods.
Full Loot PVP: Full Loot PVP is exactly like the PVP game mode but with no rules. Players can conquer each other castles completely, raid for goods, and fight each other with no limits. 
DUO PVP: The DUO PVP game mode is the same as the standard PVP game mode but limits clan size to two people. 
For more on V Rising, we recommend checking out both Is V Rising an MMO? and Does V Rising have controller support?