Charity and Creativity is one of the four activities that you can enjoy in the Genshin Impact Of Ballads and Brews event, which celebrates the Weinlesefest, one of Monstadt's most important holidays. The event runs from September 29, 2022, to October 17, 2022, while you can exchange Festive Fever rewards until October 24, 2022.
After you've gathered the original funding per Bernhard's request, you can proceed with helping him manage the Charity Stall.
How to unlock the Charity and Creativity Challenge in the Of Ballads and Brews event in Genshin Impact
To unlock Charity and Creativity, you must complete the first Event Quest called Sounds From Afar. Once that's done, you'll automatically unlock the next Event Quest called Charity Event? Securing Funds?, where you'll meet Bernhard and experience your first bartering transaction. Completing it will unlock the Charity and Creativity Challenge.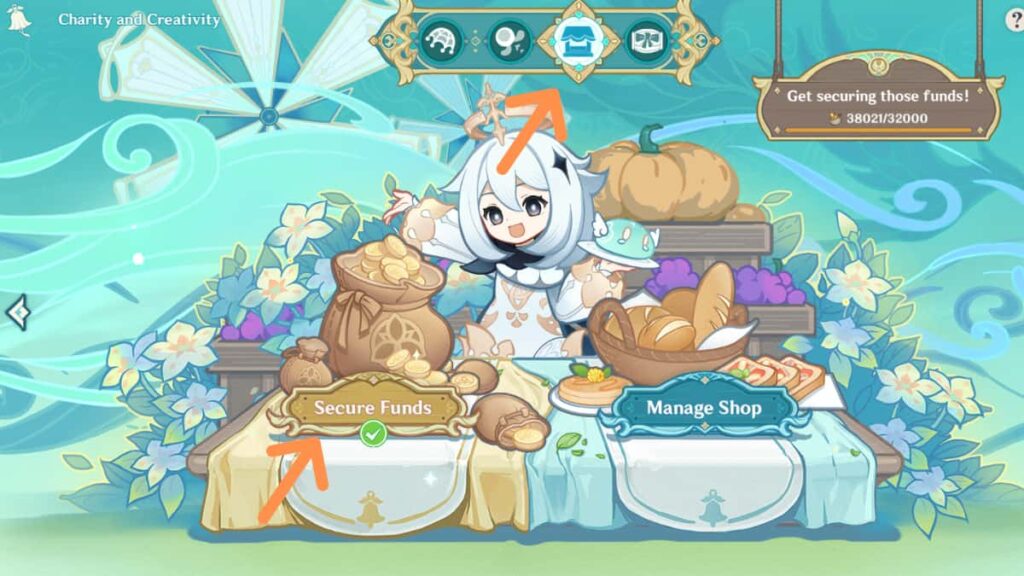 Head to the Of Ballads and Brews section in the event menu, select Event Details, and switch to the third tab to find Charity and Creativity. Manage Shop will initially be locked, so click on Secure Funds to begin bartering with NPCs—your goal is to make 32,000 Mora. Once that's done, you'll unlock Manage Shop, which starts with doing a 10-day Cycle in the Charity Stall.
How to Manage Shop in the Genshin Impact Of Ballads and Brews event – Charity and Creativity
Customer Cyles & Opening for Business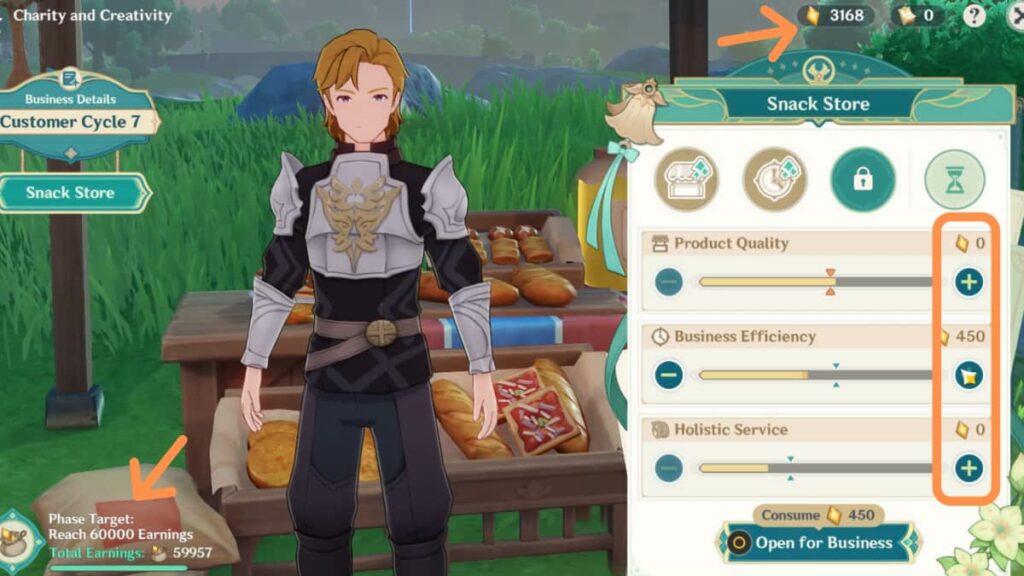 Speak with Bernhard and select What about the shop? to begin playing through a 10-day shop management Cycle. Your goal is to earn 80,000 Useable Funds within 10 Cycles (the amount you earned from Secure Funds counts!) by finding the perfect balance between Product Quality, Business Efficiency, and Holistic Service.
At the start of each Customer Cycle, you'll be provided a certain amount of Funds that can be delegated toward each strategy. Click on the plus and minus buttons to adjust accordingly. You want to prioritize Product Quality and Business Efficiency to maximize your earnings, but don't neglect Holistic Service either. Once you're ready, you can click Open for Business to find out how much you earned and begin the next Customer Cycle. You can keep track of earnings and claim milestone rewards on the bottom left of the screen.
Stratagem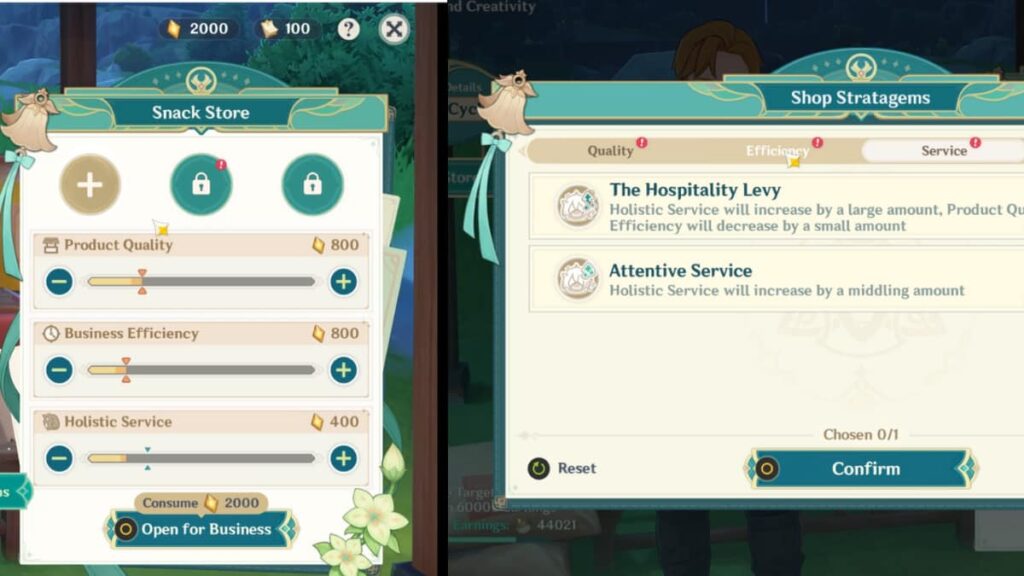 You'll occasionally earn Strategic Inspiration, which can be used to unlock Stratagem Slots by clicking on the locks above the business strategies. There are three kinds of Strategems:
Quality—boosts Product Quality
Efficiency—boosts Business Efficiency
Service—boosts Holistic Service
These will either increase each business strategy by a small amount or increase them by a large amount in exchange for decreasing the other strategies. They directly reflect on your Snack Store, so it's best to choose a Stratagem based on how much you need to improve a particular strategy. Keep in mind you can only select one Stratagem per strategy.
Emergency
You will encounter Emergencies on Cycles 3, 6, and 9. You must weather the Emergency before you can open for business. Simply click on the button on the bottom left of the screen to speak with Bernhard—completing the dialogue will unlock Stratagem Slots.
Unexpected Situations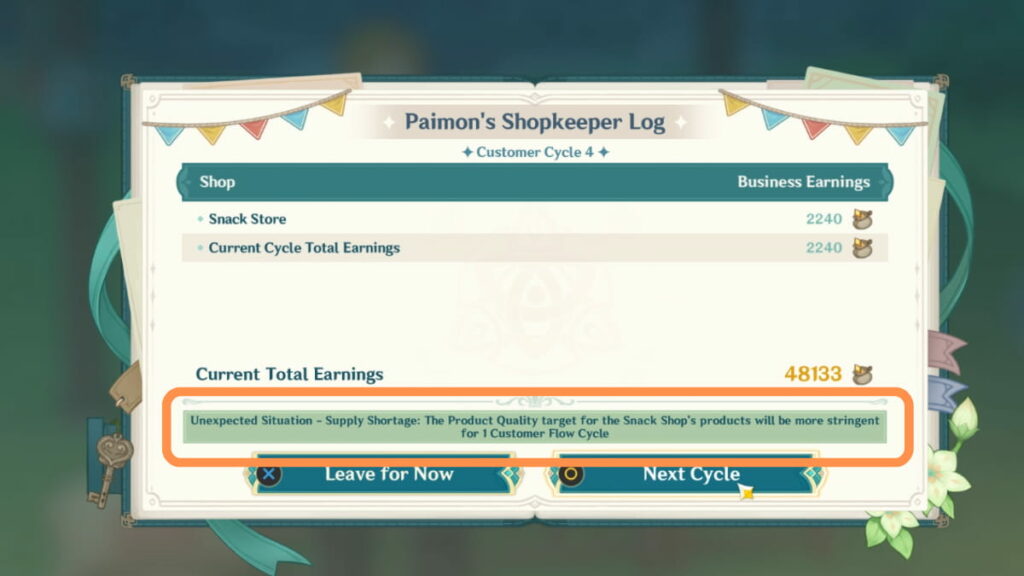 You'll encounter Unexpected Situations on Cycles 5 and 8. These will make your business strategy targets a lot more strict. If a particular strategy is too low, you may need to use Stratagems to help improve it.
Assistant
You'll unlock Assistants on Cycle 6. This allows you to pick someone from your friend list to help out in the shop for one Customer Cycle. Choose one that will increase your preferred business strategy.
You can claim rewards by earning 80,000 or more Funds within the 10 Customer Cycles. Head to the Charity and Creativity page, select Manage Shop, and click on Charity Stall to claim your rewards.
Check out our guide on How to complete Autumn Crisis in the Of Ballads and Brews event in Genshin Impact to participate in more activities during this event.