Disney Dreamlight Valley is an exciting adventure life simulation game filled with all the best Disney characters. Help your favorite characters restore the magical realm of Dreamlight Valley and get rid of it of evil magic. Befriend the residents there at the Valley and gain helpful skill boosts and earn clothing and furniture for your character. There is so much to do from crafting unique items, harvesting crucial materials, and cooking up delicious meals. Here is how you can make some Candy to restore some energy or share with your pals in Dreamlight Valley!
How to cook Candy in Dreamlight Valley
Candy is a one-star meal in Dreamlight Valley and a super easy treat to whip up. It doesn't sell for much but can be a great way to restore your energy or give to other characters to increase your Friendship with them.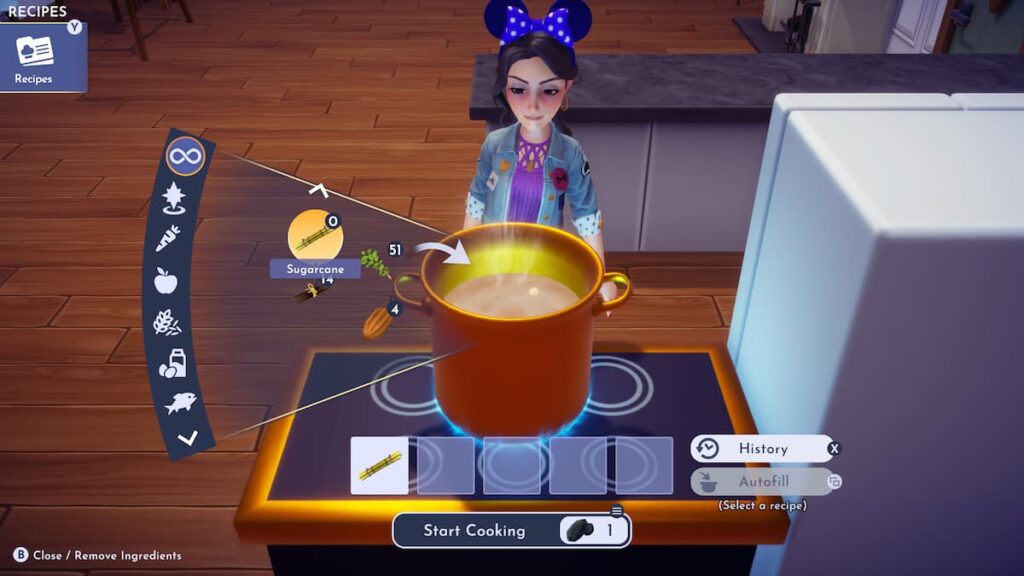 Candy only requires one ingredient to make and allows you to interchange a few different options as well. If you're running low on one ingredient, you can always switch it up and create it using something else. These are all the possible sweet ingredients you can use to make it:
Sugarcane
Vanilla
Cocoa Bean
Where can you get Sugarcane in Dreamlight Valley?
Sugarcane is one of the more accessible ingredients to track down for recipes, located right in Dazzle Beach. You can find it for sale occasionally at Goofy's Stall or find seeds hidden in Night Thorns. It grows in merely seven minutes, making it also easy to harvest and utilize as soon as possible.
Where can you get Vanilla in Dreamlight Valley?
Vanilla doesn't require any wait time to grow. Instead, you can instantly harvest some from plants scattered around Sunlit Plateau, just like any other herb plant.
Where can you get Cocoa Beans in Dreamlight Valley?
Cocoa Beans can be harvested from trees in the Glade of Trust or Sunlit Plateau. Once harvested, they can take up to 30 minutes to grow again, but allow you to gather three at a time.
Sometimes Candy can be included as a character's favorite item of the day, making it an essential recipe to know and have at the ready to boost your Friendships significantly. It can also be a great way to boost your energy while you're out and about.
Looking for more GameTips.PRO Disney Dreamlight Valley content? Check out our guides on Can you make plants grow faster in Disney Dreamlight Valley? Crop Growth Times or How to make Zucchini Puffs in Disney Dreamlight Valley!