Weapon Fighting Simulator is a fun collecting game on Roblox where players can venture to unique worlds, battle enemies, and attempt to collect various powerful weapons of multiple rarities. Players can utilize many different weapons in their battles and level up them up to create even more powerful versions. The goal is to collect and upgrade to the best possible weapons, which means leveling them up is essential. Here's how to do it fast and efficiently!
Collect many weapons
The first step to leveling up your weapons is to try and collect as many weapons as possible. You will use unused weapons to upgrade your better rarity weapons into even more powerful versions, so the more you have, the better. If you head to one of the egg shops, you can press "Q" to auto-open as many as you can with your current balance of Spirit Stones.
Enchant weapons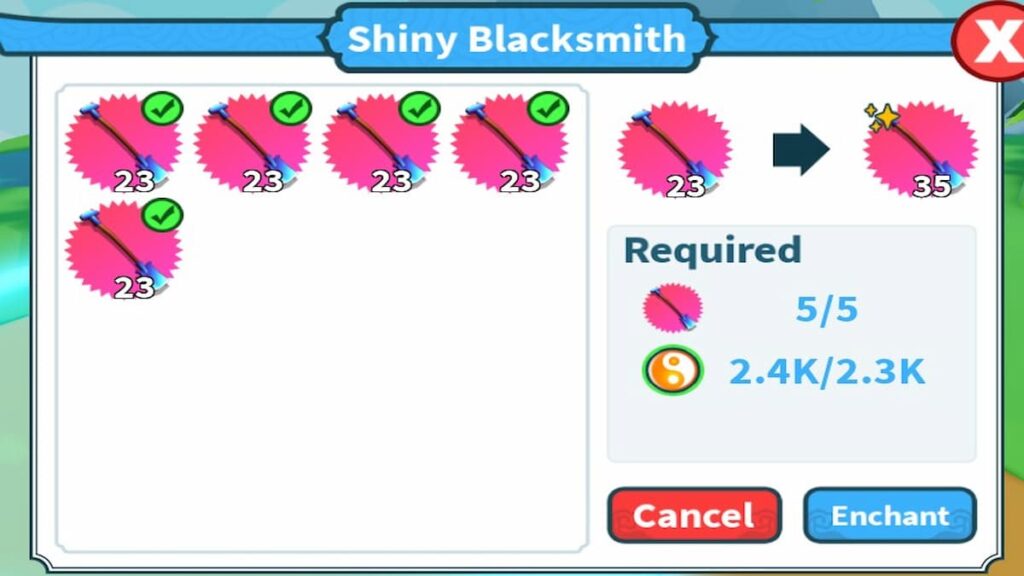 Weapons of better rarity give more XP when fusing, so the more Epic+ rarity weapons you have, the more you will be able to increase levels of the weapon of your choice. A good idea to more efficiently level your weapons is to enchant them before fusing. You can use Shiny Blacksmith stations to combine five of your Epic, Legendary, or higher rarity weapons into one Shiny. This will boost that weapon's damage even before you fuse other weapons into it and increase its level.
Fuse weapons
Once you have many unused weapons in your inventory, you can begin the fusing process to level up your best weapon. If you were able to enchant a weapon to Shiny, you would want to click on this weapon and press "Fuse." However, even if you aren't quite able to enchant yet, you will want to use your best rarity weapon to fuse.
Click on each unused weapon you want to discard to increase the level of your Shiny weapon. Once you have them all selected, you can press "Fuse Selected." It will reveal a screen of how much XP will be added from the selection and increase the level of your weapon once you press "Yes" to confirm. Continue collecting and fusing weapons, and you will have the ultimate powerful weapon in no time!
Looking for more Roblox Weapon Fighting Simulator content? Check out our guides on How to train your inner soul in Roblox Weapon Fighting Simulator or How to get Thunderbolt in Roblox Weapon Fighting Simulator!