Let the spooky season begin! The Wacky Wizards Halloween event has arrived yet again and with it has come the exclusive, limited-time-only Halloween Pumpkin 2022 ingredient. Also added with this Halloween update were multiple graveyards, piles of candy corn, and the fan-favorite activity, trick-or-treating! To learn more about all of these features, and how to unlock the Halloween Pumpkin 2022, continue reading below.
How to unlock the Halloween Pumpkin 2022 in Wacky Wizards
In order to unlock the Halloween Pumpkin 2022 ingredient, you'll need to earn 1,800 Candy and purchase it from the Headed HorseMan. Unfortunately, unlike most ingredients in Wacky Wizards, this one cannot be found on the map—the only way to obtain it is by spending Candy.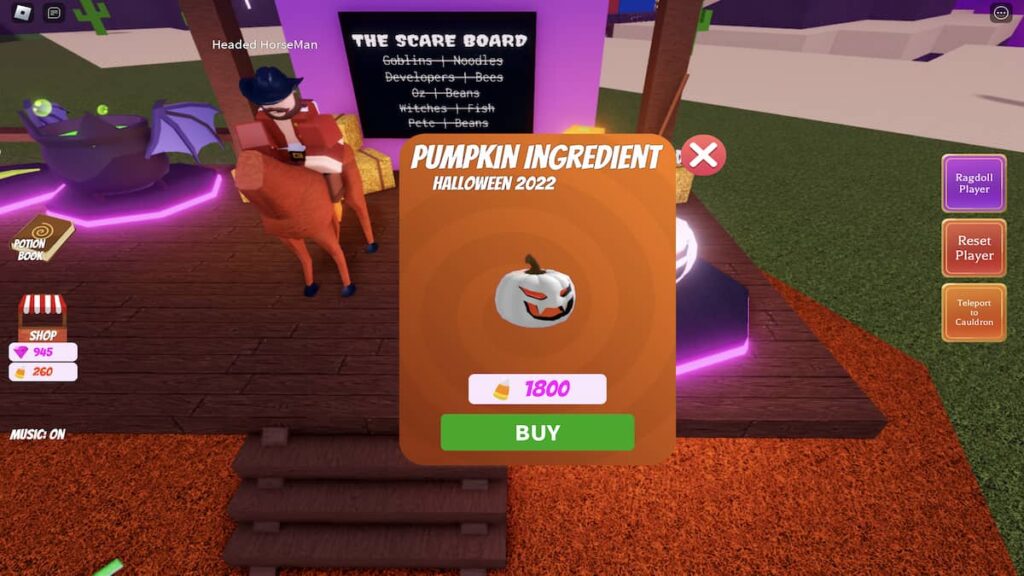 How to earn Candy fast in Wacky Wizards
There are three ways to collect Candy during the 2022 Halloween event: scaring NPCs, defeating zombies, and finding pieces around the map. Each of these methods can be found detailed below.
Defeating zombies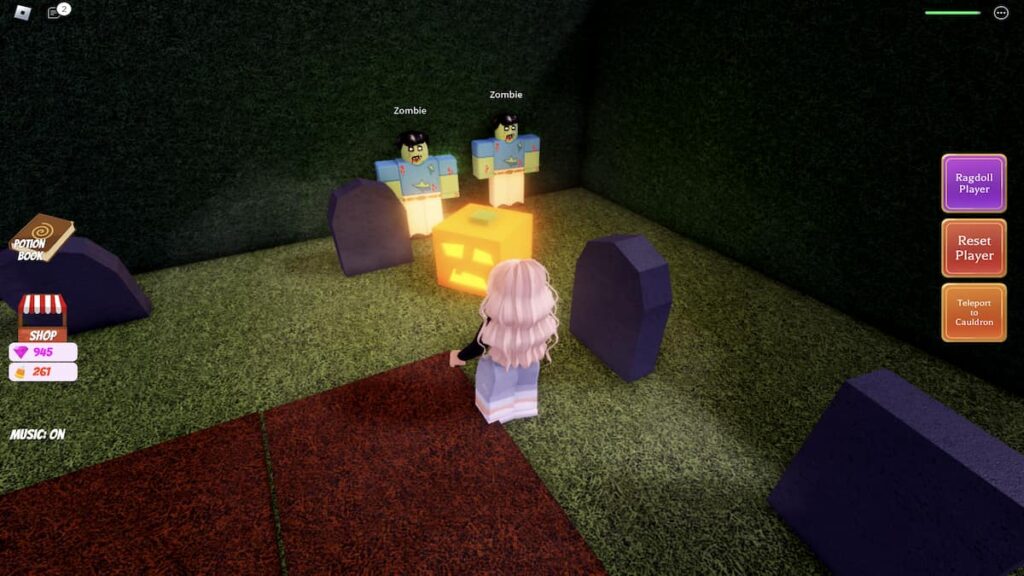 Spread around the Wacky Wizards map are three graveyards; inside of these graveyards are tons of zombies that you can take down for Candy! Each time that you take down a zombie, it will drop a small amount of Candy and another zombie will spawn in its place. To take down zombies quickly, we'd recommend using the Flamethrower potion.
Searching the map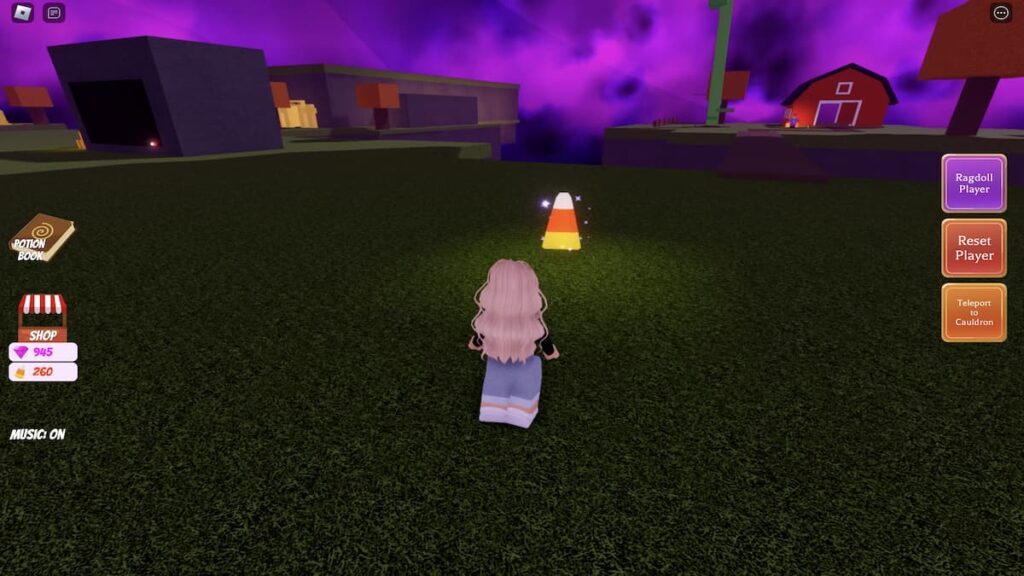 Keep your eye out for giant, floating candy corns as you run around the map—these are the hidden candies that you're looking for! Though these candies do respawn slowly, they will eventually reappear in a new location. If you get on a candy-collecting streak, each piece of candy corn that you pick up will be worth more than the previous one. Without the streak (if you collect them here and there), they will each only be worth one.
Scaring NPC's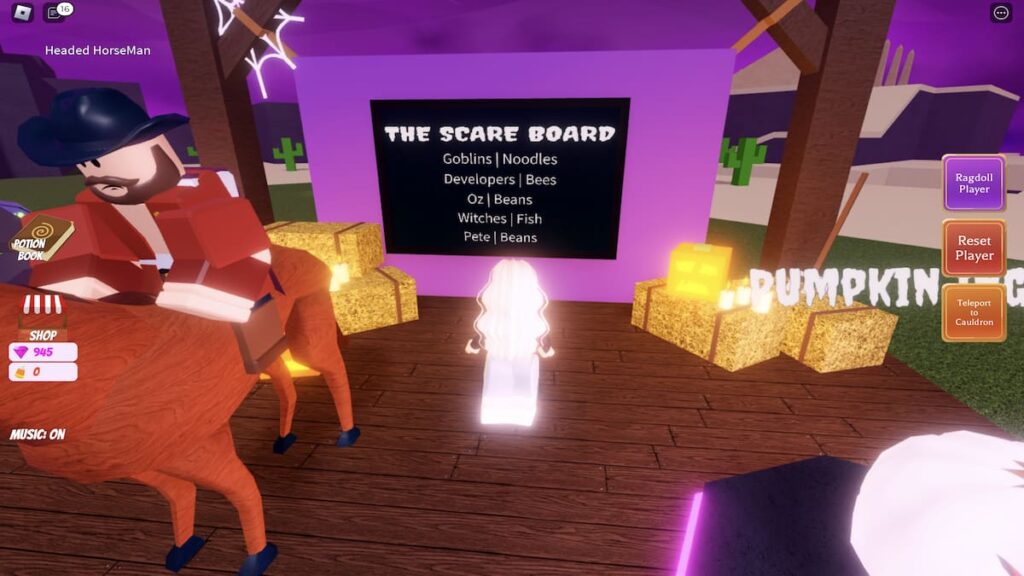 Looking for a way to collect candy more mischievously? Try your hand at scaring some of the NPCs around the map! To scare an NPC, simply create the potion corresponding to their fear on the fear board, approach them with the potion in hand, and drink it in front of them. Below is a list of each fearsome potion:
Fear of Discos – Discoman potion (Disco Ball)
Fear of Zombies – Zombie potion (Brain)
Fear of Bees – Honeymelt potions (Chili + Honey)
Fear of Noodles – Noodle potion (Pool Noodle)
Fear of Farts – Squirting potion (Rotten Sandwich)
Fear of Spiders – Spider Pet potion (Spider + Pet Tags)
Fear of Fish – Flounder potion (Fish)
Fear of Aliens – Alien potion (Alien Parasite)
Fear of Witches – Broom potion (Witches Brew + Fairy)
Fear of Explosions – Explosive potions (Dynamite)
Fear of Warts – Warty potion (Spider)
According to Headed HorseMan, the Scare Board will be updated every day from now until Nov. 2, 2022, with new NPCs for you to scare. Scaring NPCs can be done once a day and will award you a minimum of 20 pieces of candy per scare!
End
That's all the information we have at the moment regarding the 2022 Wacky Wizards Halloween update. As mentioned above, this update ends on Nov. 2, 2022, so be sure to grab that Candy while it's here!
Looking for more Wacky Wizards content? Check out some of our other guides on How to get the Egyptian Head ingredient in Roblox Wacky Wizards or How to get the Greek Helmet ingredient in Wacky Wizards – Roblox here on GameTips.PRO!