Tea Knight Cookie is the newest Epic Charge Cookie to enter the Second Cookie Legion's roster of characters. His release is in line with the Cookie Alliance feature, where he stars as one of the main characters in this facet of the storyline.
Like all other Cookies, Tea Knight can be obtained through the Gacha using Crystals. But before spending thousands of the rare currency pulling for him, consider getting him for free from the Tracking Down Tea Knight Cookie event while it's running until Feb. 24, 2022.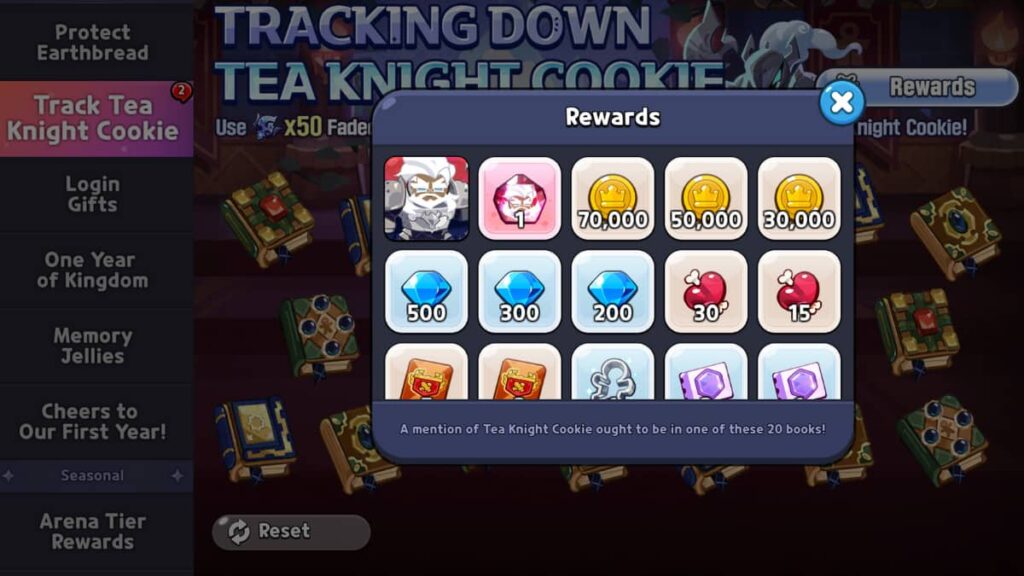 Head to the Event menu from the lefthand panel and select Track Tea Knight Cookie. You'll see 20 floating books, each of which can be opened using 50 Faded Insignias. You can select the Rewards button to view the roster of possible items that can be obtained at random—Tea Knight Cookie and his Soulstone are part of that list!
Related: How to get Faded Insignia in Cookie Run: Kingdom
Once you've obtained Tea Knight Cookie or have opened all the existing books, you can click the Reset button on the bottom left of the screen to get another set of 20 books. It's important to know that Tea Knight Cookie is a guaranteed reward in one book from each batch.
As a result, it's recommended not to prematurely reset the roster of books. It's also recommended to keep farming Faded Insignias if you intend to collect multiple copies of Tea Knight for Promotion.
Check out our Magic Oven Anniversary Event Guide – Cookie Run: Kingdom to get Crystals by decorating Cookies.