Lucky Points are event currencies that can be used in the New Year's Lucky Pouch event, which runs until Feb. 9, 2022. Unlike Faded Insignias and Memory Jellies, Lucky Points don't have to be claimed and added to your inventory before you can use them.
To farm Lucky Points, head to the event menu and select Lucky Pouches, which is the consolidated page for the New Year's event.
Related: How to get Memory Jellies in Cookie Run: Kingdom
How to Farm Lucky Points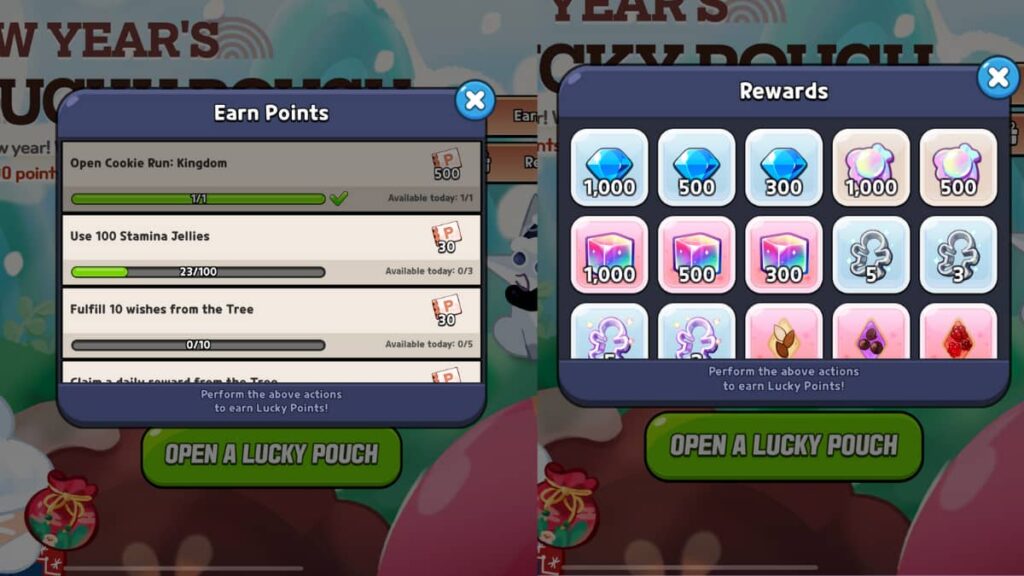 Clicking on the Earn Points button will show you the list of tasks you need to complete to get a number of Lucky Points. These Points will automatically be credited to your account—no claiming required. Be sure to check back to see which tasks you've missed, so you don't miss out on any Points. It's also important to start early, as some tasks require you to complete certain game modes multiple times.
Clicking the Rewards button will reveal the items you can get from the Lucky Pouches. There's a wide range of amazing rewards, so you don't want to miss this event!
How to Use Lucky Points
To use Lucky Points, click the OPEN A LUCKY POUCH button and choose one of the five Pouches to redeem a reward. Each try costs 500 Lucky Points.
Check out our guide on How to get Tea Knight Cookie for free in Cookie Run: Kingdom and participate in an event that runs in conjunction with the New Year's Lucky Pouches.