Lost Ark is filled with content, including monsters to fight, continents to explore, quests to complete, and collectibles to find. Some collectibles are easy to find and understand, but one that might be giving you trouble is the Igna Token Points.
In Lost Ark, you get Ignea Tokens by completing 100 percent of your Adventurer's Tome in a continent. There are a total of 14 Ignea Tokens that can be gained, but only 13 may be obtained. Once you complete an Adventurer's Tome, head to Prideholme and speak with Bird in Neria's Tavern to claim your reward. Another Ignea Token NPC can be found in Castle Luterra.
Related: Is Lost Ark pay to win?
How to get 100 percent of your Adventurer's Tome in Lost Ark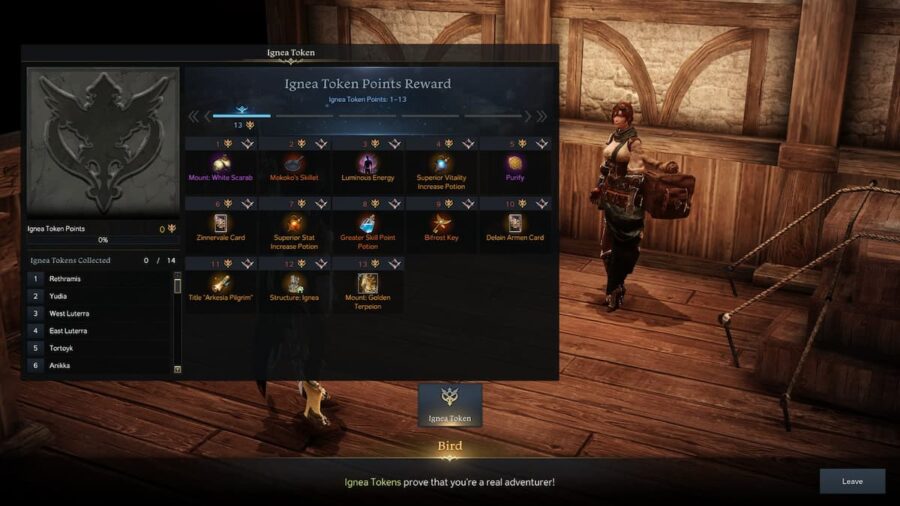 Completing your Adventurer's Tome 100 percent on a continent in Lost Ark will take time. You must complete everything listed there. This includes collectibles, Hidden Stories, world bosses, monsters, and secret quests. You can open your Adventurer's Tome to see what percentage you are at and what you are missing.
Here are all the Ignea Token rewards:
Mount: White Scarab
Mokoko's Skillet
Luminous Energy
Superior Vitality Increase Potion
Purify
Zinnervale Card
Superior Stat Increase Potion
Greater Skill Point Potion
Bifrost Key
Delain Armen CArd
Title: "Arkesia Pilgrim"
Structure: Ignea
Mount: Golden Terpeion
For more information on Lost Ark, check out Lost Ark – How to change the AFK timer and How to change your cursor color in Lost Ark on Pro Game Guides.