To get the 99 OVR Dark Matter Gary Payton, you must collect 3,000 cards in MyTeam mode. Dark Matter Gary Payton is a Season 4 release and is the first 99 Overall card in NBA 2K22. Collecting him is not the easiest task, but here is how to do it quickly.
Card packs can be purchased in the MyTeam store, but these can cost a lot of MyTeam coins or VC, but cards can also be earned by just playing different games in MyTeam. For example, each single-player Domination game can be completed on All-Star difficulty to earn three stars, which rewards three Domination packs and a guaranteed player. Going through the Domination game ladder will net you a lot of cards, with some pretty good ones along the way.
Related: All NBA 2K22 Locker Codes (January 2022)
Another way to collect a lot of new cards is to go to the Rewards tab in MyTeam and use MyTeam tokens to unlock players in each rarity tier. Players in the lower tiers are very cheap to purchase and will just add to the cards in your collection.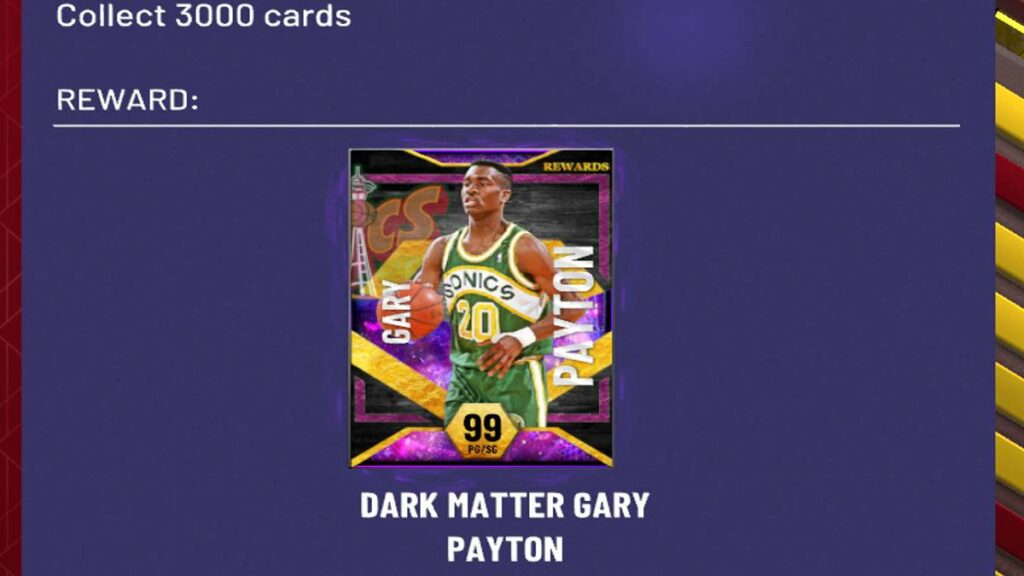 With the NBA 2K22 MyTeam collection growing rapidly with new cards released every season, players can keep collecting new cards and not wind up with too many duplicates. However, at some point along the way to collecting 3,000 cards, you may hit a roadblock where you get unlucky with a lot of duplicates being pulled. At that point, it is a good idea to check your collection, find a few missing cards, and then head to the Auction House.
Try to purchase the cheap missing cards first because a rare card in the Auction House can cost a lot of MT coins. Purchasing cards in the Auction House is a great way to fill out your collection, but do not forget to play enough games to earn the coins.
For more NBA 2K22 guides, check out How to unlock Galaxy Opal Yao Ming NBA 2k22 on Pro Game Guides.