Sumeru offers a series of five free craftable weapons, which can be forged by any Blacksmith after getting their corresponding Blueprints. These include the Forest Regalia (claymore), Sapwood Blade (sword), King's Squire (bow), Moonpiercer (polearm), and Fruit of Fulfillment (catalyst).
How to get Sumeru craftable weapons Forging Blueprints in Genshin Impact
You must complete the first quest in Aranyaka: Part II – Dream Nursery called The World of Aranara. This important quest will allow you to enter Vanarana, as well as switch between the real and dream forms of the area. Switch to dream Vanarana and head to the cave housing the Tree of Dreams, where you will find a little Aranara named Aravinay. Interact with him and select Tell the story of the adventure with Aranara.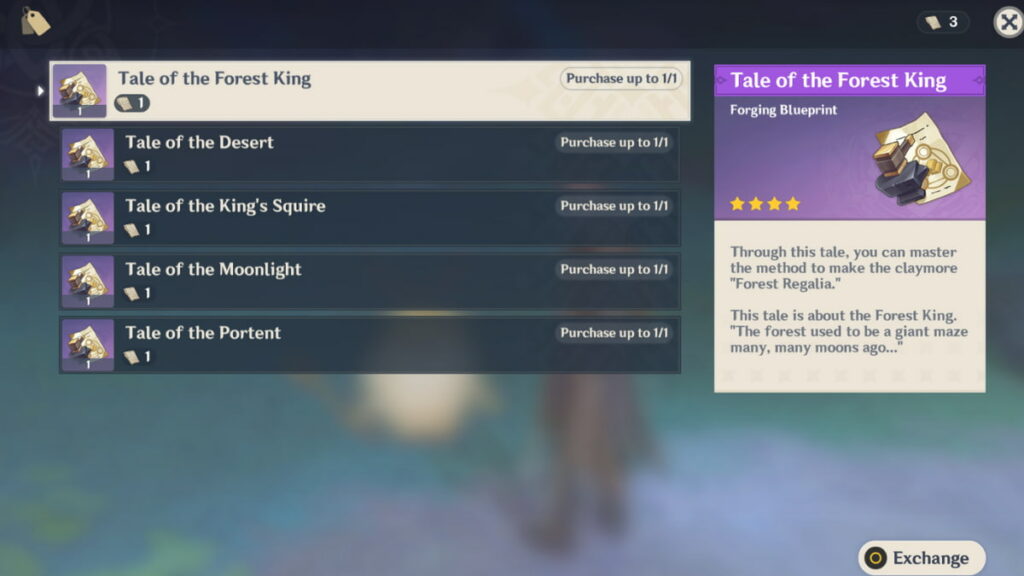 Doing so will open an exchange shop, where you can trade in one Quest Item called Stories of You and the Aranara for any Sumeru craftable weapon's Forging Blueprint. This is a one-time purchase that will allow you to forge the weapon an unlimited number of times via any Blacksmith in Teyvat.
How to get Stories of You and the Aranara in Genshin Impact
You can obtain exactly five Stories of You and the Aranara. You will receive one each by completing the following quests and objectives:
Complete The World of Aranara in Aranyaka: Part II – Dream Nursery
Complete the entire Varuna Gatha World Questline
Complete the entire Agnihotra Sutra World Questline
Defeat the Abyss Lector in Vimana Agama World Questline
Save Rana in Aranyaka: Part IV
How to get Midlander Billets in Genshin Impact
Midlander Billets are required for forging the Sumeru craftable weapons. These can be obtained by heading to any crafting table and switching to the material conversion tab, where you'll find the Midlander Billet for all weapon types. You can exchange one Northlander Billet (obtainable from Trounce Domains, which are the Weekly Bosses for Talent level-up materials) and two Dream Solvents for one Midlander Billet of the same weapon type.
Check out our Genshin Impact A Short Encounter with a Rare Bird hidden World Quest guide to complete your Sumeru Reputation Board.